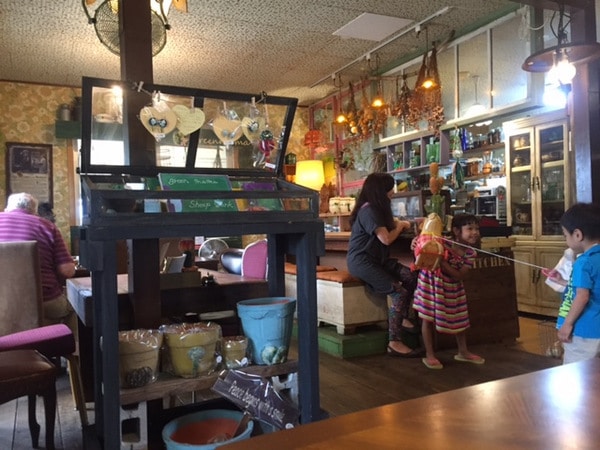 Green Mama Cafe
CONTRIBUTED BY NAOMI K.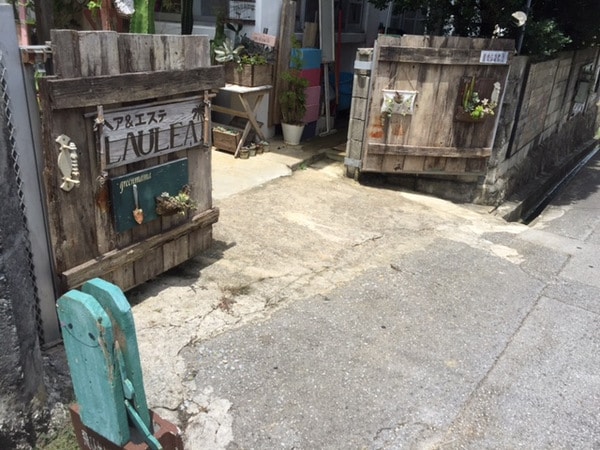 Tucked in the suburbs of Tengan, very close to Camp Courtney, you can find an adorable lunch spot named Green Mama Cafe down some narrow roads. Luckily they have a dirt parking field next door (left of the restaurant). The place is marked by a friendly wooden cactus character on the side of the road.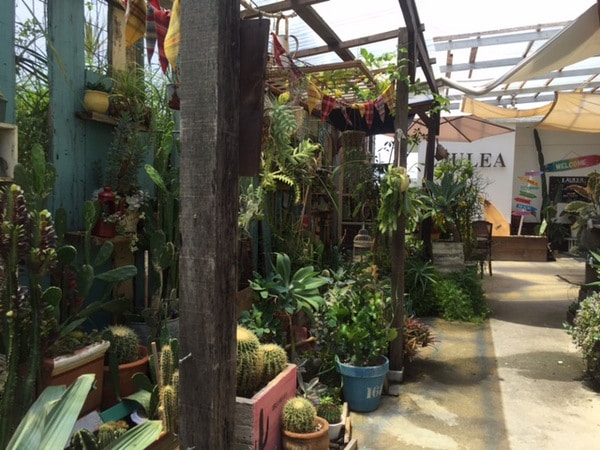 As you walk in, there is a beautiful cactus garden along the walls, and there are even a few smaller cacti plants for sale.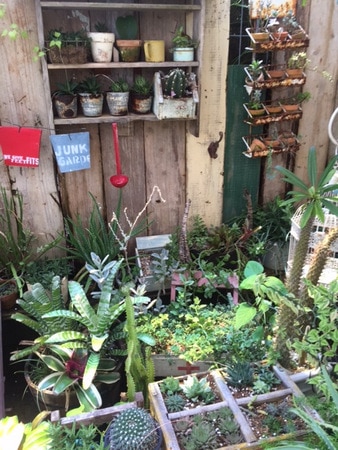 Green Mama Cafe shares a space with the hair salon (Laulea) but the first door opens to a nice air conditioned indoor spot with cozy décor. It is quite big, and perfect for large groups and on this particular day it was full of lots of local mothers and their children, so it is very child-friendly.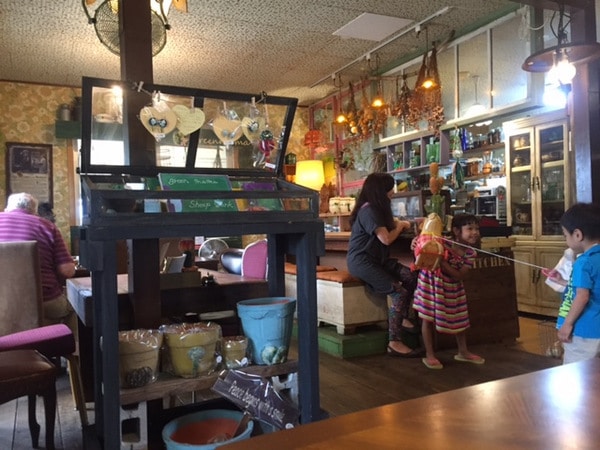 The set menus are huge with an assortment of appetizers. There are two sets, a soup set or a plate set. For the soup set, I chose was chicken curry soup which was bone in with a potato and a bell pepper and was quite delicious. The other option was a meat and onion soup. The soup option came with tiny portions of the following: a cracker with marmalade, penne pasta with tomato sauce, grilled eggplant with shiso, anchovies, kabocha pumpkin, pork in the center dish and a choice of rice or bread.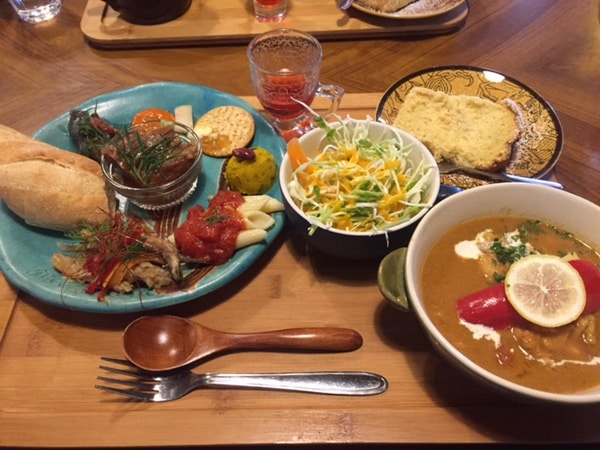 The side of salad had a pumpkin dressing over a bowl of cabbage. There was a tiny cup of kombucha (fermented tea) that tasted more like a fruity vinegar. For dessert, it was a chiffon cake, light and fluffy with a sprinkle of powdered sugar. Lunch set came with hot or cold, tea or coffee (self-serve) and water all for ¥1200.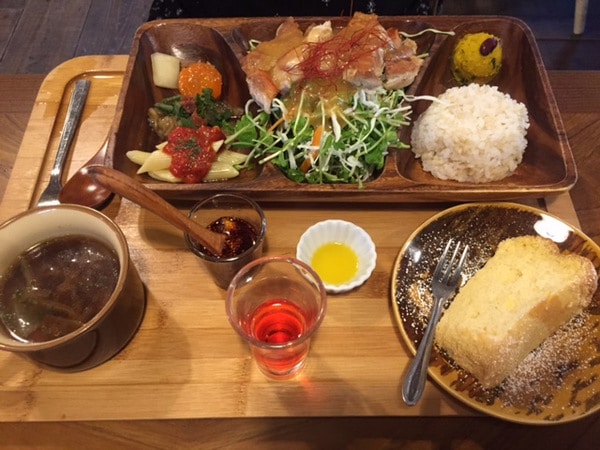 The other set is a plate set which was crispy chicken with a peanut sauce as a main course and came with many of the same appetizers (eggplant, kabocha, penne) a different salad, a chili sauce, and the same kombucha, same dessert and drink set. Both were ¥1200 each and filling but not too overwhelming.
They had lighter sets (soup, pizza) which I attempted to order but failed, as well as take out. You can get salad, carrots, penne, with a choice of pumpkin or chicken curry or meat onion soup for ¥700 or add the drink bar to make it and even ¥1000. It is a ¥100 cheaper for that one to be taken out. The pizza included salad and pumpkin sides with an open faced pizza for ¥750. None of this is written on the English menu so it was a little difficult to figure out.
click menu photos to enlarge
Service was friendly and patient. Green Mama Cafe also had some smoothies and juice drinks and a child's menu. They seemed to focus on healthy organic style food.
---
Green Mama Cafe
Payment: Yen
Hours: Open 11:00-16:00 (Wed-Sat); closed on Sun-Tues.
Phone: 098-923-0571
Website: tairaion.ti-da.net
Address: 〒904-2201 Okinawa-ken, Uruma-shi, Konbu
GPS Coordinates:  26.392465, 127.852210
Directions: Coming out of Courtney Towers housing gate, make a left on 224, cross the 75 and on the following light, make a sharp right by the community center. Make the second left before the bridge and take that long street until you see a 4-way intersection. Green Mama is on the left corner.