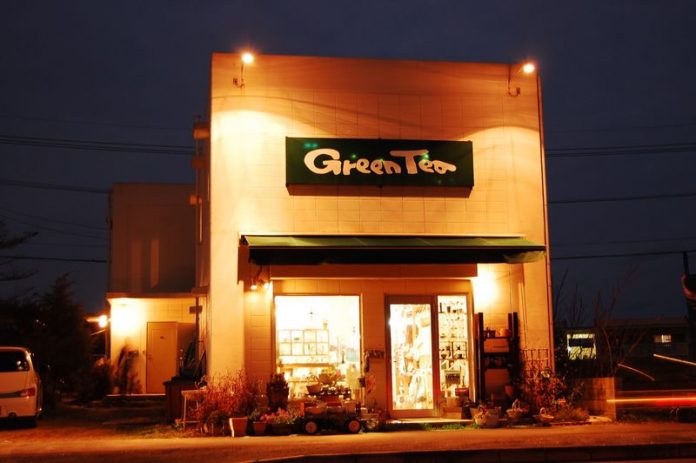 CONTRIBUTED BY JOELLE YAMADA
A few weeks back the fam went up to the Aquarium for the day. Unfortunately, that day was a Tuesday which meant that my craving for Pizza in the Sky was doomed to failure (raise your hand if you've ever driven up there and THEN realized it's closed on Tuesdays & Wednesdays).  So, I went with plan B and tried another Nago-area restaurant recommended here on Oki Hai. Closed.  And then another.  Couldn't find.  By this point the natives (meaning ME) were getting restless and frustrated (again, ME).  I hate it when "the plan" doesn't come together (name that 80s show!).
So out of frustration, I pulled into the closest thing that looked interesting and happened to say something out front about pizza — it's called
Green Tea
.  You may have spotted it, or its big corner sign, just after passing the
Pineapple Park
on your way over to the Aquarium.
Our entourage walked in (grandmother, teenager, 2 toddlers, mom & dad) and their first gold star came when they didn't cringe!  Because it turns out that the ground floor of Green Tea is actually a DELIGHTFUL shop filled with the most
marvelous
 goodies.  One of those places that you could browse and just be tickled with the options, or you could spend millions of yen.  It struck me as the perfect place for gift buying.  But possibly not the greatest place for two toddlers to wander freely!
There are lots of handmade fabric items:  purses, book covers, wallets, etc. Lots of beautiful fabric for gift wrapping (
furoshiki
).  And then a bunch of handmade jewelry, as well as jars and jars full of all the beads and clasps and doo-dads needed to make your own jewelry (see pix on
website
).  There seemed to be other cool items tucked into every corner and available table space — many quirky, one-of-a-kind sort of things.  But I couldn't wander for long, because the natives (ME) were hungry!
So we went up the stairs to the cafe.  There was no English menu, but the pictures of the pizza looked great so we pointed and smiled.  There were some children's books for my kids to page through and some really fun wooden puzzles for them to play with
or
throw onto the floor as the spirit moved. There weren't any high chairs, but I really appreciated the toys to keep them busy while we waited.
The pizza arrived and it was AWESOME.  A thin, thin, crispy crust — topped with broccoli, potato, green pepper, tomato, eggplant, egg, ham, basil and a yummy cheese.  Now granted, the natives were famished, but it was
good
.
There were also a number of yummy cakes on display, including one that he called "pumpkin" (I later asked if it was kabocha and he said yes).  YUM.  On the counter sat large jars of various teas and there were a lot of coffee drinks on the menu as well.
So, if you're up north and hungry or in need of cute shopping, I'd highly recommend stopping by Green Tea and checking out their goodies!
Note from a reader's comment below (October 2012): "We went here a couple of weeks ago based on this review. It is no longer a pizza place! And the menu has only a couple of pictures on it, the rest is in Japanese and the staff barely speak English. It was fine, the food was pretty good. I had a chicken meal with corn chowder, rice, some type of potato and a small dessert. Others in my group had taco rice, a chicken and rice bowl, and a sort of calzone but more of a pocket sandwich than pizza dough.
The staff were extremely friendly and tried very, very hard to explain the menu. But just be forewarned that this place is a little different that what's said in this review. The little craft shop downstairs was very cute! And the tea we had after lunch was AMAZING!!! I would go again if I was in the area, but just don't expect pizza! ;-)"
---
Green Tea Shop & Cafe
Hours:  Closed Mondays.  Shop – 11am-7pm, Cafe 11am-5:30pm.
Address: 1219-3 Biimata, Nago
GPS Coordinates: 26.6143302, 127.97038950000001
Directions:  Head up to Nago, turn left on the 84 like going to the aquarium. At the 4th light (across from Lawson's and past the Pineapple park) turn left and it's there immediately on your right.