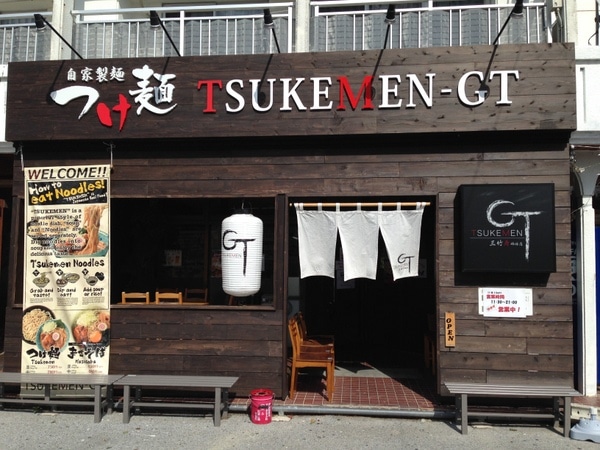 CONTRIBUTED BY JEANIE ANGEL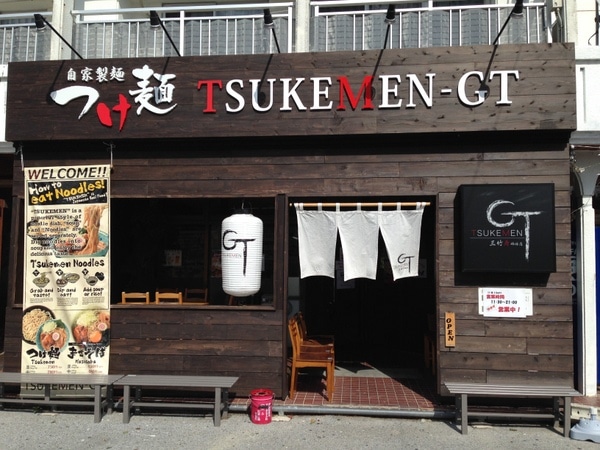 We are always excited to find something different on Okinawa, as we have been here for almost 3 years now. This place was a great change of pace. It is a type of ramen, but it is unlike any of the others we've encountered here.
They do serve a typical salt-based ramen, but it isn't what they're known for. You can order the soup hot or cold. We prefer hot, although I have never tried the cold. If it is anything like the hot soup, I'm sure it is delicious.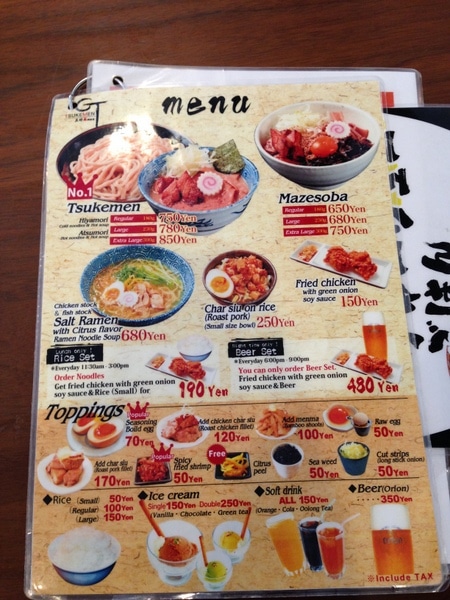 After deciding which temperature of soup you prefer you choose what size noodles you want; regular, medium or large. Regular is a pretty impressive serving size and satisfies most everyone we've taken there. You can choose what add-ons you want also. They have soft-boiled egg, bamboo shoots, thinly sliced onions, and many many more.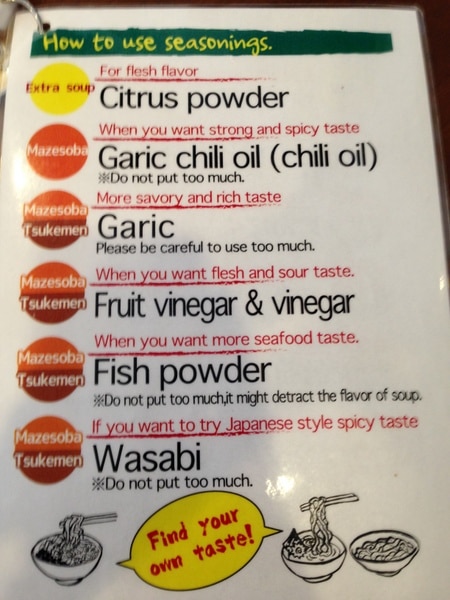 When your soup is served to you, it comes in two bowls. One with only noodles (made in house fresh daily) and one with the soup base and all your extra toppings. There are a slew of different sauces and flavoring ingredients on your table to change the taste of your soup to your personal liking. There is vinegar, chili oil, fruit vinegar, wasabi, and others.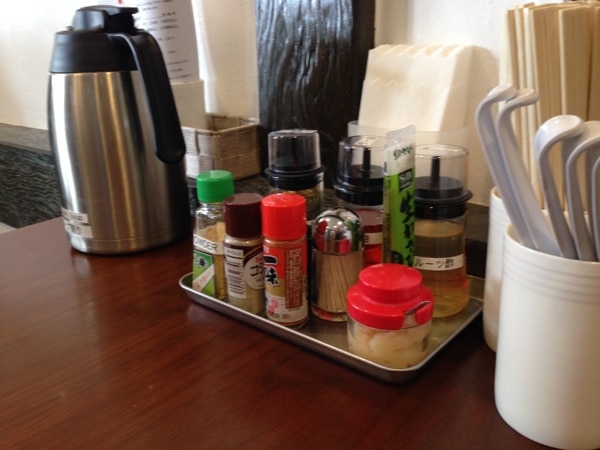 After you've perfected your broth you are supposed to dip your noodles into the broth and slurp them down. The broth is thicker than most ramen and sticks to the noodles so you can really taste it on the noodles even though you've only dipped them for a couple of seconds. Also, the broth is stronger tasting than most ramen I've had.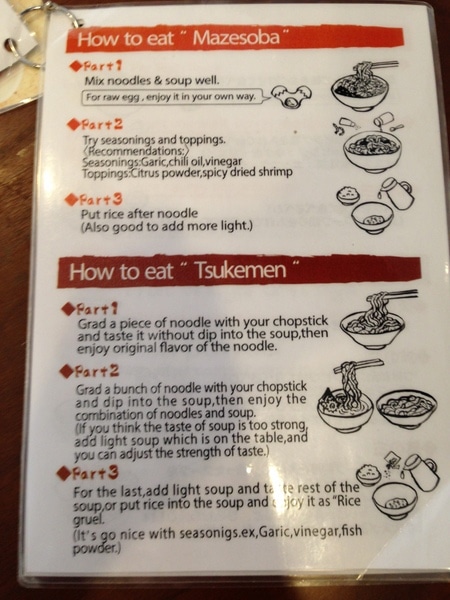 Once you have finished all your noodles you can order some rice (offered sizes are small, medium, or large) and dump it into the remaining broth. There is a pitcher of "light soup" on each table to add to your broth/rice mixture. It makes the soup taste completely different. It is as if you have a whole new bowl of soup!
They do serve ice cream for dessert and have 2 high chairs available. I believe it to be a good place to take kids even though it doesn't have a kids menu. You can easily order a larger noodle serving and a few extra toppings and share with your little one. They also have child bowls, forks and spoons. They also do take-out.
---
GT Tsukemen
Hours:
Weekday lunch: 11:30am-3:00pm Dinner: 6:00pm-9:00pm
Weekends and Holidays: 11:30am-9:00pm
Payment: Yen
English Menu and Take-Out Available
Address: Eaglelodge 1F, 458-1 Ihei, Chatan #904-0102
GPS Coordinates: 26.326138, 127.76496420000001
Directions from Kadena Main Gate: Turn left out of the gate. Take the first left onto 23. The restaurant is on the first floor of the Eagle Lodge on your left hand side in the first grouping of buildings you see. Parking available.