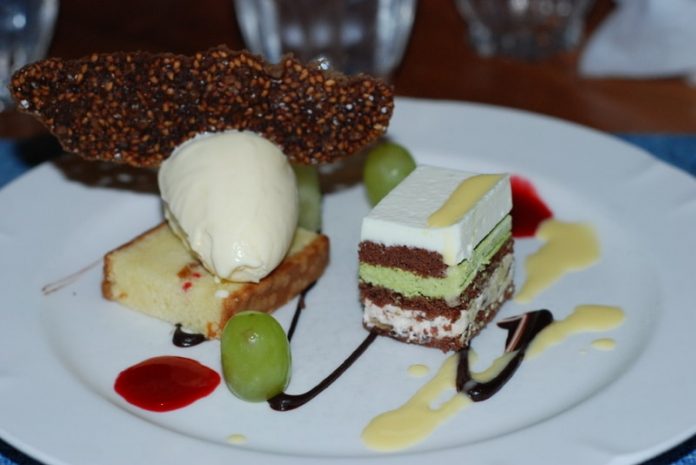 CONTRIBUTED BY STEPHANIE
This fancy restaurant is called Gueuleton. It is a place where when you arrive, you don't know what you're going to be eating only because the menu is written all in Japanese. But when we usually eat there, we are never unhappy with the meal. It's a set menu and you get 5 courses. You usually get a beautiful salad that looks too good to eat. Next will be a beautiful fish dish followed by some sort of pasta dish. Then the main course which will consist of steak or pork or something main dishy. Then the grand finale…dessert! Which usually consists of homemade ice cream (coffee or vanilla or whatever the flavor of the day is), some delicate fruit and a sugar snack intricately placed on the plate. This too, is almost too pretty to eat but my mouth tells me otherwise!
It looks like someone's amazing home and has an incredible view of the city below! I definitely recommend this place for a date night. When we went, we brought our son who is about to turn 2 and they were totally fine with that. We were fortunate enough for him not to throw any tantrums that night. I recommend making reservations too just for the simple fact that they can know when they have Americans coming to visit.
Hours:
Lunch: 12:00~1430 (This is half the price of the dinner menu.)
Teatime: 14:30~1600
Dinner: 18:00~23:00
CLOSED SUNDAYS
Phone: 098-933-7607
Address: 1 Chome-4-14 Takahara, Okinawa
Google Maps Coordinates: 26.3230168, 127.81377169999996
Directions: The directions are crazy, but if you know where the Mint House is you can get there pretty easily.
Ok here goes:
Go pass the Awase Golf Course and follow that road until it Y's. Stay left – take the 1st right passed the CALEB sign (the sign will be on your left). You will go uphill and you will pass the PACIFIC VIEW HOTEL. You will see the MINT HOUSE on your righ. Turn in there and GUEULETON is there with the trees covering almost the whole place.