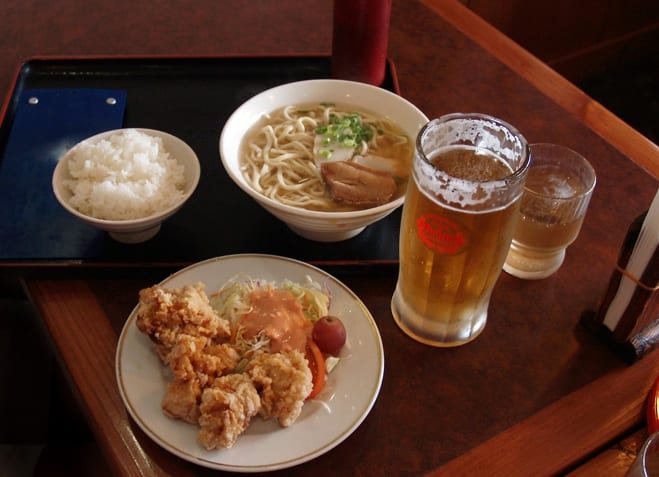 Gushikawa Sign
CONTRIBUTED BY KATIE CLARY
https://theotherokinawa.blogspot.com
If you are in the mood for some really good soki soba, Gushikawa Soba is a great option. I noticed this restaurant the first week my husband and I were on Okinawa, while we were still driving between the Foster Plaza Housing area and Camp Courtney nearly every day on Route 330/75. None of the signs are in English, but I had learned just enough Japanese to read that it was a "Family Restaurant" called Gushikawa Soba.
After we moved on post and learned that 330/75 is the SLOWEST way to get to Kadena or Foster from Courtney, I all but forgot about this place. I would've never remembered it existed if I hadn't been invited to go sightseeing at the castle ruins with my friend J and another friend's visiting relative, who we affectionately called "Mama K". They mentioned that they would like to try some soba for lunch, and it clicked. This place wasn't too far out of the way, since we were going to take the Expressway, so I took them here. We all really enjoyed it!
The staff here was very friendly, but only spoke a little English. They do have an English menu, but it doesn't have a complete listing of all their menu items.  When I went they didn't offer it to us, since I'd spoken a little Japanese. I was lucky to be able to read the katakana on the menu, and they have a very nice wax display of the food they serve outside the restaurant. Since we all wanted soba anyways, it was fairly simple to order. Everything was fairly cheap, and really tasty!

Gushikawa Food
Mama K chose to order one of the "Set Meals." From the little Japanese I can read, we figured out that her meal included soki soba, rice, a salad, and some fried chicken. I was unclear on the difference between the sets, but I believe they just include different side dishes in place of the chicken. The waitress helped us decide. Mama K said the dressing on the salad was a thousand island, and that it was very filling. She couldn't finish all the soba and left a few pieces of the chicken.

Gushikawa Soba
J chose to order the Gushikawa Soba. It was a traditional soki soba with Okinawan style pork on top. She said the pork was very tender, but a little fatty. (Just how the Okinawans like it!) Her soba came with a side of fried egg to put on the soba, and a piece of inari, which is sushi rice inside an envelope of deep fried tofu. She really enjoyed her meal! Her only complaint was that it was hard to get used to eating noodles with chopsticks instead of a fork. Luckily, the shopkeeper was nice enough to give us one for her to use- though she did side eye us! I guess it would be funny to Japanese people that Americans struggle with chopsticks.

Gushikawa Tempura
I ordered the Tempura Soba, which I spotted in the wax display outside before we even walked into the restaurant. I am a huge fan of tempura, and in fact it's my favorite Japanese food. I was really surprised that anyone would ever think to combine it with soba, another one of my favorites. I was in heaven!
My meal was a huge bowl of pork soba with scallions, and as you can see in the picture, they replaced the pork meat with a feast of assorted tempura goodies. There was a shrimp or two, a huge slice of acorn squash, onion, green beans, and I believe there was even a mushroom in there. The huge portion would have satisfied three or four of me, but it was so delicious that you can bet your life that I ate pretty darn close to the whole bowl. I highly recommend it!
I chose to just have some water that was available at the drink table set out for customers, but they do sell soft drinks (sodas) and Orion beer. They were reasonably priced, but I don't remember exactly how much they cost.
I do know that all three of us got out for under ¥3,000. It was actually closer (but a smidge over) ¥2,500! I'd say that's really good for the amount of (delicious) food we ate. The set was the most expensive, at just over ¥1,000, but there were several options available for between ¥500 and ¥1,000 as well.
If you don't particularly like soba, there are still a number of options available. They serve a pretty tasty katsu don, which is a rice bowl with a fried cutlet of meat on top.
Hours:  11:00 am until 9:00 pm.
Payment:  They accept Japanese yen.
Directions:  Gushikawa Soba is located along Route 75, just a short drive south of Courtney and McTureous. From Courtney, you'll just take a left onto 75 (or a double left from the housing gate). From McTureous, you can simply take a right on Route 8, then continue past 2 stoplights until you see 75, and take a right. Once you're headed south on Route 75, just continue straight until you see it on the right. It is about a block past the big intersection of Routes 36 and 75.
If you are heading to Gushikawa Soba from Kadena or Foster, the easiest way is to simply travel north on Route 330, accessible from Foster's PX gate, or Kadena's Gate 2. If you continue straight long enough, Route 330 turns into Route 75. From this direction, the restaurant will be on the left. Once you pass the San-A store, you are getting close.
Parking:  There is plenty of parking along both sides of the building (North side, and facing the street). If that's full, or if you have a slightly bigger vehicle like me, you can drive just past the building to the parking lot on the south side. There are plenty of spots there, I just hadn't noticed them because I was hungry and food-centric at that particular moment in time.