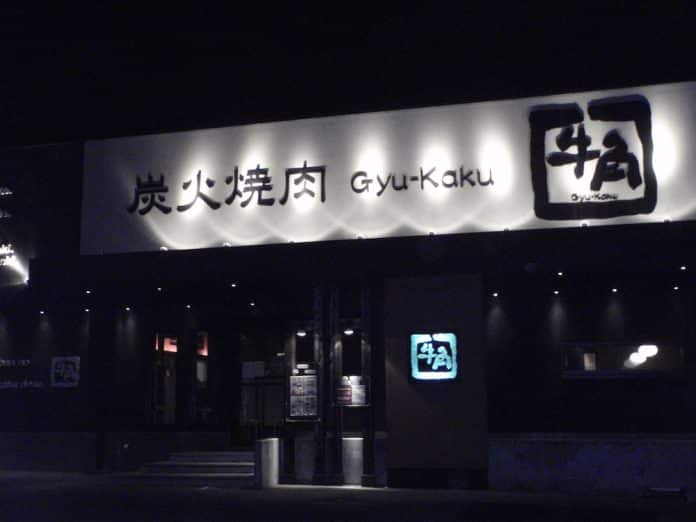 CONTRIBUTED BY JESSICA RODRIGUEZ

Gyu Front
On a family outing looking for dinner, we found on OkinawaHai the Jungle Themed Izakaya. We stopped, and went in, and realized that there were people smoking. We had our four month with us and decided against staying because we didn't want the baby to be exposed to so much cigarette smoke. Right across the street there is a place called Gyu-Kaku. It's a yummy, delicious, cook-your-own-food type of restaurant. The atmosphere is very sophisticated; we were taken to a back area where we sat privately with screens in between the tables, for a cozy setting.

Gyu Table
We were given a menu of different meats, (chicken, red meat, pork, tongue) to choose from. They also have different vegetables to choose from (mushroom, pumpkin, onion, green pepper, corn and cabbage). They offer sets with a different variety of meats for 2-3 people or for 3-4 people.

Gyu Stove
The night that my husband and I went, we chose the sirloin steak, which came with garlic butter for cooking, it was great! We also chose the garlic Harami (skirt steak) which was excellent, we actually ate two of these! And, we had basil chicken fondue, which was chicken covered in basil sauce, and they gave us shredded cheese in a little silver plate to boil and dip the chicken in, probably my personal favorite. For the sides, we chose not to get rice; we just wanted vegetables, so we had onions, green peppers, and pumpkin (yum!).

Gyu Food
This restaurant offers a little bit of everything for everyone. They have ramen, soup, kids choices and desserts. They are a good choice for a date-night or a relaxing dinner with friends and good conversation. We thought that the prices were decent for the amount of food that we got. We had everything listed above, plus a coke, and the bill came to about 3500 ¥, which is pretty inexpensive if you ask me!
Hours: Daily, 1700-2400.
Phone: 098-869-5529.
Payment: They accept Yen and Major credit cards.
Directions: Go out of the Camp Foster Legion gate and keep going over the light at 330 onto 329. You will pass Living Design Square on your right and keep going in the direction of Comprehensive Park, but you won't make it to the park. You will come to a big intersection with a McDonalds on the right side and a Hotto Motto on the left. Turn right at that intersection and continue straight towards Awase Shopping Center. Before you reach Awase shopping center, you will see the black building with a white upper area that says Gyu-Kaku with lights all around it.
Menu:  

Gyu Menu 1

Gyu Menu 2

Gyu Menu 3

Gyu Menu 4