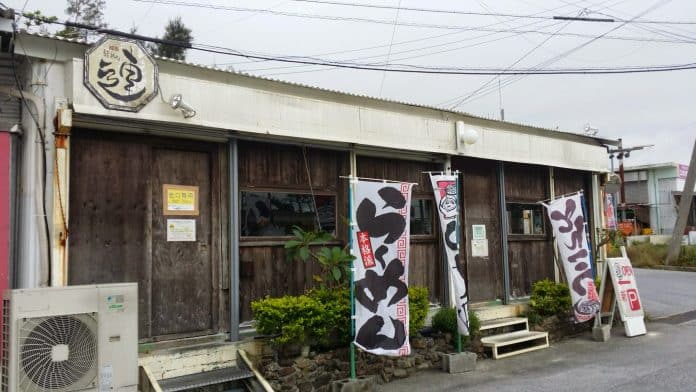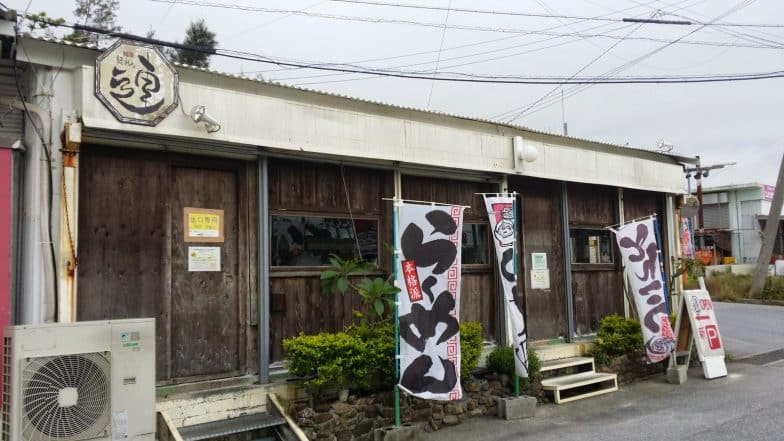 CONTRIBUTED BY KERI CARLSON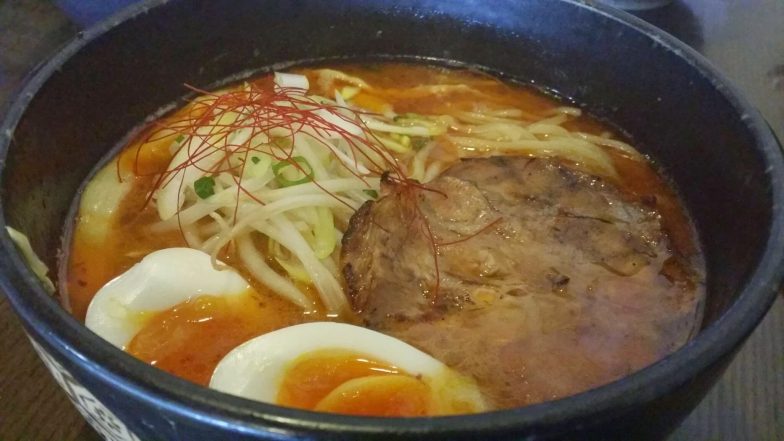 Hi, my name is Keri and I'm a ramenaholic. I know, I know, that isn't a well-known addiction but, once a person has eaten ramen as delicious as Hachiren's ramen, it becomes all too real. Hyperbole aside, this ramen is seriously addictive. I don't know what magic they're casting back in the kitchen at Hachiren but whatever they're doing, they're doing it right. Let's go back in time…
It was a sunny Spring day and a new local friend was introducing us to some cool things around the Yomitan area where he lives. We drove a ways down 58, nearly to the Pottery Village, and he pulled down a fairly innocuous-looking neighborhood street that had a few small restaurants/shops lining the 58-facing part of the road. He asked if ramen sounded good and, never one to turn down ramen, I had no complaints. We pulled into a tiny parking lot almost right when we came off 58 and parked the car at what I assumed was the ramen place, a tiny little building that had a sign for kakigori (shaved ice) outside. Seeing no signs of ramen and smelling no telltale ramen smells, I wondered if perhaps we had taken a detour to eat kakigori first (I also love kakigori so, again, no complaints here) but, nope, we crossed the street across from the little kakigori place and there we were in front of Hachiren.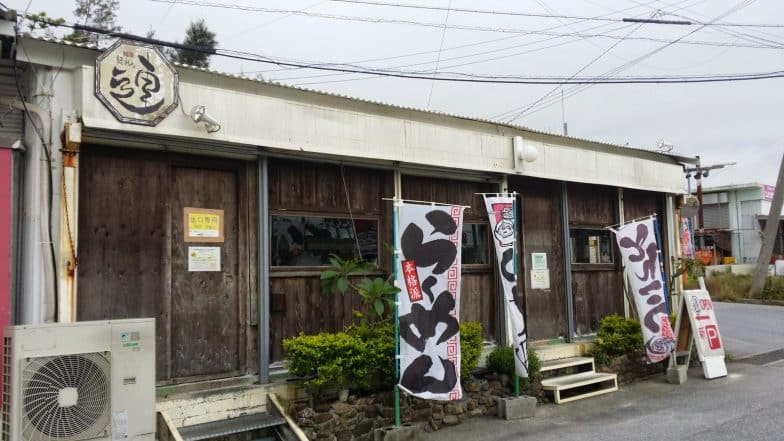 Honestly, it is a fairly unassuming looking place and I'm not sure I would have known if I had driven past that there was even a ramen place there (I'm sure it doesn't hurt to be able to read the Japanese on the sign). I asked my friend what the sign said and he pointed out it said, "Hachiren" and mentioned something about the number 8 and infinity. I wish I had a better memory for you guys so I could tell you what meaningful thing he said about the sign but…RAMEN!
We walked up some steps onto a porch where the entrance to the restaurant was, and my friend pointed out that the place directly up the steps was a tsukemono place that has a famous store in Kyoto and a long history of making tsukemono. What is Tsukemono, you ask? Well, literally it translates as "pickled things", and often includes things like daikon, cabbage, cucumber, etc. This place (another article, perhaps) makes great pickles!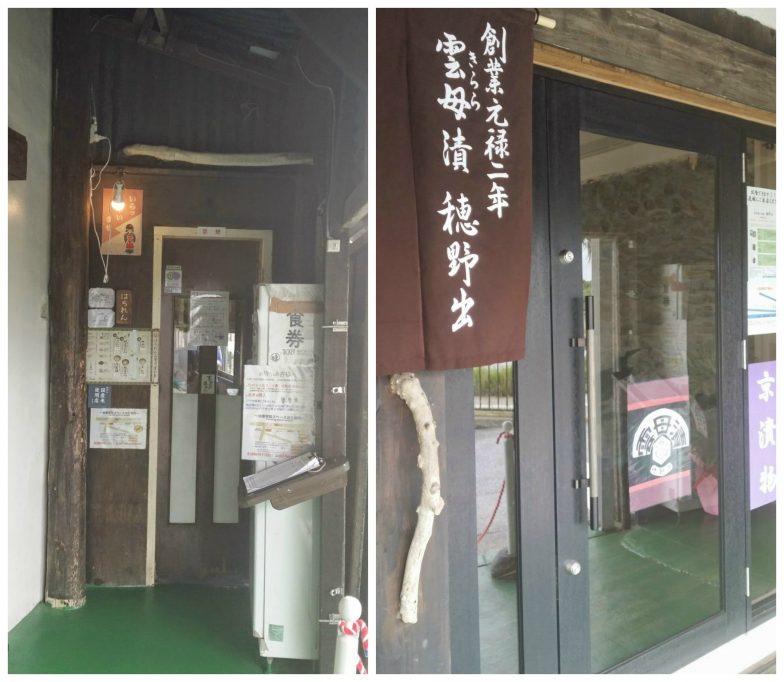 Turning right from the tsukemono place, we now faced the entrance to Hachiren. I was pleased to note it was a ticket ramen place which, as anybody relatively new to the area and to the Japanese language can attest to, is a relief because it means you don't have to be able to read a Japanese menu or order in Japanese (it has pictures and buttons!) Only you, dear Japan, would allow me to order my food from a vending machine and have it brought to me all steaming hot and delicious!
My friend explained the various dishes and made recommendations. The one that caught my eye was called Ra-ja-men and it was a spicy ramen (about 730 yen). I love spicy so that made up my mind which ramen to order. They also had regular shio (salt) ramen and "tsukemen" versions of the different ramen options (tsukemen is when you get a bowl of ramen broth/fillings with your noodles on the side to dip into the broth as you eat; this dish is usually preferred in the hotter months since it's much cooler to eat). They also offered a chashu-don (roasted pork over rice) bowl on the menu which was very cheap, something like 300 yen, and it was calling my name so I ordered it as well.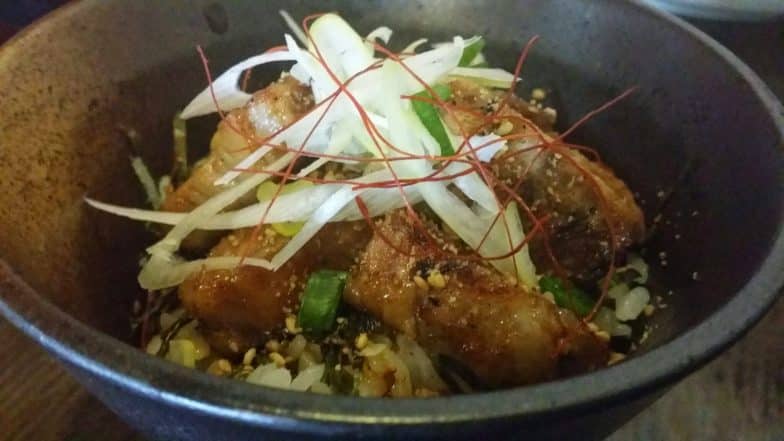 We inserted money, collected our tickets, and a staff member came outside to ask if we'd prefer sitting at the bar or at table. When she opened the door, I could see that it was a very tiny place with a long bar lined with stools facing the kitchen and a few tatami tables. I geeked out when I realized we were going to be able to sit on the tatami mats at the low tables to eat. "It feels like we're really in Japan right now!" I exclaimed stupidly even though we had been in Japan for a year already at this point. Then we waited…
A short while later the ramen and chashu-don appeared and the first thing that hit me was the delicious smell of the broth and the bright red color. Was I actually going to get real spicy food in Okinawa? To this point, the spiciest thing I had had was curry from Coco's, but most things labeled as spicy were, disappointingly, not. I dug into the ramen and was blown away by the flavor- it was seriously that tasty. The spice was just enough to please my palate without burning off my taste buds and allowed me to really enjoy the complex flavors of the broth. I was in heaven! My friend encouraged me to add a bit of the spicy minced garlic sitting on the table as a condiment (it was fantastic, by the way) and that further enhanced the flavor. I bit into the roasted pork in the ramen and I was completely taken aback. Every other ramen I had had so far in Okinawa included tasty pork, but it was usually pretty plain and mostly fatty, thin meat. This was thick and tasted so deliciously roast-y that I feel like I could have eaten that just on its own. Every element of the ramen was making me so happy, that it instantly became my new favorite ramen place. My friend mentioned they make really good bamboo shoots there and that they also sold the bamboo shoots separately if you liked them enough to take home. Sure enough, I tried the bamboo shoots in my ramen and they were perfectly pickled and delicious. He said the broth for the ramen (at least the one I had) was actually seafood-based instead of the usual tonkatsu (pork-based) broth. Perhaps that's what made it so tasty compared to other places. Next I tried the chashu-don and it, too, was absolutely wonderful. It had the same deliciously roasted pork (but in chunks) on a bed of rice with garlic and green onions. I was stuffed from my ramen but I simply couldn't stop eating the chashu-don, it was that good.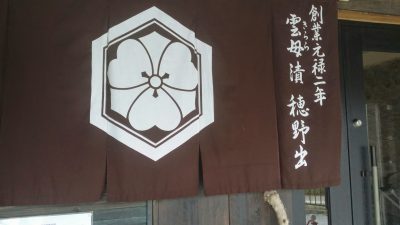 Overall I have nothing but praise for Hachiren. The staff is really friendly and actually remembered us when we came back. They have a points card and every time you eat there (I think for every bowl of ramen you order) you get a stamp and you can get free ramen on, I wanna say, the 10th bowl. They had really limited hours previously but, as of June of this year, they are now open every day but Tuesday. Obviously, being a ticket restaurant, you'll want to have yen on you. They sell beer as well if you like to have a nice frosty beer with your ramen. I feel like this ramen place is one of those best-kept-secret places locally but it's a secret that is too tasty to keep.
Hours:
11:30 a.m. – 3:00 p.m. (lunch)
5:00 p.m. – 9:00 p.m. (dinner) *or until they sell out
CLOSED TUESDAYS
Phone: 098-958-6471
Payment: Yen Only
Address: 458-3 Kina, Nakagami-gun, Yomitan-son 904-0302,Okinawa Prefecture
Directions: To get to Hachiren from Kadena, exit onto 58 like you're headed towards Nago (North) and drive past the LED sign for Yomitan and basically drive like you're going towards Cape Zanpa or the Pottery Village. Hachiren will be on your left very shortly before you reach the place to park for the Pottery Village. Consider stopping by the awesome kakigori shop for dessert afterward as well! The ladies working there are really sweet and they also sell cute local souvenirs.
Parking: Parking is available either behind the kakigori shop or at a few different locations near Hachiren (parking map included).
Coordinates: 26.4039822, 127.7587066