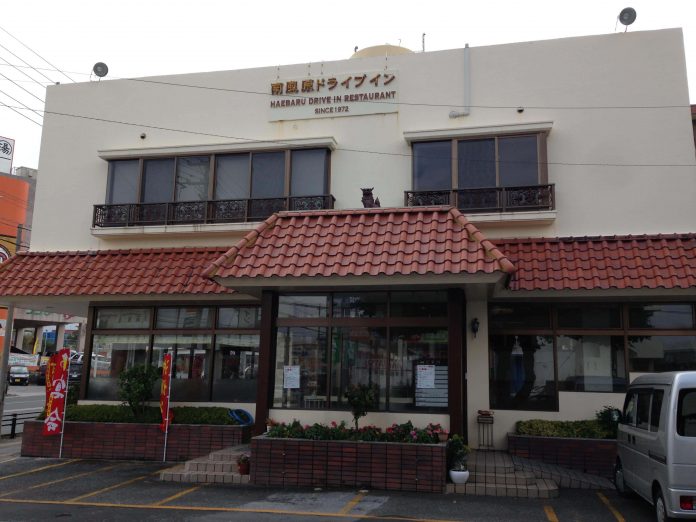 CONTRIBUTED BY BOB ROBERTS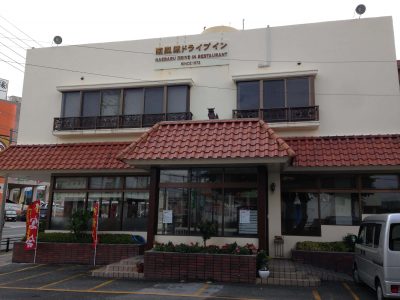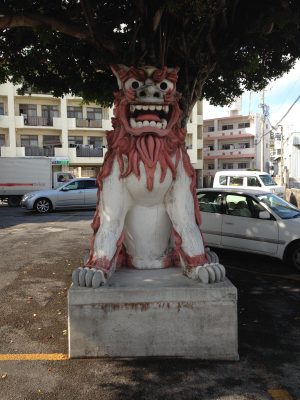 We recently stopped at an Okinawan family restaurant called Haebaru Drive In Restaurant. The front of the building proudly proclaims that it was established in 1972. The parking lot has plenty of spaces for customers. It has a big statue of a shishi dog (aka shisa dog) at the front of the parking lot and honestly, it was the main reason we decided to stop there. I figured any place with a giant shishi dog statue has to be worth trying.
Upon entering the restaurant we were offered our choice of a table and chairs or a shorter table on traditional tatami mats. The restaurant is well-lit and has an old fashioned Japanese family restaurant type atmosphere. I didn't count the tables, but I'm guessing it could seat around 20 families comfortably.
We chose to sit at a taller table because I'm tall and short tables and I have had our differences in the past. By the time we sat down, a waitress had brought water and hot tea for everyone, a second waitress brought over the menus at the same time.
A quick note about the menus: they were in Japanese, but all the food on the menu had a picture directly above it, so there's no guessing about what you ordered here! The only thing unaccompanied by pictures was the drink selection. In my limited Japanese I asked about the drinks and was told that they had a normal range of coffee, tea and soda. We all decided to stick with the water and tea, but it's great to have options. The menu is expansive and includes American favorites such as spaghetti and barbecued chicken.
Almost as soon as we had ordered our food, the waitress brought us some surprise bowls of potato soup. When I started eating it, I realized just how much I had wanted a bowl of potato soup, and it really whetted my appetite for the rest of the meal. In addition to being nutritious and delicious, the soup helped make the short wait for the rest of our lunch even shorter.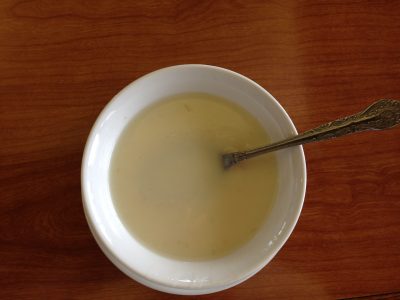 I wasn't even close to the bottom of the bowl when my large order of chicken fried rice arrived, it smelled great and tasted exactly the way chicken fried rice should taste.
My wife ordered a tonkatsu/hamburger plate, and was kind enough to share a couple of pieces of the tonkatsu with me. It was very tender and made me wish I had ordered two plates instead of just one.
Our son ordered a bowl of Okinawan soba, but wouldn't share any with me. I guess I'll have to take the empty bowl at the end of lunch to mean that it was good as well.
The waitresses were very attentive throughout the meal; filling up both our water and tea glasses several times during our stay. They also offered my wife a to-go box when they realized that she wasn't going to be able to eat everything that was on her plate.
The prices were reasonable. A large plate of chicken fried rice was less than 700 Yen.
Hours: 10:30 a.m. – 11:30 p.m., seven days a week.
Phone: 098-889-4719
Payment: Yen only
Address: 666−1 Miyahira, Haebaru
Directions:
Going south on the expressway take exit 1 towards Naha IC.
Stay on this road until exit A1 (first exit)
Turn right onto 329
Drive approximately 1 km
Haebaru Drive In Restaurant is on the right.
Google Maps Coordinates: 26.1968324, 127.7315536