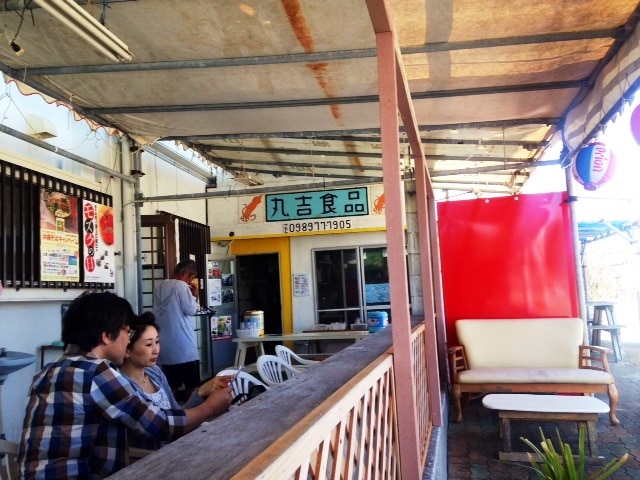 CONTRIBUTED BY ELIZA GROFF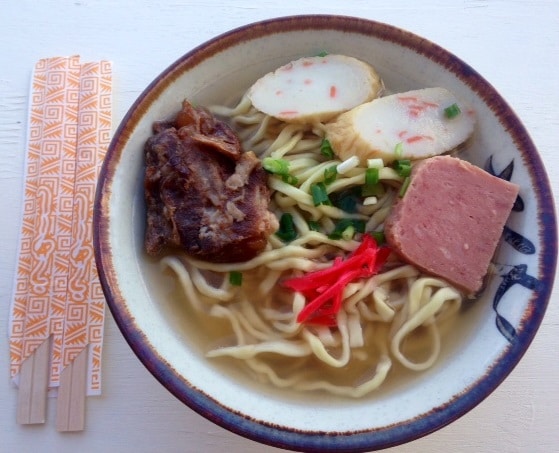 If you find yourself on Hamahiga for a day of kayaking, kite surfing, or other adventures, I recommend that you splurge and spend 500 yen on Okinawa soba from this local restaurant. They don't have an English menu or an English speaking staff, but the food was phenomenal.
My husband and I ordered two bowls of Okinawa soba by pointing to a photo advertisement of the special feature at the outdoor ordering window, and then plopped down on a comfy vinyl loveseat overlooking the café's fish farm and the bridge looking back towards Henza Island. Our Okinawa soba was topped with green onions, pickled ginger, and three different kinds of succulent pork – one canned, one sausage, and one cut. They also had fresh fried butterfish, and several other pictures features to choose from – for the non-Japanese speaking adventurer.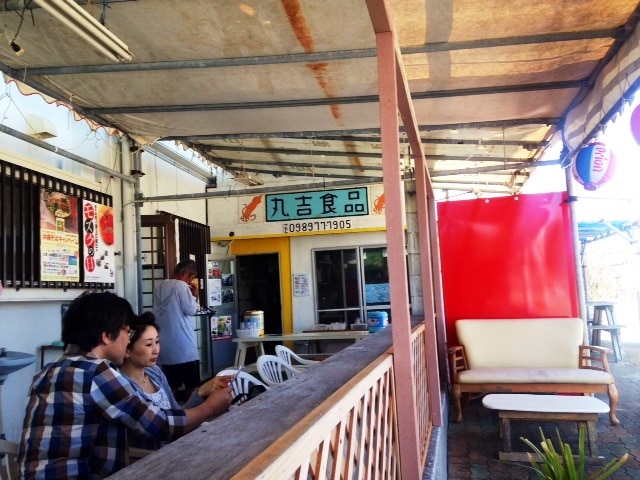 This café boasts a great location with indoor or outdoor seating, both western-style and Japanese-style. They also sell locally pickled seaweed, three types of brown sugar, salt, and local wares such as hand-crafted key chains. It was very casual, cheap and delicious. Our food came out within minutes, and we were amazed by the sweet and tangy flavor of the broth. It was the best Okinawa soba that I've had in my year here in Okinawa thus far!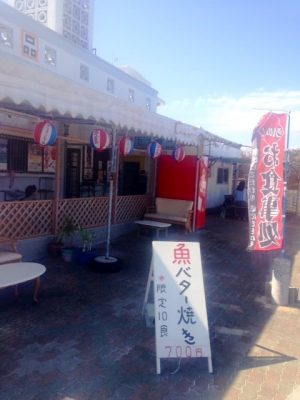 This place is not frequented by many tourists, indicated by the lack of English everything; Japanese menu, Japanese-speaking only staff – no subtitles to be found anywhere. That was part of the charm of the whole place. It reminded me of a sea-side café in Newport, Oregon, with the raw wood, casual patio seating and smiling staff. I immediately felt at home while devouring my tasty soba noodles!
Hours: Unknown (Editor's Note: if you know, please comment below and we will add them!)
Phone: 098-977-7905
Address: 72-2 Katsurenhama, Uruma, Okinawa
Directions: From Yonashiro, take 10 towards Hensa Island. Before you get to Hamahiga, take a right on 238. When you get to Hamahiga, the road comes to a T. Take a right and follow that around until the road is about to take a hard left. The café is across from the fish farm and dock on the left hand side. You can also find this café by typing in the phone number 098-977-7905 into Google Maps.
Map Coordinates: 26.3270064, 127.95190809999997