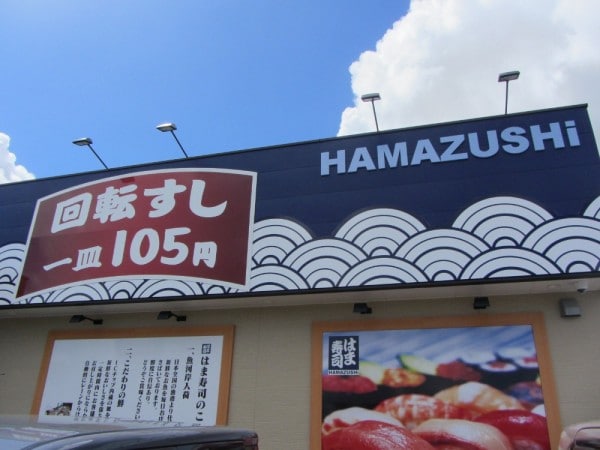 CONTRIBUTED BY MONETTE EAMES
When we left the Camp McTureous/Courtney area, I was a bit sad about leaving all the little restaurants, one being the 100 Yen Sushi-go-round. It's been more than two years since we moved, and we have still made the trek to get some sushi. However, it hasn't been the same. We don't know what has changed, but we were completely surprised when Hamazushi popped up in our neighborhood—and soon on 58 also! We had to try it, especially since the parking lot was always full and there were always people waiting outside. Usually, we would wait until the crowd died down, but that never happens here. 
We walked in, not knowing what to expect. We watched others ahead of us then got a number from the ticket machine. It asked us how many people were in our party and if we preferred seating in a booth, on stools, or if it didn't matter. The great thing is that it was in Japanese AND in English. We waited until they called our number and if you don't know your numbers in Japanese, it will also appear on a screen. Although there were a lot of people there, the wait is usually 15 minutes. Then they hand you another number, which is your table number. They thought of everything! 
We walked in the dining area and it seemed like we were in a busy department store during Christmas. It was bustling with people! 
I love how there is something for everyone here. If you're not a big sushi fan, but love your meats, they have grilled meat sushis. If you're not into meat or fish, they have duck and chicken for you. None of that? They have salads, soups, and fruits.
So we ordered a bunch of stuff via the touch-screen that was at our table. A few minutes later, the same screen told us that our soybeans were ready to be delivered. We waited, and they never came. Then the screen told us that the other items that we ordered were ready to be delivered. We waited for someone to drop them off,  then looked to see if we had to pick them up. Then finally, we watched another family. The delivery screen popped up, they sat there, waited and a few seconds later, on the conveyor belt on what looked like overturned bowls, the things that were on their screen appeared. They took them off the overturned bowls and that was it! Funny thing is, when we finally realized what we had to do, all the things we ordered were still on the sushi-go-round!
We really enjoyed the sushi and our time here. You can't go wrong with 105 Yen plates of sushi!
Directions:  (To Gushikawa branch) – From Kadena Gate 2, turn left at the first stop light. Go down the ramp and merge onto 85. Drive until the T-junction for Loop 85 heading to Uruma (there will be a pedestrian overpass here) and turn right.  You'll see San-A Main Place on your right.  Hamazushi will be on your left at the corner of 36 and 85.
From McTureous, turn right out of the gate and take a right at the 2nd stop light.  Continue on this road until you reach San-A/Main Place.  Take a left on 85.  Hamazushi will be on your left at the corner of 36 and 85.
Hours:  11:00 a.m. – 11:00 p.m.
Phone:  098-979-2870  (Gushikawa branch)
Payment:  Yen