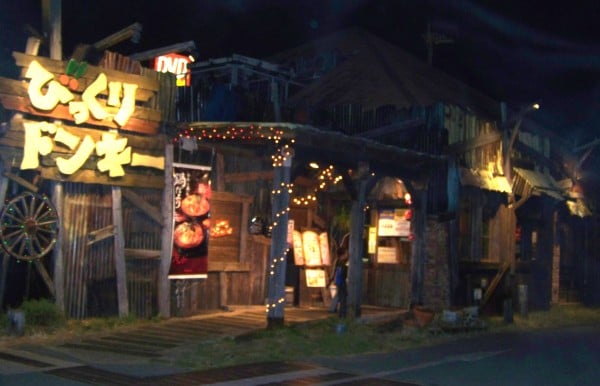 CONTRIBUTED BY HEATHER DEMPSEY
Hamburger Steak is one of our family's favorite restaurants. The decor inside and out definitely stands out in Okinawa, as it has a country feel. So if you've wondered about that building with all the old looking wood all over — it's Bikkuri Donkey: Hamburger Steak Restaurant!!
The hamburger steak, my favorite, is stuffed with cheese and mushrooms and has a yummy sauce on it. My husband usually either gets hamburger steak or a regular steak. They don't ask how you want the regular steak cooked, because you finish cooking it at your table on a little round stone.
The restaurant is kid friendly with options like french fries and spaghetti.  A plate of spagetti is perfect for my two kids to share.
The prices aren't bad and the quality and quanity of food is great! They do have English menus and we've had no problems with the staff understanding what we want to eat.  So get out there and try something new right outside of Camp Foster!
Directions:  Go out the Foster commisary gate and turn right onto Hwy 58, go past McDonald's, and then immediately past Hotto Motto you'll find Hamburger Steak (they actually share a parking lot in back). Go PAST Hamburger Steak, the driveway is right past the building. There is parking on either side of Hamburger Steak and behind it.
Hours: 11am- 2 am
Payment:  Yen only
Menu:  Click to enlarge