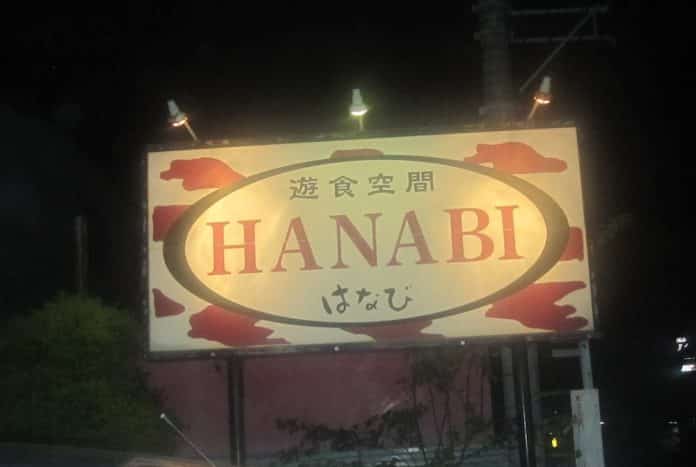 CONTRIBUTED BY MONETTE EAMES
I walked to the door of Hanabi, trying every which way to open the door. I couldn't figure out how to get in! I saw people enjoying themselves through the windows and I immediately felt like the outsider who wasn't invited to the party. My five-year-old walked up, saw my frustration, and easily slid the door open. Yay! We were in.

Hanabi Pasta
Another panicked feeling came upon me when we sat down and realized that they did not have an English menu. There were easily over a hundred things on the menu with a total of 10 pictures. For some reason, I still find myself focusing on the Japanese characters and partly hoping that maybe, just maybe, a miracle will happen and I'll be able to read it. Of course, no miracle has happened just yet. Thankfully, our waitress spoke some English. With the extremely short list of Japanese food words I knew, I started asking, "Ebi?"and "Gyu?" Then I asked for "Chicken?" and "Pasta?" Whenever she understood something, she would get excited and turn to the page with the food item I asked for. And as usual, we also ordered our server's favorite dish.

Hanabi Dish 2

Hanabi Dish
Thinking the orders would come in very small portions, we ordered two bowls of rice, creamy cheese ginger chicken pasta, pasta with shrimp and tomato sauce, ginger chicken, and the California roll for our party of four. The creamy cheese ginger chicken pasta had big pieces of ground chicken almost like mini chicken balls. It was a nice mix. The pasta with shrimp had two pieces of shrimp with the heads still on—something I haven't had in a while, so that was great, too. The ginger chicken took a while to get, but the wait was well worth it. Their version of the California Roll was shrimp tempura with avocado, mayo and soybean crisps tossed on. A very delicious experience! The portions are all good-sized. One plate of pasta could have filled me up. We were pretty stuffed when we were done.
Payment: Yen
Phone: 098 934 2751
Directions: From Kadena leave gate three and go straight. Take left at 330. Take immediate right towards KFC. Drive about a kilometer, and Hanabi will be on your right. If go through the light, you've gone too far. Hanabi is right across from Family Mart.