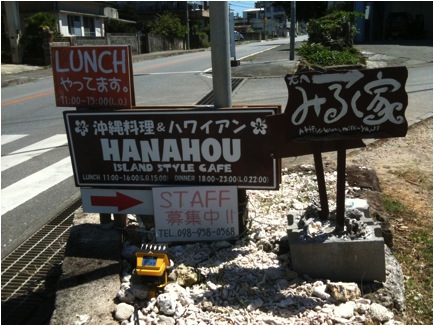 CONTRIBUTED BY STACY STORRS

After a fun, exhausting trip up the Cape Zanpa Lighthouse my family and I decided it was time for some lunch. We enjoy cruising around and trying to find someplace we have never been for a new and adventurous meal. On our way back to Kadena from Cape Zanpa we found a cute little sign for a restaurant named HanaHou Island Style Café.
We decided to take a quick right into the TINY dirt parking lot to try this restaurant, which we soon found to be a hidden treasure!! The restaurant has a very distinct island feel.
The menu included five lunch plate options (the most expensive being only 1,050 Yen), pizzas, sides, and drinks with an unlimited soup, salad and beverage buffet for only 200 Yen!!
I ordered the fried chicken, which was moist, flavorful and downright DELICIOUS!  My husband had a burger served on a bed of rice with a beef curry flavored gravy over top, all topped off with an egg cooked over easy… Yet again, DELICIOUS!  With every single bite my husband and I "mmmm"-ed and said "We need to come here more often!"

We ordered a side of fries for the kids and shared our meals with them.  Each of us added the "lunch set" to our meal and shared soup and salad with the kids as well. In the end we fed our family of four for less than 4.000 Yen! And my daughter's favorite part of the whole thing?? The four legged, furry vacuum who sat under our table the entire meal waiting for droppings from the kids!

The very sweet, calm and quiet pup made very sure that we didn't leave a mess behind for the waitress to clean.  There is also a patio upstairs, which we didn't utilize; I think it may be for their busier dinner hours.
Hours:  Lunch: 11am-4pm (Last order taken at 3) Dinner: 6pm-11pm (Last order taken at 10)  Phone: 098-958-0568
Payment: Yen and Major credit cards.
Address: 216 Senaha, Yomitan
Google Maps Coordinates: 26.4223303, 127.73051329999998
Directions: From Kadena: Take Hwy 58 North to Route 6. Turn Left onto Route 6 and follow the signs for Cape Zanpa. The sign for HanaHou Café will be on the left hand sign, parking is immediately off the road and the restaurant is just on the other side of the parking lot.
Click photos to see Menu 1, Menu 2.