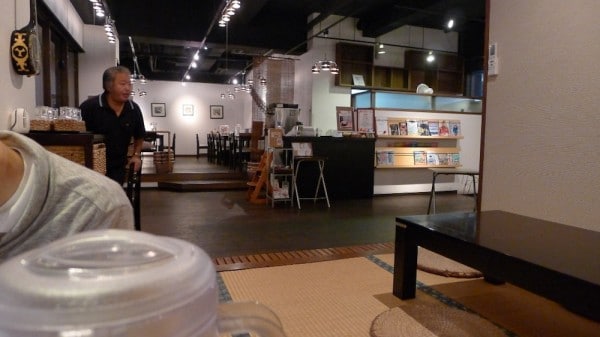 CONTRIBUTED BY KAYLIE GROENHOUT
On the ground floor of an unassuming typical concrete building lies a simple restaurant with a flavorful menu and a unique view. Located across the street from House of 66 Cents, Hanakinah is the self-proclaimed Okinawa Soba House.
There are three seating styles available: tatami, bar stools, or standard tables and chairs. The tatami area has a complimentary bouncy seat and blanket for very little ones and small squeaky seats for children a little bigger. The tatami area is in its own nook and would be a great place for a group of about 12-14 people to sit. The bar faces out along a long window so even a quick bite to eat is enjoyable.
Nearly every seat in the house has a view looking down the backside of Camp Foster's uninhabited old housing area as well as the surrounding Chatan community, coastline, and water. The restaurant is decorated in contemporary style. Clean lines, hardwood floors and simple metal track lighting are complimented by a small, eclectic mix of Japanese artwork. An array of reading material is also available.
The menu (available in Japanese and English) offers a few pages of choices. The value sets, priced between 790 and 840Y, really are a great value and include a bowl of soba, salad, rice, tofu and whatever meat you choose. (The sweet and sour pork and black vinegar pork are perfection!) The "drink corner" near the entrance has hot and iced tea as well as a few other food extras like bonito flakes and pickled ginger. Service is quick and friendly.
Directions: Coming from Foster's Legion Gate: Turn right onto 330 and continue past the intersection where you would turn left to stay on 330.  When you stay straight, you'll be on 81. Continue just a few minutes down 81 and you'll find House of 66 Cents on the left. Make a U-turn at the next available break and find Hanakinah on the ground floor of a large cement building that also offers tattoo removal and beauty services. Park in the attached parking lot on the right side of the building.
Address: 1-D, G Town Bldg., 1039 Kiyuna, Ginowan City.
Hours: 1100-2200
Phone: 098-893-8797
Payment: Yen. (Not sure if they accept USD, but please comment if you find out.)