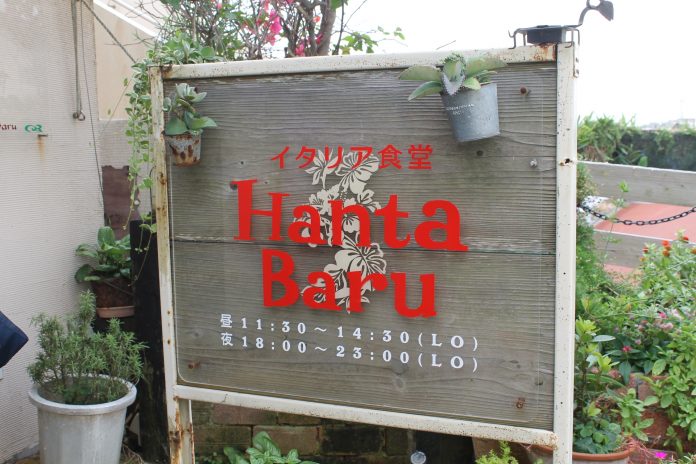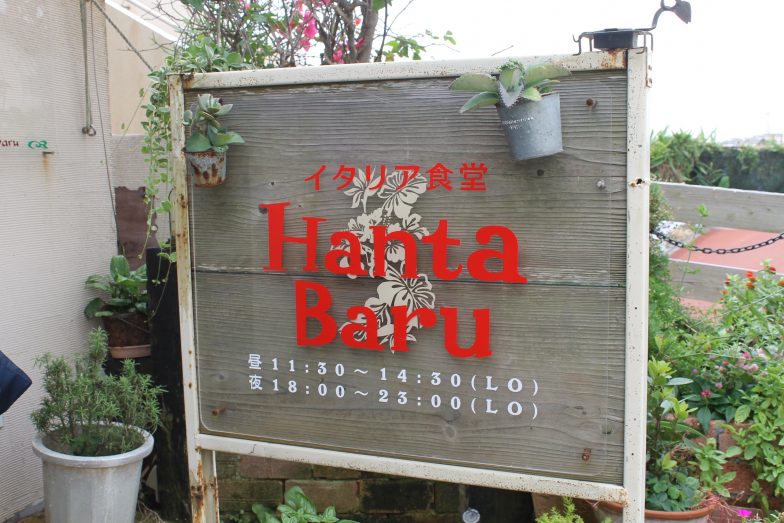 CONTRIBUTED BY THE WANDERING WAFFLEHEADS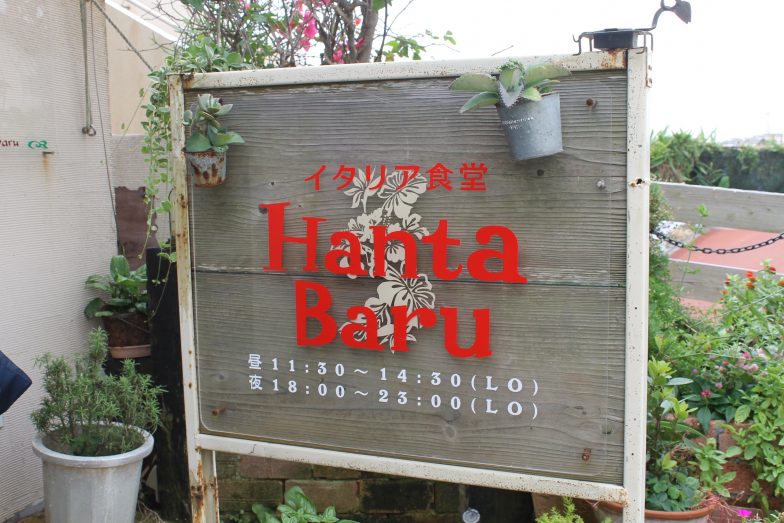 We drive slowly to a faded white building as we are not sure if we have found our destination or have gotten ourselves lost in this quiet residential area where we may have disturbed the residents with our back and forth driving as we've been trying to locate the so-called "cafe on the side of a cliff". A friend of ours has been doing research on a certain restaurant that has a great view while you eat in the Nakagusuku district, and not really sure what it's called or where it is, he suggests we take a trip there. We agree and start the search for this enigma of a cafe. When we drove up to the faded white building, we were greeted by a rustic wooden sign that says "Welcome to Ristorante Hanta Baru".
Sure enough, it's a lone building situated on the side of a cliff, with a beautiful view and a homey garden in the front. As you get closer and enter the restaurant you feel like you are transported to a remote Italian cafe complete with a bar, well-dressed attendants and a view that makes you feel like you're high enough to break bread with the gods.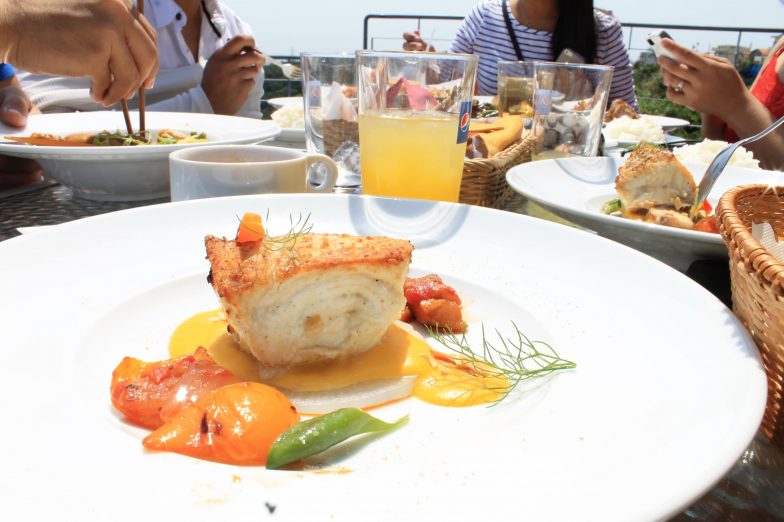 Hanta Baru is an Italian restaurant/cafe with many salads and pasta offerings. The salads here are some of the best we've ever had. The best time to come for the salads is during lunch when all their salad offerings are available as a buffet. Fresh green leafy vegetables and a tasty selection of garnishes with an assortment of toppings are available for your salad needs. Pasta is among the popular items on the menu with all your Italians favorites included.
The course meals are a choice of beef, fish or pasta. Depending on the what course meal you choose the course will vary with what items go well with your selection. Wine is also recommended as they have imports readily available to fit your dinner course's tastes. The atmosphere as well as the restaurant's food is very romantic and relaxing really meant for a more Italian connoisseur's appetite.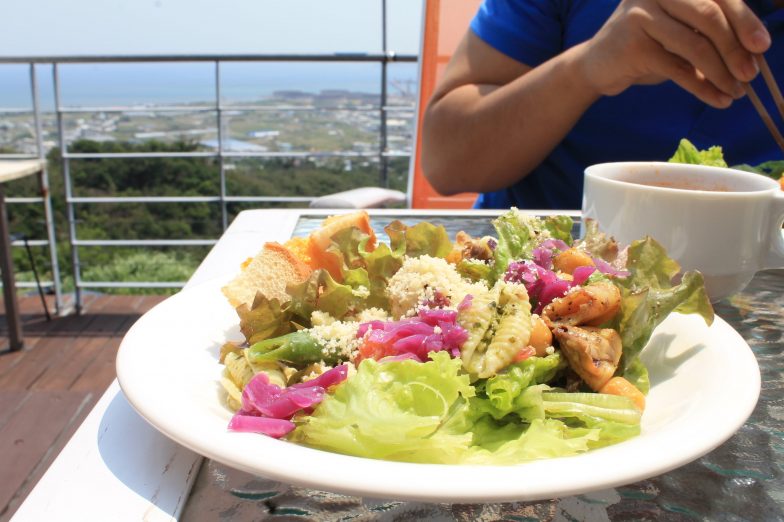 Hanta Baru definitely has a more calm and romantic feel. We would not recommend bringing young children or a large group with large appetites to fill. However, this place is perfect for a group of four who are looking for a something different than the usual loud slurping ramen and sushi shops that you encounter just about everywhere.
We would also definitely recommend this place for a date night if you're trying to impress your partner. The view is unbeatable and the candles on the wooden deck flicker along with the lights from the city as the sun goes down. The food can be a bit pricey, especially during dinner, and it takes a bit of time to find the place, as it's a bit off the beaten path, so a little planning is required when visiting this lovely establishment.
---
Hanta Baru Ristorante
Prices: Ala Carte Items during the day average 1000 – 2000 yen
Full course meals dinner average 3000 yen
Payment: Cash and Card
Hours: 
Wednesday-Monday 11:30 a.m. – 11:00 p.m.
Lunch: 11:30 a.m. – 2:30 p.m.
Cafe: 2:30 p.m. – 5:00 p.m.
Dinner: 6:00 p.m. – 11:30 p.m.
Tuesday 11:30 a.m. – 2:00 p.m.
Address: 468 Wauke, Nakagusuku, Nakagami District, Okinawa Prefecture 901-2416, Japan
GPS Coordinates: 26.2450091, 127.77188649999994
Directions: at road 29 and follow for about 15-20 minutes. Once you reach a four-way intersection with a Coco convenience store on the left and a Hoto Moto on the right and a sign saying Ryukyu University pointing right you will then take the left at this intersection. After the left turn, you will keep going a short distance until you see a sign on the right for Hanta Baru turn right before the road starts to cover following the sign. You will find yourself in a small residential area go straight then take the third left and follow the sign to Hanta Baru.
Parking: Yes