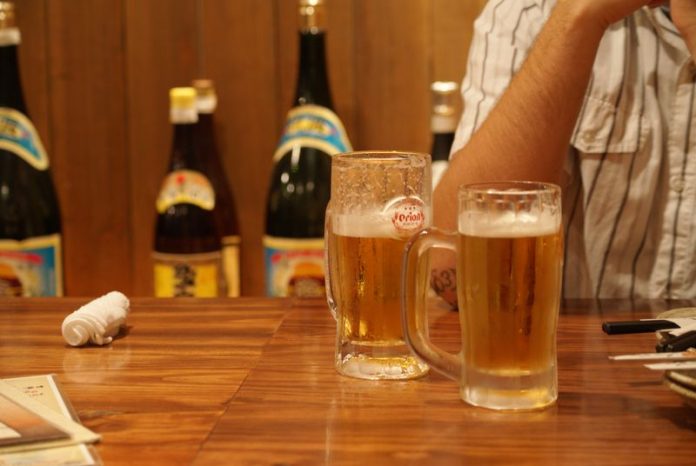 CONTRIBUTED BY JENNIFER SHUE
For our anniversary last month, my husband and I wanted to try something new and different. Something out of the ordinary for us. He had been gone for almost a year and a half, give or take (with a few breaks of togetherness here and there), so we wanted it to be a little bit special, too. We're rather adventurous souls so we will try just about anything and we both remembered passing by this interesting-looking place on Kokusai Street ages ago. So, we made child care arrangements and went out to dinner at Hateruma.
From what I have read on the internet the name means last coral or something to that effect. It is the last island heading south off of Iriomote, which is the last cluster of islands of the Okinawan chain.
What had originally caught my eye, long ago, was the floor. A mix of rock and paving, with steps up to what looked like a front porch, then semi individual homes where you sit to eat. I guess it is technically an izakaya kind of place, but certainly didn't feel like your neighborhood bar. Eating there, I kind of forgot I was even on Kokusai Street at all. They apparently have a bar with a performance area upstairs, but we were just there to have dinner (you may have a tiny conversation with the hostess about this choice) and were shown to our table.
They don't speak much English there and there was no English menu that I was made aware of, but there are plenty of pictures. We just made up our minds to eat whatever was brought to us, pointed to a couple of appetizers, a set option, and some Orion. I had actually ordered water for myself, but somehow wound up with beer. Oh well, Kampai! I drank half of it, then let my husband finnish it since I was driving.
Everything was delicious, though some of it was a bit unusual, and I'm really not sure what all of it was. I will warn any other fellow adventurous souls that the little cube of tofu (pretty sure) with the pink sauce on it in the pictures is some very potent stuff! I had a taste of it then told my husband that I didn't think I should finnish it because I didn't think I could eat it and still pass a sobriety checkpoint. Wow, was that ever not what I was expecting it to be! The only other things that I can name from the set are rice, soba, tofu (of a non-alcoholic variety), goya champuru, pineapple, okra, and some raw fish, as well as a side order of gyoza. There was more, and all of it very good, I just don't know the names.
There is a mix of floor seating (with the cut out floor if you need to hang your legs) as well as tables and chairs. You could certainly take kids here, so long as they are good sports about what they eat and we will bring our daughter with us next time. I wish I had known more about this place when my in-laws were visiting as this would have been a great place to have taken them.
Payment: yen and credit cards
Hours:  They are open from 11AM-midnight. I think the upstairs bar/stage area is open from 5PM-midnight.
Address: 3 Chome-1-24 Makishi, Naha
Google Maps Coordinates: 26.2151523, 127.6885102
Directions: On Kokusai St, if you are heading North-ish (away from the Ryubo department store) it will be on your left just before 222.