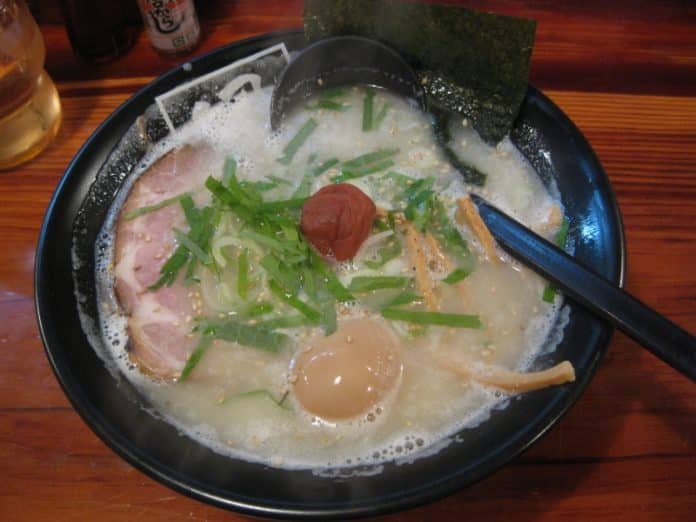 CONTRIBUTED BY KAYLIE GROENHOUT

Hayatemaru Salt Based
I don't care how you cut it – there's nothing like a good bowl of ramen. Be it a rainy, Okinawa day or a night you're starving and don't feel like fixing dinner (again!), ramen will always deliver. But, when you live in a place like Japan, you're bound to encounter numerous ramen shops and always wonder which one offers the best. I certainly haven't come close to trying them all, but when a small black building popped up near Futenma, and I realized it had a giant ramen billboard out front, I knew I had to give it a go. I'm thrilled I did since, I believe, it led me to the best ramen on Okinawa. (I teach local women English lessons and when asked what they believed was the best ramen shop on the island, they unanimously agreed – Hayatemaru!)

Hayatemaru Ginowan Exterior
There are a handful of locations, but the two I've found are one in Depot Island and one on 58 near Futenma. The Depot Island location offers a couple of tables, but they are all located out front of the restaurant. They are covered, but you are more subjected to the temperature. Inside, the counter accommodates about 10-12 bar stools. The Ginowan location has two tatami booths and about five small tables as well as a counter that seats about 10. This location also offers kids' seats for the tatami section and kids' dinnerware.

Hayatemaru Soy Sauce

Both locations offer an identical menu. Enter through the curtains over the door, and you'll
likely smell the vegetables quick-frying over the open stove or the broth being ladled into massive bowls. The server will bring a pitcher of water, cups, and an English menu. (My husband and I joke about the water pitchers at the Depot Island location as there seem to be wooden pickles floating in them.)
On the menu, you'll find an assortment of ramen dishes, a small list of things you can add directly to the bowl, a small list of sides and a small drink list. Seeing a trend? It's a simple shop, but it's also so good, there's really no need for a whole lot more. Ramen choices are: ramen with vegetable (salt-based soup), ramen with white miso (my second favorite), takumi ramen with soy sauce, ramen with soy sauce (my all-time favorite), ramen with salt-based soup, ramen with hot flavor soup (and prawns), and ramen with red miso. All of the ramen dishes are about $6-7. You can order a side of gyoza, fried rice, or handmade noodles (as the menu says, "for dippin"). Drink choices are water, pepsi coke (listed together, but not sure if it's one or both), orange juice, oolong tea and Kirin beer.

Hayatemaru White Miso
Hours: Open seven days a week. Lunch is served from 11:30 AM – 3 PM, meaning they offer a special or two, but the restaurant stays open after lunch and through the evening. Last order is at 11:30 PM and they close at midnight.
Phone for Ginowan location: 098-898-1400
Payment: Yen only

Hayatemaru Ginowan Billboard
Directions to the Ginowan location from Foster: Follow 58 South towards Naha. Pass MCAS Futenma on your left, and continue about one mile. Look for a mostly-black building on your right (directly next to an udon shop) with a small parking lot out front and a small lit-up billboard with a bowl of ramen on it. You will have to make a U-turn at a light to access the restaurant. You should pass the MOS Burger on your right, as well, but only long enough to make a U-turn, and pass it again on your left when you're heading the right direction to access the restaurant. Hayatemaru has its own small parking lot out front, but you can also use the overflow gravel parking lot next to it.
Directions to the Depot Island location from Foster: Follow 58 North towards Kadena. Turn left at the light after Lester's main gate. (There will be a Family Mart, Four Seasons and the ferris wheel on your left.) The best parking for the restaurant is if you turn right at the last light (when you've just passed the ferris wheel, Caboo! Mexican restaurant and the main American Village compound with the staircase and large Shisa dogs). Pass the left turn for Makeman's parking lot, and make the next left. It looks like a side-street around the back of Depot Island. (Don't park in the gravel lot on the right. It's for Depot Island employees only.) You can turn left into the parking lot where Double Decker (and their bus) is or the next one where Esperanza shoe store is. After you park, walk into the bottom, open-aired area where the escalators are in the building ("Seaside Square") next to Sega. You can see the tables out front of the restaurant and the counter seating inside. It's across from the giant Philly cheesesteak.
This post was featured in Stripes Okinawa!