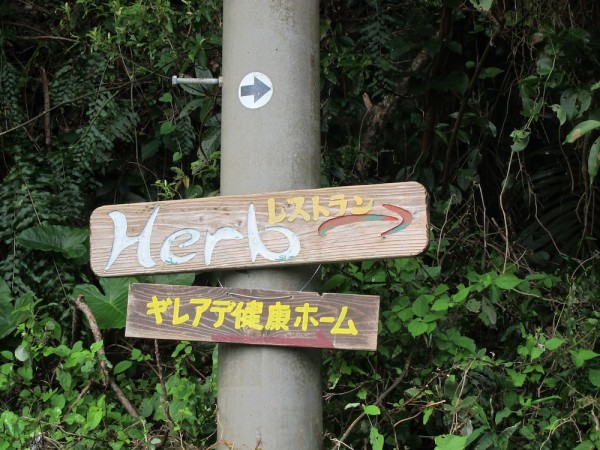 CONTRIBUTED BY KATHRYN STRONG
Being vegetarian in the US is fantastic; even in my hometown of Dallas, it was hard to find a place that wasn't only able to provide vegetarian food, but was enthusiastic about making a delicious meat-free option. Here in Okinawa, however, that is not the case. My explanations that I don't eat meat, and by meat I mean fish and shellfish and pigs and chicken and broth made from these things is often met by a completely confounded expression. One particularly memorable occasion I was actually turned out of a restaurant with a polite explanation that there was nothing I could eat.
And then, one hungry afternoon, I saw signs proclaiming the existence of "Vegetarian Restaurant Herb". Half believing they were a mirage, conjured by my mind like a pool in the desert, I turned. Following the signs, I wandered through the mountains between Nakijin and Motobu, until I arrived at a spacious vegetable garden and a quaint café.
Perched on a hill, the patio of the small restaurant looks over the forested hills of the north, straight to the ocean. Inside, open windows let in a breeze, while classical music plays throughout. A number of wooden tables line the interior, and a Japanese style tatami room is available for larger parties.
The menu is illustrated, and contains a selection of Japanese and Western dishes. While descriptions are written in Japanese, the owners are more than happy to explain the menu to you, and the pictures will give a pretty good idea of what you'll be getting. There are pastas with homemade sauces, sandwiches with vegetarian ham, and cakes made fresh that day. In the back is an assortment of juices, smoothies, and teas. I ordered a Japanese onigiri teishoku, or rice ball set.
When it arrived, I couldn't believe my eyes. Finally, miso soup that I could eat? Everything was prepared perfectly. I don't know how they did it, but even the goya was delicious. I ate everything happily. My non-vegetarian friend who I had dragged along with me was similarly impressed by her food. Even though she's borderline carnivorous, she's given me the go-ahead to come back.
At the end of the meal, I went to the cash register to pay. I had been wondering all meal where Herb had found vegetarian meat substitutes in Japan. Turns out I had no further to look than the counter. The restaurant happily sells vegan sausage, ground beef, ham, and a variety of grains. I bought a few cans to take home, so next time I get a horrible craving for a "ham" sandwich, I won't even have to leave my apartment.
Hours: 12:00 p.m. – 3:00 p.m. Sunday through Thursday. They are closed on Fridays and Saturdays.
Website:  herb.srministry.com
Phone: 0980-56-5681 or 080-3943-9180
Payment: Payment is accepted in yen only.
Directions: There are many different ways to get here. Although this might not be the most direct, it is the way with the best signage. Head north as you would to the aquarium. From the 58, turn to the 449 and head through Motobu. Once in Nakijin, turn left onto the 115 (as though you were going to Nakijin Castle). Drive a ways. The castle will be on your right. Directly across the street from the castle, on your left, will be a sign for Herb. Turn left here. The rest of the way there will be signs directing you to the restaurant. Continue on this road. When you go up a hill and find a boat that has been converted into a planter on your left, you're there. Parking will be labeled!
Address:  1471 Imadomari, Nakijin