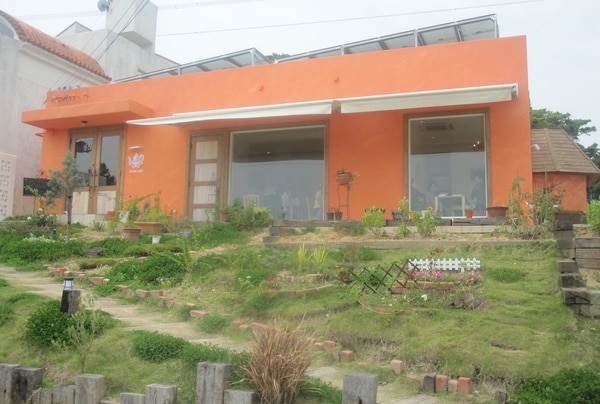 CONTRIBUTED BY MONETTE EAMES

Hinata Front
I am always on the lookout for cute cafes when I'm not confined within the school walls with my students. It's probably because I'm such a huge foodie. I'm happy when I'm around food… and ever since we moved to Okinawa where they don't just slap food together, presentation means a lot, too. So while on Spring Break, on our way to White Beach, we found yet another wooden sign that led us to Hinata Café. It's funny how I've trained my eyes to find these little wooden signs which always lead us to somewhere unique and interesting!

Hinata Interior
Hinata means facing the sun or sunflower in Japanese. So when we got to the bright orange Hinata Café, I had to smile. The sun was shining brightly and it was as if the café was just beckoning us towards it in the middle of nowhere. The kids were excited to run up the path that led to the door. The garden terrace in front of the café was full of herbs and fresh vegetables. It was nice to see that what we would be eating possibly came from there.

Hinata Shop
We walked through the little shop then to the restaurant. The menu was all in Japanese, but our waitress told us in English what was on the lunch menu. We got the cream pasta and loco moco sets. They also had other types of pasta, a curry set, and fish set. All the sets came with drinks, salads, and pickled vegetables.

Hinata Pasta

Hinata Loco Moco
After we placed our orders, we got our drinks and salads. The chef must love vinaigrette here because that's what the dressing was and the individual veggies were tossed in it, also. After a few minutes, our meals came and they were both very pleasant. My son who never touches brown rice ate his whole bowl—maybe because it was drizzled with some heavenly sauce—not the typical gravy for the loco-moco.
What a great find amidst the fields! We enjoyed our time here – such a beautiful place with delicious food.
Phone: 098 – 989 – 3896
Hours: Weekdays open from 11:30-19:30, Saturday, Sunday & Holiday 11:30~20:00 Close on Tuesdays
Address: Japan, Okinawa Prefecture, Uruma, Taba, 266
GPS Coordinates: 26.367999, 127.868316
Directions: From Camp McTureous, turn right and keep going straight, heading to White Beach. You'll pass the 100Y store and Max Value on the right. Drive a little more and then turn left at the Family Mart. Take another left and drive until you see a bright orange building on the left.