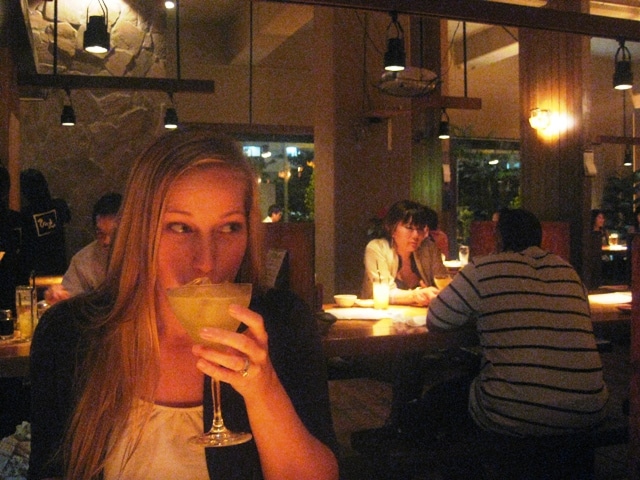 Hinoe Interior View
CONTRIBUTED BY KAYLIE GROENHOUT
During May when the rainy season was in full effect, it was easy to get into a funk around the island. My adventuresome side isn't the only thing that becomes stagnant when the rain rolls in – my dining habits do, too. It's easy to say, "I don't wanna drive to the commissary and carry groceries in the rain then spend an hour working on dinner," so my husband and I often end up going out. But even then, we're seeking comfort in places we've dinned at before. Nearing our first anniversary on the island, we agreed we needed to get back in the game of trying new places and vowed to try the first place that looked new and exciting. Hinoe is what we (delightfully) found.

Hinoe Exterior
The outside is most easily recognized by the tilted letters of the restaurant's name in addition to its large boxy appearance and glowing steps (a la rope lighting). The giant wooden door with small, rectangular window makes you wonder if you're entering a dungeon, but have no fear – a great izakaya experience awaits you.

Hinoe Exterior 2
The first staff member greeted us in Japanese and led us quickly to our table. Our drink order was taken and before it was delivered to us, we were surprised to be offered a small complimentary bowl of what I can only describe as pork-flavored noodles and chopped veggies.

Hinoe Pork Noodles
We had a difficult time deciding what to order as the menu had many choices, but we went with the Garlic Fried Rice, Yakitori, Cucumber Roll, and Salmon Roll. Everything was delicious and nicely presented. I should mention here that the sushi was either loaded with or simply made with intense wasabi. It looked harmless, but, as they say back home, it might put a hurtin' on ya!

Hinoe Food
As far as the menu goes, it seems there is a Japanese menu (with no pictures, but a lot more pages) and then an English menu. My guess is that there might be a lot more food being offered on the Japanese menu, but maybe it was too difficult to translate or they simply wanted to limit the amount of English that staff would be required to know. The drink menu appears to be the same way. Thankfully, there is a fun martini menu included in the English one that has a great selection of fun martinis – for only 300 yen a piece! For your sake, I had to try one to give fair feedback and with that said, I strongly recommend the Malibu Pineapple martini.
Stone walls and exposed wooden beams give the restaurant a very natural feel. We went in the late evening so it was dim inside, but the pendant lights above each table provided enough lighting as well as an intimate feel. Some tables are stand alone, others are pushed together but separated by wood dividers on top of the table, and the rest are tatami-style. The general look of the interior is like a sophisticated, revamped barn/clubhouse.
I'd highly recommend this place for date night, girl's night or any night out that you're looking for good food, drinks, and atmosphere.
Hours: Friday/Saturday, 5 PM – 2 AM with last order at 12:30 AM and Sunday-Thursday, 5 PM – 1 AM with last order at 11:30 PM

Phone: 098-898-7323
Payment: Credit cards and Yen
Directions: From the Foster Commissary Gate, take a left onto 58 (heading South towards Naha). Take a right onto the 58 Bypass (also called the Ginowan Bypass or Convention Center Bypass). If you pass Okinawa Yoho on your right, you missed the light. Continue about ½ mile until you see a Union convenience store on your left. At that same light, turn onto the side street that runs parallel along the left side of the bypass. (Do not turn left at the left; you want the side street that is practically in front of you but a hint to the left.) Hinoe is on your left.
Parking: Parking on-site is plentiful, but on weekends fills up quickly. A parking attendant or the posted sign may direct you to the secondary parking lot a block away.
Menu: