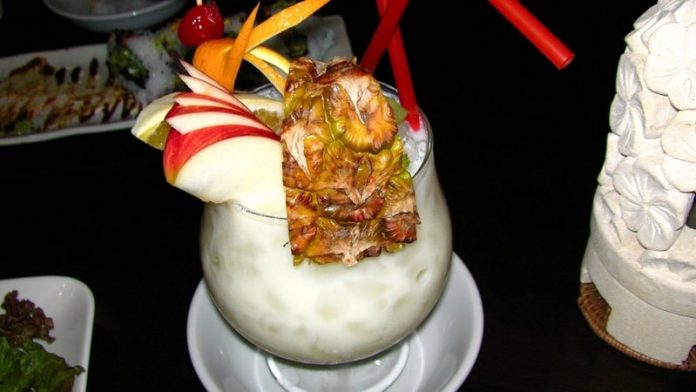 CONTRIBUTED BY AVIVA

On top of the Seaside Beach Hotel near the Sunabe sea wall is Hokulea Restaurant. It's not the least expensive place you'll ever go, but you can't really beat the sunset view and the service and atmosphere is really fantastic. The menu (a good English one!) has everything from sushi/sashimi to taco rice and pizza (as you can see by the pictures of the pages, there are MANY items on the menu. ANYONE can find something to eat here.). I've been to Hokulea three times, and I haven't had a bad meal there. (Though admittedly the lomi lomi salmon is my favorite and I order that as an appetizer each time.)
The restaurant is kid-friendly, I almost always see other kids there besides my own. The menu is so large, that even if you're kid is picky – like mine – you'll find something for him or her to eat. I try to go early (around 5:30 or so) when I have my daughter with me. It's not as crowded then so if things get loud or she meets a friend we aren't disturbing people. They do take reservations at 098-926-4908. Probably not necessary unless you have a large party.
Hours: As of 1/2014, Hokulea is only open for breakfast
Phone: 098-926-2674
Address: 3 Chome-1-3 Mihama, Chatan
Google Maps Coordinates: 26.3209385, 127.75823420000006
Directions: From route 58, go west on the road that takes you to Pizza Inn & GI Bill Pay outside Gate 1 of Kadena. Make a RIGHT at the last traffic light before the sea wall. Pass Coffee Casa and the Turkish restaurant on your left, and start looking for a white sign with blue lettering on the wall on your left: "Seaside Hotel, The Beach". Make a left there, and the hotel is on the right – a peach-colored building, enter the hotel, and the restaurant is on the 5th floor directly out of the elevator.