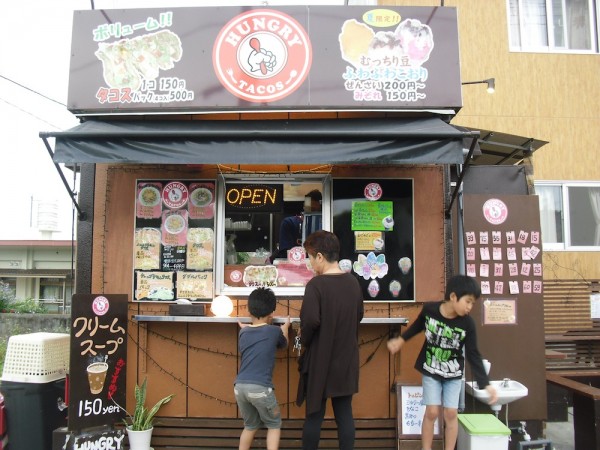 CONTRIBUTED BY DAPHNE SHAFER-REPASS
My new favorite taco place is Hungry, right off the 6 from 329.  It's a little enclosed kitchen-shack in front of the owners' home, complete with picnic tables,  counter-bench area, and drink machine!  The taco shells are made to order, but you won't wait long.  And after you taste them, you'll gladly wait longer the next time.
The menu is short: tacos with either beef or chicken; rice; soup.  Also, coffee.  And the biggest shaved ice cups I've ever seen:  imagine you're holding a big grapefruit, then expand your hands outwards, and stop when you think that's big enough.  It may be bigger than that!
The tacos are inhale-able in their lightness and flavor.  The taco shell has herbs mixed in before it gets fried, so it's not your run-of-the-mill plain corn shell.  The meats are super-tasty (go for the chicken if you like a little spice), the lettuce and cheese topping fresh, and the sauces (hot or basil) take the taco over the top.  At Y150 each, you'll need to get a bunch, because they go fast!
Directions: (From Courtney/McTureous)  Take 75 to 329 (avoid the shortcuts) and make a right at the light (onto 329).  Make a left onto 6 at the pink Coco.  Less than ½ km on the left you'll see the brown stand-up signs for Hungry (in white letters on a red circle), at the beginning of a small road.  Trust the signs and take that left down the road, drive about a block, see the brown building on the right, park anywhere.
Hours: Monday-Saturday, 11:30 a.m. – 8:00 p.m.
Phone: 964-4848
Payment: Yen only