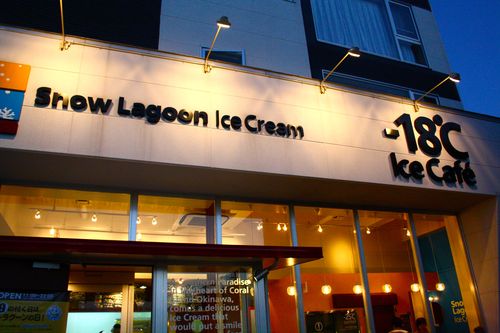 CONTRIBUTED BY SARRA MCMILLAN
Okinawa is hot. If you're like me, during the "winter" you brag to friends at home about the sunshine and beaches, knowing that they are still shoveling snow and wearing winter boots. There's no threat of frostbite in the Okinawan winter and many people who live here have never seen snow or felt the real cold of below freezing temperatures. If you miss the cold (or you are just craving some delicious ice cream) Ice Café -18° has the solution!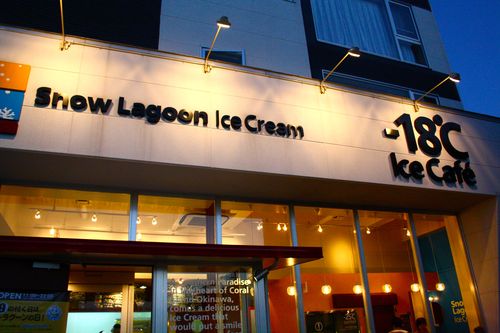 Located in Naha on the 58, Ice Café -18° is a new restaurant with 40 flavours of Snow Lagoon Ice Cream to choose from. Driving by the first time, I wondered aloud if it was really -18° inside, and I got nostalgic for scraping the ice of my windshield and my first job at a ski hill. Okay, not quite, but I was curious. A few days later, a flyer showed up in my mailbox and I took that to be a sign that I had to try this place.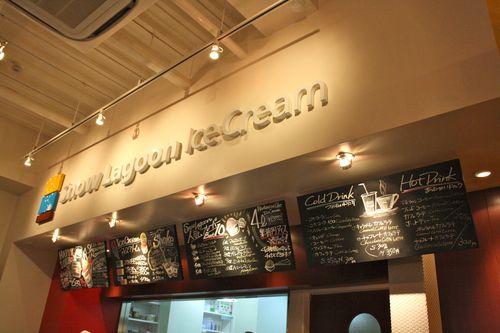 On the 9th of every month, Ice Café -18° offers 9 scoops of ice cream for 525 yen (much like the Lucky 7 available at Haagen Dazs on any day of the month that ends in 7). When the 9th arrived, I headed over with the boyfriend, knowing it would be unwise to attempt 9 scoops of ice cream solo.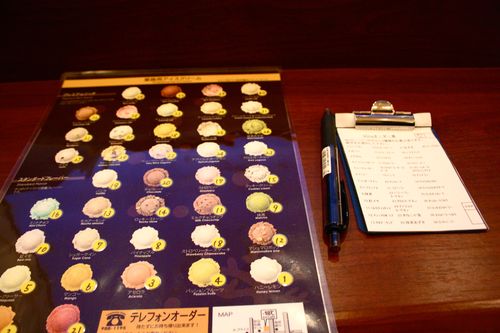 If you choose the 9 scoops option on the 9th of the month, they will give you a clip-board, along with the menu with English names of the flavours. You circle the numbers of the ice cream you want and then hand back your choices to the staff, who were incredibly friendly. Pay and wait for your ice cream overload!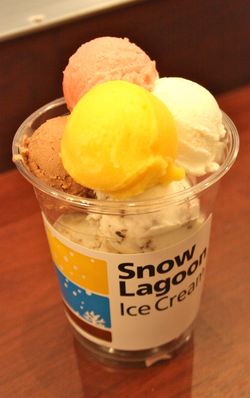 The ice cream was straight-up delicious; I really appreciated the fruit flavours, as they were very light and I (almost) felt like I was eating something healthy. My favourite of the flavours that we tried was "Cream Cheese and Crash Chocolate," though we also indulged in Strawberry, Mango, Pineapple, Rocky Stone, Cookies and Cream, Rich Vanilla, and Rich Strawberry.
It's not only the ice cream that is going to keep you cool in this café. They have set up a room where the temperature reaches a balmy -25°. Brrrr! I didn't go in, but I can imagine going there on a hot summer day and experiencing some relief with the frigid temperatures of home. If you do go in, you are required to put on protective clothing and to only remain in the room for 5 minutes. Don't want hypothermia interfering with ice cream enjoyment.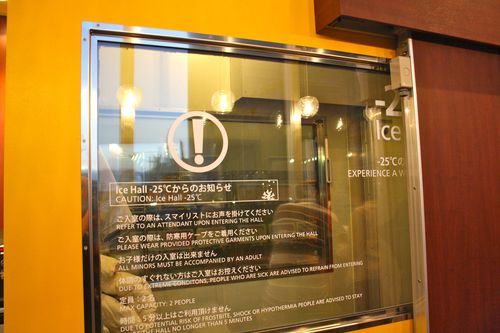 Phone: 098-988-1195
Hours:  Open from 11:00-22:00.
Payment:  I paid with yen; I am not sure if cards or dollars are accepted.
Address: 15-24, Jitchaku 2-Chōme Urasoe, Okinawa, Japan 901-2122
Google Maps Coordinates: 26.2439539, 127.6933312
Directions:  Ice Café -18° is very close to Camp Kinser. If you are driving on the 58, away from base and towards the city of Naha, you will keep to the leftmost lane of the 58 when the road splits. One road goes up, but you will take the road that goes down. You'll pass A-price on the left and a Mazda dealership to the right. The ice café will be on your left, past A-Price.