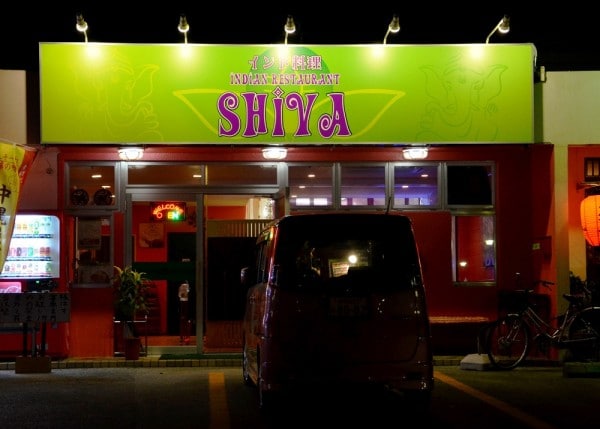 CONTRUBUTED BY BELINDA BYRON
My husband and I went to a ramen noodle shop next door to Shiva Indian Restaurant one day. We ended up talking to the owner and he explained how Indian curry is much different from the curry you would find at CoCo's. I had never tried Indian food before so I was skeptical at first. About a week later, we decided to go there and we were hooked!  We were welcomed by the wonderful staff that is attentive and very friendly.  The walls are decorated with beautiful paintings with lots of color.  There are Bollywood music videos constantly playing in the corner for everyone to enjoy while eating their meal.
They have many different types of curry: vegetable, seafood, chicken, beef, and mutton. There are a few variations of each as well. On a whim one time, I decided to try the mutton curry – another first for me since I had never tried that either. It was absolutely phenomenal. All the spices and ginger and mutton mix so beautifully, it's like you're eating a little piece of heaven in every bite.
They have a non-vegetable dinner set that we usually get, which includes two curries, tandoori chicken, seekh kabab, naan, rice, salad, dessert, and a drink for Y1780. There is a vegetable set as well for Y1580. For the first choice of curry, I get the mutton curry extra spicy and for the second one, I pick something new to try. I am never disappointed.
The kids' set is only Y680 and includes one curry, salad, naan, rice, dessert, and a drink. The butter chicken curry is great for kids and my son loves it.
He's also in love with their mango lassi, as am I. My husband gets the original lassi, which is great as well. A lassi is a yogurt-based drink. It is blended with water and sugar, spices, and/or fruit. It's refreshing and pairs well with the spicy curry.
They also have a variety of beers, cocktails, and juices to choose from, as well as a few appetizers.
We have tried a few different Indian restaurants on island, but we feel nothing compares to the quality of Shiva. When the owner, Sid, is in, he is always checking on us and bringing us samples to try. He even let us try the curry dish that he usually has, which is not on the menu. It was mutton curry, but still on the bone. The meat was so juicy, tender, and full of flavor.
The naan is a perfect combination of crispy and doughy and absolutely delicious. You will definitely be surprised by how big it is too! We've tried the cheese naan and it's amazing, but we usually stick to the plain naan. The dessert changes from day to day so we have had three different ones so far.
There are a couple of other Shiva locations on the island so check their website to see which would be closest to you. I can't vouch for the other locations but I am sure the experience is the same at each one.
This restaurant is definitely one that everyone should try at least once; believe me when I say this, you will be going back for more, just like our family. We go there at least once a week.
Address: 3-19-6 1F Mihara, Okinawa-Shi
Directions: From gate 3 of Kadena, turn right onto Rt. 74.  Stay straight as Rt. 74 turns into Rt. 85.  Turn left at the set of lights to stay on Rt. 85.  You will go through the intersection which crosses through Rt. 329.  You will come to Rt. 224.  Turn right at the set of lights toward Miyazato. It is right in between a SoftBank and DVD shop.  You will pass a CoCo's and an Arashi on your left hand side.   Shiva will be on your right hand side, not far down the road, right across from the park.  If you get to the karaoke café with the astronaut and a Family Mart on the left, you have gone too far.
Phone: 098-937-1717
Hours: 11:00 a.m. – 11:00 p.m.
Payment: Y, $ ($1=Y100)