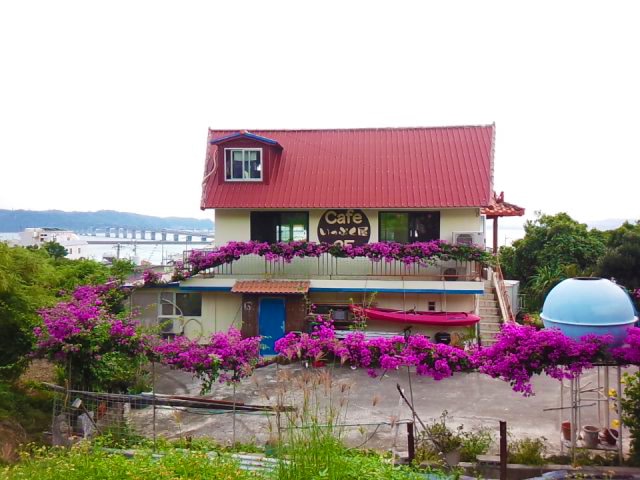 CONTRIBUTED BY THE WANDERING WAFFLE HEADS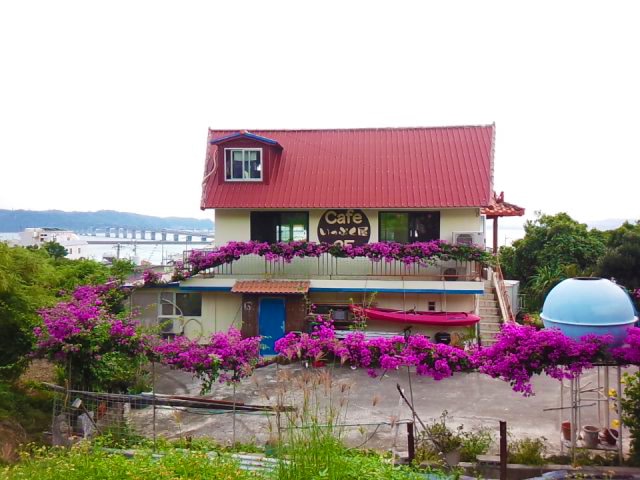 One of things that we love doing in Okinawa is exploring. It might be a new beach on a different island or new local store down the street, but what excites us the most is finding a new place to eat. It gives us great pleasure to find secret places that offers something new and refreshing. The other day my husband was driving around Henza Island when he noticed a small café filled with parked cars outside and out of curiosity we went back to check the place out. So glad we did.
Ippukuya Café has tons of nautical décor. You'll find seashells, old maps, a hammock– there is even a boat on the balcony that was refashioned into a table. The place is very cozy and quiet and it probably has the most amazing view of the landscape on Henza Island.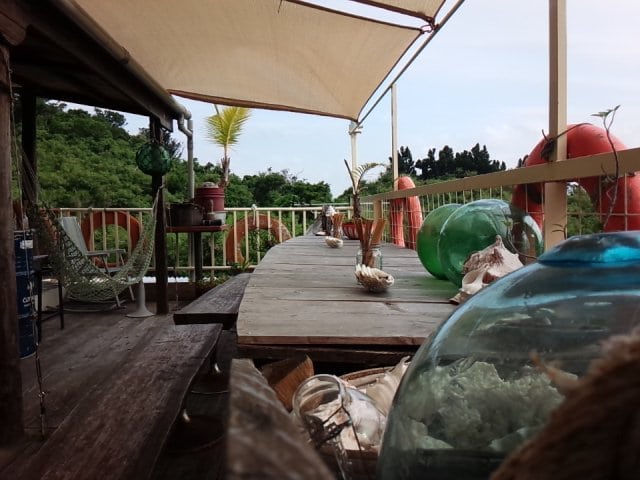 The menu consists of noodles, rice balls, a variety of drinks and shaved ice for dessert. Food is not really the main attraction of Ippukuya as this place actually follows the sense of the word "cafe" more so than many cafes in Okinawa. Drinks and dessert are the big attraction, preceded only by the peaceful view and laid back atmosphere.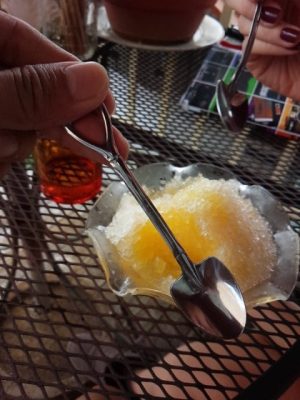 The waiter gave us a menu in Japanese and we chose to order the noodles according to the pictures in the menu. (Quick tip: It would help to ask if they have an English menu.) We are not really big fans of cold noodles, but they weren't bad. The cold dish had half a boiled egg, bitter melon slices, cow tail and cold wheat noodles in pork stock, paired with a side of kimchi. The hot noodles in our opinion were much better than the cold. The hot noodles consisted of ginger, leek, pork intestines, and warm wheat noodles in pork stock. When it was time for dessert, we finally found the English menu. They have special shaved ice with beans on it, but we chose the mango shaved ice instead. The shaved ice was a really nice treat for us.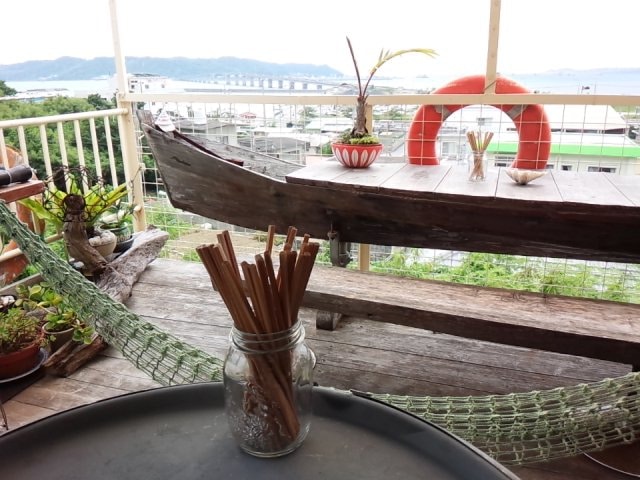 Ippukuya Café is open every day from 11 am until sunset. Prices vary from 1000 to 1500 yen. If your on your way to Hamahiga Island, Ikei Island or just out and about on Henza Island, we recommend stopping here for a quick snack, maybe just before the sunset, to appreciate the view.
Hours: 11:00 a.m. till sunset,  Daily
Phone: 098-983-1600
Payment: Cash only
Address: 115-2 Kaneyama, Mogami-gun, Kaneyama-machi 999-5402, Yamagata Prefecture
Directions: From the Legion gate of Camp Foster drive straight on 81 which become 227 straight again which then becomes 85 still going straight. 85 will become 33 still going straight where you make your first turn at a fork in the road and take a right on 37. Follow 37 until you get to the red Kaichu bridge and make a left on 10. Follow the Kaichu bridge to Henza Island. Keep follow route 10 until you are a little bit passed the right turn for Hamahiga Island. You will make a left when you see a small sign with a picture of a coffee mug follow the narrow pathway until you find the café.
Coordinates: 26.341452, 127.956630
Parking: Yes (side of the road)