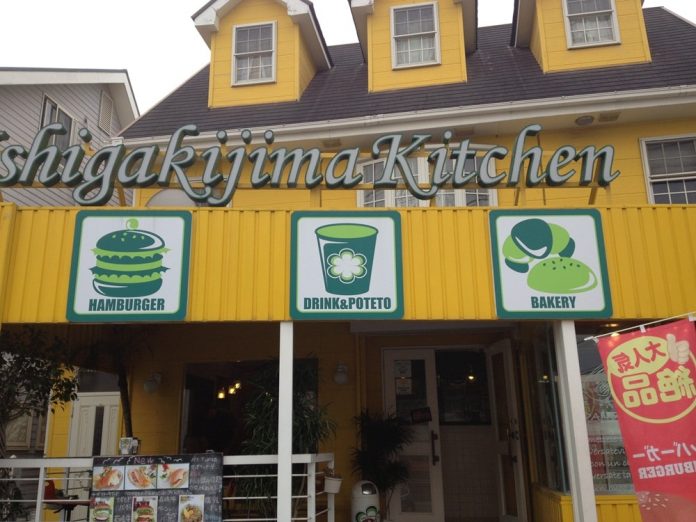 CONTRIBUTED BY SHELL BURGER
If you are searching for a truly amazing hamburger on island, look no farther than Ishigakijima Kitchen Bin. I just went there for the first time today for lunch, and I have to say their avocado burger is the best I have had on
Okinawa. Not only is the meat cooked perfectly, but the wasabi mayonnaise they put on the burger with the avocados gives it just the right kick. The BEST part of the burger though is the bun. It has the flavoring of a pretzel, but the lightness of a bun. Definitely makes the burger one that I will be going back for.
The place is on the smaller side, with just a few tables inside and out, and it can take a little while to get your food, but the wait is definitely worth it. They have an English/Japanese menu right on the counter-top which you use to place your order as soon as you walk in. You can order just a burger for 910-980 yen, or make your burger into a meal for just 390 yen more. They also have other items if a burger doesn't sound good to you. From their menu they do have kid's meals, so I know this will definitely be a place I bring my 2-year-old back to. 
Also, they are supposed to be known for their bakery items. I haven't tried them yet, but I plan to next time I go. Happy Eating!
Hours: 11:00 a.m. – 10:00 p.m.
Phone: 098-936-7587
Payment: I was able to pay with credit card, so I would say they take both Yen and Credit.
Directions: It is just in Chatan. (Another hidden jewel, right in your backyard.) It is located next to Mike's Tex Mex.  From 58 going toward Naha, turn right onto 130 going toward ETWS (Blueberry Café is on the corner of the intersection).  Take a left when you hit ETWS, follow that down about a block and you will see the bright yellow Ishigakijima Kitchen building.  There is very limited designated parking, but you can park on the street.
Address: 1-11−21 Chatan, Okinawa Prefecture, Japan
This post was featured in Stripes Okinawa!