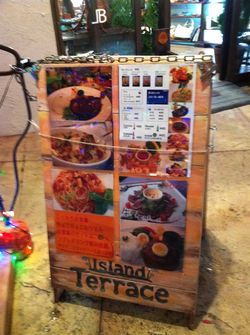 CONTRIBUTED BY LISA WILLIAMS
I have to say when I arrived on Island in November 2010, I was a little overwhelmed with locating food I would like and my five (pronounced "go" in Japanese) year old would actually eat. I use Okinawahai.com religiously to locate everything.
Tonight, however, I was on a mission for good shrimp tempura and accidentally ran into good chicken. I don't know about anyone else, but BBQ chicken that falls off the bone is a southern favorite of mine, which I had not found until tonight. It was very much by accident. I was on my way to Climax Coffee, when I remembered I needed to go by the Bunny store (children's clothing) and somehow ended up at American Village. Okay… I admit freely I was distracted looking at all the clothing stores right by Araha Beach. Can you blame me?
The aforementioned five-year-old announced she was hungry and that she'd like to see the Coca-Cola Ferris wheel again tonight, in an attempt to get me to ride it. There was a big smiling Please added to the end of that statement, and who can resist their kindergartener when they use manners? So, I parked in front of Sega and headed towards the Dr. Marten's store, since there are tucked away little places throughout Depot Island.
I saw these larger than normal Okinawan signs with Big Chicken (in 4 different mouth-watering flavors), pizza, pasta, steak and sweets (including cheesecake!) and an additional sign with specials. I noted the 980 Yen price for the chicken, rice and decorative mashed potatoes and thought, well, why not? I think my daughter ended up being the decision maker anyways, because she was headed up the twinkling light glowing stairs with waterfalls before I even said anything about dinner.
We turned right at the top of the stairs. There was a small waiting area with 1950's diner type barstools (I assume for waiting) outside and then an automatic sliding glass door. We were greeted within seconds. The waiting staff is very attentive and eager to speak with you in English or even my very broken Japanese was smilingly understood. They asked if we'd like to sit inside or outside. Although the outside porch area looks wonderful, complete with heaters, the breeze outside reminded me that inside might be best.
I ordered the Big Teriyaki Chicken plate and added on the 450 yen salad, unlimited soft drinks and ice cream special. My daughter and I shared this order, as she likes rice and won't touch chicken that is not breaded and fried (sorry, she is a southern girl through and through). The very nice waitress let me know my salad, drinks and ice cream were self-serve. The salad bar is not American style huge (like Ruby Tuesdays) but is more than sufficient with 2 types of lettuce, tomatoes, cucumbers, 3-bean salad and corn pieces. There are 6 different kinds of dressing, all labeled. I loved the ginger dressing but they also have Italian for the less adventurous palate. The drink machine has Coca-cola products and Calpis water (carbonated and non-carbonated). I was very happy to see straws on the drink bar for the kids and a multitude of hot teas for those cold nights we are having.
After all this wonderful experience, nothing beat the arrival of our plate. The big chicken plate is a half chicken, a heaping pile of rice and a decorative (and very yummy) sampling of mashed potatoes. When I cut into the chicken with a butter knife, it fell apart. I had to take pictures of it. A whole chicken breast fell apart in front of my eyes. The teriyaki sauce was not too sweet and did not overpower the tender chicken.  The rice was traditional steamed rice with a sprinkle of seasonings on top. In fact, just telling you about it is making me think about getting into my leftovers.
I can honestly say this meal was large enough for two adults. I took home a half of the chicken and rice and am thinking about a healthy lunch tomorrow. I might just dream about this chicken tonight.
For 1340 yen, I walked out with a content tummy, ecstatic taste buds and a happy child, who had just taken unfair advantage of the soft serve machine which made the waiting staff laugh and moon over her a bit.  If you have 45 minutes, try Island Terrace. I can't wait to go back and try some of their pasta dishes, which also looked delectable.
For the beer minded crew, they carry Heineken, Corona and other familiar beers. I believe they also had Blue Sky, for the sweeter tasting imbiber.
Payment: Yen, dollar and credit card
Phone: 098-983-7588
Hours: 11:30 a.m.-11:00 p.m. daily
Address: 15-69 Mihama, Chatan
Google Maps Coordinates: 26.3169450753, 127.75802911599999
Directions: In Depot Island in American Village.  Take 58 to American Village. Once in American Village, go straight through the stoplight in the center of the village and turn right into the parking lot where Sega is located. Go to your left towards Depot Island. Park near the Dr. Martens Store on the far left if you are facing Depot Island. It is on the left-hand side, up the stairs. Pictures are posted as to the correct stairwell, with Lava rock fountains and twinkling lights. Enjoy!!