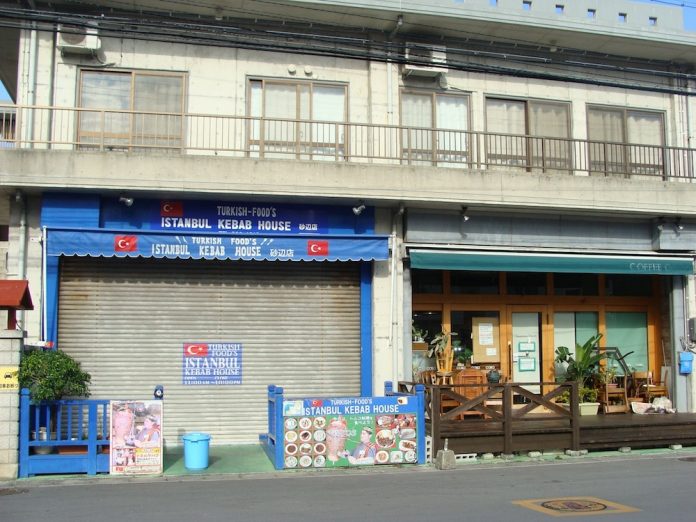 CONTRIBUTED BY MELISSA RUISZ

Istanbul Front
Istanbul Kebab House in Sunabe has a cozy, earthy vibe, as if you were invited to your Turkish friend's large college dorm room. Red paisley fabric covers 7 or so tables, and offsets the royal blue and white walls, decorated with an eclectic mix of colorful ornate plates and small rugs (some for sale), figurines, children's art, photographs, and old beer posters. And hookahs. Lots of hookahs.

Istanbul Interior
The dinner menu offers several entrées of kebab, or meat, plus vegetarian options, like eggplant, and they range from ¥1000 to ¥1300. For ¥1500, you can get the dinner set, which includes a choice of their 8 kebab entrées, plus soup and one soft drink or tea.  I tried the set with Entrée #2, or Iskender, a small plate of gyro meat on top of small pieces of soft white bread, then smothered in a tomato sauce, and a second Thousand Island-looking sauce drizzled on top. It also came with a side of mild yogurt, which I thought would be to counterbalance the spiciness of the meat, but the meat wasn't spicy at all, just full of flavor.

Istanbul Kuzu Kavurma
On the other hand, my husband ordered the dinner set with Entrée #8, Kuzu Kavurma, a plate of lamb with peppers, spices, and a side of white rice. His dish was a bit more spicy, and quite tasty. I found myself asking for more bites of his food, even though I'm a bit wary of eating peppers because they don't agree with me, but the dish wasn't overloaded with peppers. In fact, the dinner set isn't overloaded with a lot of extras (I was still a little hungry after the meal), but what it does come with is pretty good. The accompanying tomato and herb soup is delicious and a bit thicker than the canned stuff, and the Turkish tea is definitely worth trying.

Istanbul Desert
Indeed, the cay, or Turkish tea, was my favorite part of the meal, both times I went. If you order it hot, it comes in a small, ornate glass and saucer, and a long white and tan packet of sugar that I at first thought was a long cigarette that flapper girls smoked in the 1920's. The scalding liquid smelled fruity, like berries or plums, and the taste, once cooled a little, was rich, not weak or bitter at all. The tea is also delicious iced, and reminds me of chai, with hints of cinnamon and clove.

Istanbul Beef Gyro Set
If you often crave gyro sandwiches and falafel like I do, I highly recommend coming here for lunch, as their ¥1000 lunch set menu is a great value, especially compared to the jump in dinner prices, and will allow you to order some of their sides without breaking your budget. My beef gyro sandwich set and my husband's chicken gyro sandwich set each came with French fries, soup, and their tasty iced cay tea. We also ordered some falafel and hummus. Even though the hummus comes with 4 small pita pieces to dip, we liked dipping our fries in the hummus–yum! Their falafel, those fried, ground chickpeas and herb hush puppy-nugget-things were tasty, especially dipped in the two accompanying sauces, or once again in the hummus.

Istanbul Chicken Gyro Set
I do have to mention, and I'm not sure if it's me, or because it's homemade in small batches, but the hummus tasted a bit different each time we went. When we went for lunch, it was subtle and smooth, but when we went for dinner, it had a slightly more bitter and tobacco-like flavor. It also doesn't have as much lemon flavor as I'm used to, but I'm sure that can be remedied by asking for a few lemon wedges to squeeze in there.
Payment: Yen, Dollars, Debit Card
Hours: Sunday — Wednesday: 11:00 am — 10:00 pm (last order at 9:30), Friday — Saturday: 11:00 am — 11:00 pm (last order at 10:30), Closed Thursdays
Phone: 098-936-1218
Address: 3-51 Miyagi, Chatan
Google Maps Coordinates: 26.3308494722, 127.7446189
Directions: From Kadena Gate 1, turn left onto 58 and then immediately right at the next stop light, where Family Mart, U.S. Auto Sales, and Pizza In are located. Follow this street toward the sea wall, make a right at the very last light before the sea wall. Istanbul Kebab House will be the royal blue building on the left side, a few blocks down, right next to Coffee Casa. Parking is available in front, on the side of Coffee Casa, or anywhere on the spacious street that won't block other cars.