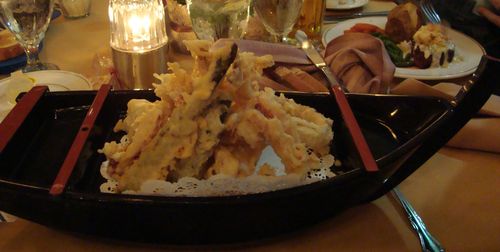 CONTRIBUTED BY MICHELE LEHANE
When the kids and I arrived on the island, the first restaurant my husband took us to was Jack's Place. His theory was that he wanted to start our stay on Okinawa with a good first impression but not induce too much "culture shock". I was slightly insulted that he thought I couldn't handle eating at a place out in town without going into fits of anxiety and demanding to be flown back to the States, but my annoyance didn't last long.
Jack's Place has two sides to the restaurant. There is a gourmet dining room and the Teppanyaki room. My husband chose the Teppanyaki room since he had fond memories of going there many years ago when he was young and single on his first tour in Okinawa. If you aren't familiar with teppanyaki, think Benihana-style where they grill up your food right in front of you. You can choose from beef, chicken, shrimp, lobster or a combination and every meal comes with soup, salad and bread. From my experience (and there have been many trips here since that first night) the beef is incredibly tender, juicy and seasoned perfectly. The kids really enjoy watching the chef do his handy work complete with a flaming onion volcano and some pretty good tricks involving bowls and pepper shakers. And OK, I like that part too.
We recently introduced some friends to our "secret favorite restaurant" (because we are kind of ashamed to admit we love a place on base when there are so many great places out in town). And guess what? They loved it too! In fact, they later came back and tried the gourmet dining room which they enjoyed so much they in turn invited us out to try it.
The dining room has a variety of chef prepared meals like garlic steak, vegetable stir-fry and shrimp scampi. My favorite is the tempura that is served in a big boat. Plus, it gives the kids something to do when the food has been eaten and you would like a few peaceful minutes to enjoy your coffee. The dinners include soup, salad, bread and complimentary wine (Yup, I said complimentary wine!). I highly recommend the Japanese salad dressing which consists of soy sauce, vinegar and oil. Dinners also come with a dessert that is served whether you like it or not. And as my friend pointed out, dessert that you do not have to ask for does not have any calories.
On Saturday nights there is live music.
Hours:  It is open Tuesday-Thursday from 5-9, Friday 5-10, Saturday 4:30-10, Sunday 4:30-9 and closed on Mondays.
Phone:  Their telephone number is 959-JACK
Directions:  Jack's Place is located just inside of Kadena Gate 1.  Turn right just after coming in the gate and when the road bends left, you will see an unusual building built on the side of a hill on your left.  That is Jack's.
Website:  www.kadenaforcesupport.com/jacksplace.html