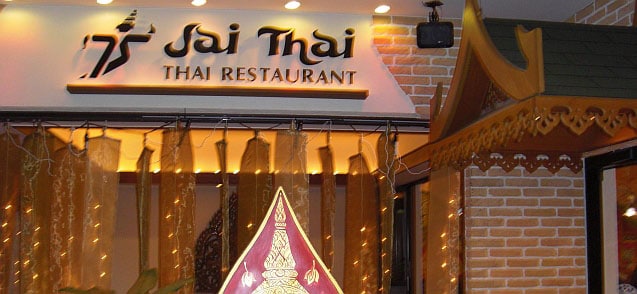 CONTRIBUTED BY SARA HERNANDEZ
As the name suggests this is a Thai restaurant. My family has been there many times in the four years we've been here. We have never been disappointed. The atmosphere is authentic Thai which is very nice and they have a great view with wrap-around floor to ceiling windows.The wait staff is very attentive and never misses a beat, like seriously, sometimes they notice my kid has dropped a fork and is already on the way to our table with a new one before I have even noticed what's going on.
This visit was on a Saturday evening around 6 pm with my husband and 2 kids (3 and 1.5) and it was not busy yet, although I have to say we've never had to wait for a table there. They are kid friendly as they offer high chairs/boosters (BEWARE: the highchairs don't have straps! So if your kid is anything like mine you should invest in one of those cool strap-down buckle things to bring along).
We usually order our faves since we've been here so many times but over the years I have sampled a good portion from their menu.
Kids food: they have two kids sets to choose from. They are each is 600 yen and include a LOT of food so if you're kids are little they might be able to share one. My kids prefer the roast chicken set which includes a piece of (surprise!) roast chicken, some french fries, egg fried rice, 2 small spring rolls and some of those jellies for dessert.
The other option is a hamburger set with spaghetti and some eggs on rice and a flan-looking dessert. Don't let the uninspired kid meals throw you off though because as I am a big Thai food fan this place is as authentic as you'll get.
Appetizers: we usually get the pork saute (500~600 yen 4 piece) just because my husband can never resist meat on a stick (must be a caveman throwback) but they also have awesome prawn cakes and, of course, typical rice paper spring rolls. There are quite a few delicious looking soups offered but I will be honest I have never tried ANY of them!
Main Course: (Avg. price 1100-1300 yen) My typical is Stir fried chopped chicken with basil it is one of the many delicious stir fry choices they offer and my fave because I LOVE basil and Thai chilies and those are the stars in this dish.
The menu has meals heat measured by number of chilies (1-3) and this is the 3 chili rating. Not the most spicy thing I've ever tasted in my life but on my scale it is just the right amount of spice, makes my nose run a little but not so bad that I'm soaked with sweat after I'm done because everyone knows that doesn't make for a pretty dinner date. My other half usually orders from the noodle section of the menu with his favorite being Pork stir fry noodles.
This is thin sliced pork stir fried in some sort of yummy peanut tasting sauce with veggies and served on ribbon noodles. Other menu items worth mentioning are the stuffed fish (not sure what its called but you'll notice it in the seafood section- its the most exotic looking thing on the menu) It might look a little scary but its really tasty, I promise! Also for the less adventurous there is a Chicken and cashew stir fry that is not spicy but still very tasty. A lot of the 'newbies' I take there get that for their first try and are never dissatisfied.
How could I talk about a Thai restaurant without mentioning curry??? I couldn't!! Of course Jai Thai offers a good selection of Thai curries red and green, coconut (sweet) based and hotter than hot and if you've never had 'real' Thai curry (not like Coco's!) you should give it a try. To round it out we order a large bowl of steamed rice and a scoop of coconut ice cream for dessert. We have been there on date nights and ordered from their 'cocktails' menu and it was also pretty good (from what I can remember).
For a family of 4 with 2 kids meals and 2 adult meals, appetizer, rice and dessert the bill came out to around 4500 yen which is very reasonable given the wonderful service and fancy looking atmosphere.
Update: As of July 2011, they also have a vegetarian menu.
Payment: Yen, $, and credit card accepted
Hours: Mon-Fri 1130-1500 for lunch 1700-2300 for dinner, Sat. Sun. and Holiday 1100-2300.
Phone: 098-936-0828
Address: 15-69 Mihama, Chatan
Google Maps Coordinates: 26.3169864547, 127.758070441
Directions: Look for the only Ferris wheel on the island in American Village! Jai Thai is located in 'Carnival' mall in Mihama directly under the big Ferris wheel. Park either in the parking lot across from Jusco or behind Dragon arcade area (this area is usually filled). For real newbies who don't know where this is take 58 N from Foster turn left at the Starbucks across from Lester, go through to the 2nd light and turn right. Park in the large lot on the right across from Jusco mall and follow the hypnotizing glow of the Ferris wheel. Jai Thai is on the 2nd floor.