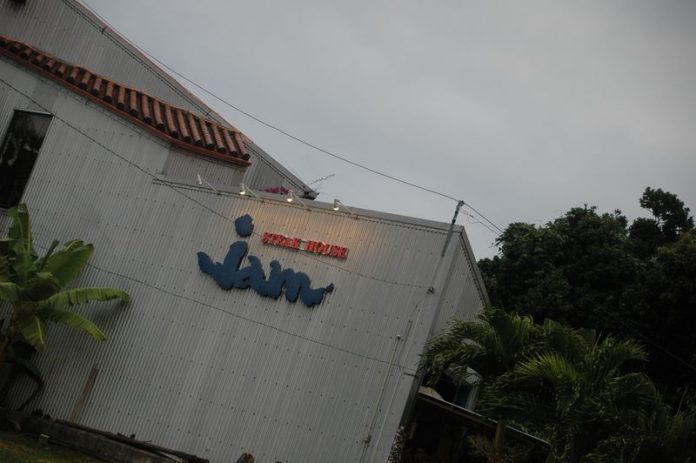 CONTRIBUTED BY LARISSA TRAQUAIR
Teppanyaki style cooking is easy to find on Okinawa and very entertaining.  If you like to watch your food being prepared in front of you while acquiring a few new tips for your own adventures in the kitchen than my recent find, Jam's Steak House, is what you are looking for.  Located a few kilometers from the Renaissance Hotel this restaurant is worth the drive.
You first notice the incredibly large and artsy building from the outside as you drive North on 58.  Their neon, palm tree sign may also grab your attention as the day turns to night.  Once you are inside you enter into an experience like no other.  The long wooden stairs will lead you to the main level of the restaurant.  This is where the visual stimulation will grab your attention about the same time all the wonderful smells envelope you.  Jam's is an experience!

Like many upper scale restaurants, Jam's offers an extensive drink menu and their presentation will not disappoint.  Even your soda comes in a beautiful cup.

We ordered the Couples Special and, with tax, your total is Y8,000 without a drink.  This is the most expensive dinner we have paid for on the island, so far, but you will not be disappointed in your service or your meal.  Our meal combination came with soup, salad, the main course and dessert.  Jam's salad dressings are very creative with choices like Goya Mayonnaise, Cheese Pineapple, Japanese with Miso and French.  Their signature soup is curry.  The curry soups on this island are to die for and if I could get the recipe I would be one happy clam!

Our combination, for 2 people, came with 150 grams of Tenderloin, 200 grams of Sirloin and 2 large prawns along with many grilled vegetables and your choice of rice or noodles.  You can even order Garlic Fried Rice for a little extra.  We would recommend paying extra as Jam's knows how to use garlic in their food.

You can also order appetizers from their extensive menu such as ostrich sashimi and grilled salmon.  Other meal options include ground beef, steak, large prawns, fish, squid and scallops.

One unique aspect of Jam's is that you are escorted away from your dinner table to enjoy your dessert (sherbet and fruit) along with hot tea.  This makes for a great way to transition from your meal to dessert, never feeling rushed.
Happy Eating!
---
Jam's Steak House
Payment:  This restaurant takes Yen, American Dollars and Credit Card
Hours:  Lunch: 11:30-14:30 (Last Order at 13:30) Lunch time closed Tuesday & Wednesday (Lunch is a great deal with sets starting at Y950.)
Dinner: 17:00-24:00 (Last Order 22:30) Dinner time closed Tuesday
Phone: 098-965-2626
Address: 1518 Fuchaku, Onna Village
Google Maps Coordinates: 26.452527342, 127.805738107
Directions: From Gate One of Kadena head North on 58.  You will pass Kadena Circle, pass 6 and then you'll pass the Renaissance Hotel.  3.5 Kilometers past the Renaissance start looking for Jam on the left.  When it's dark you won't miss the neon palm tree sign.