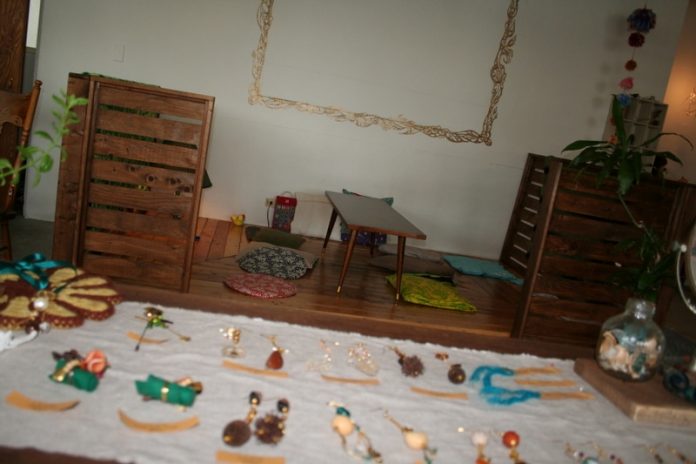 CONTRIBUTED BY KELLYERACE
Last week I went to JiJi Cafe over near Awase golf course. But it was hard, 'cause I'm on Weight Watchers now, so I couldn't eat everything I wanted. I didn't even have desert — unusual for me. On the plus side, I've lost ten pounds in a month.
Luckily, there are no restrictions on coffee on Weight Watchers (that I know of). So, I was able to get my afternoon fix. That it came in this really groovy coffee mug was a plus. I didn't even mind practically poking my eye out every time I had a sip.
For lunch, I had this tandoori chicken plate. Well, actually I had half of it, which I calculated as being 7 Weight Watchers points. The plate had a salad, mashed potatoes (?), a carrot salad, some kind of interesting rice with toasted sesame seeds on it which made it taste special, and the chicken. Oh, and a banana chunk which my son ate after spilling soup all over me.
There were two other options on the lunch menu: a fish dish and a curry. Our lovely waitress, who just moved here from NYC a few weeks ago, explained that the menu changes up every few days but usually consists of some kind of pasta or rice dish. She said we should come back for dinner when they have more options. Seems like JiJi might also be a good place for an afternoon cocktail, as it has this really solid looking wood bar that would be nice to sit at.
After finishing my half a lunch, I spotted an empty couch with toys on it. We moved to the couch, wrapped up our conversation over there while babester got his play on. But I felt guilty for dragging my son to lunch with me when he's obviously getting too old for this kind of thing. Nice waitress pointed out a bunch of other cool toys he could have played with if we'd sat in the floor seating area. My lunch date friend is very pregnant though, so that wasn't really an option. But pretty hip looking, huh? The toys are behind the wooden screens. Oh, and in case you're wondering what happened to the other half of my lunch, I don't know. Jiji's doesn't have takeout boxes. Lunch-time guilt pang #2.
Get a load of the funky jewelry sold there. I really dig this whole boutique/cafe thing they've got going on here in Okinawa. I don't think I've ever bought anything other than food at boutique/cafes, (have you?) but all the stuff is fun to look at, no?
JiJi's seems to be doing quite well for a place that's only been open about six months. We got there at about 12:45 and all the parking was taken. This could have irked me — I had no idea where else to park and the road it's on is really congested — but one of the JiJi's staff came running out to direct me to alternate parking the instant she saw my car creeping by out front. I was overwhelmed with Japan love at that moment instead. I'm pretty easy to please like that.
Hours: Open 11:30-24:00 Closed Thursday
Phone: 098-987-7515
Address: 1422-3 Shimabuku, Kitanakagusuku
Google Maps Coordinates: 26.3179753, 127.80417829999999
Directions:
From Foster PX Gate: Turn left onto 330. Pass Plaza Shopping Center. Turn RIGHT at Awase Golf Course (you'll see the nets. Camp Butler on left side of street.) Count 4 lights (including the one on 330) and it will be on your left hand side of the road after a pizza place. If you've gone down the hill to the love hotels it's too far. Parking? There's parking in the front, but if it's full, make a left at the light and park in the little driveway immediately on the left.
From Kadena Gate 2: Same as above, but turn right onto 330 and left at Awase.
Website: www.jijicafe.com