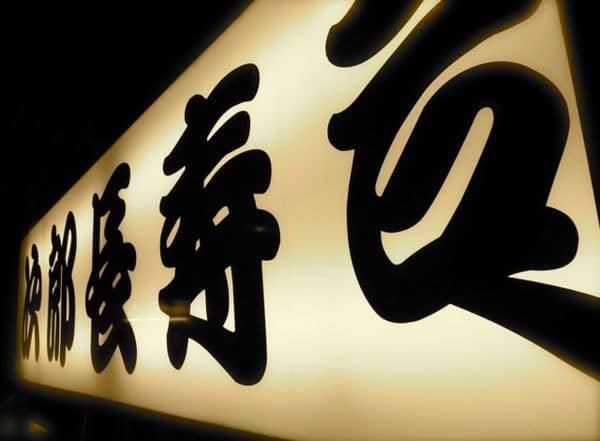 CONTRIBUTED BY CHRIS DONG
Growing up in California, I had the good fortune of going on deep sea fishing trips with my father and grandfather. Early morning drives to the port were filled with contemplative silence, father and grandfather secretly hoping to win the day's bragging rights for most fish caught. Me, I had sushi on the mind. Following a morning of rocking, knotting, baiting, casting, waiting, and reeling, 11:00am would finally arrive: Lunch!
The sea-breeze blows, the white waters roil, and my grandfather ceremoniously draws his well-worn cutting board, unsheathing his dangerously sharp sashimi knife as it glints in the high noon sun. Would-be samurais take note. Gramps was the real deal. After expertly filleting a fresh caught fish, he would lay before us a uniform row of delicately opaque slices, paired with his original ginger soy sauce. Other fishermen stared, mouths-agape with their half-eaten sandwiches. Yes, this superhero is my grandfather, the man who turns the simple, majestic.

JiroCho Sign
Food critics say that a great meal allows those who partake a glimpse into nostalgia. JiroCho Sushi did just that. In my opinion one of the best sushi establishments on island, JiroCho feels like a step into Okinawa's gloried past. Cobbled stone walkway, dark wood accents, driftwood rafters, paper-walled tatami seating, the atmosphere created is imperfectly rustic. Entering involves passing through JiroCho's signature norem (cloth-curtained entrance), opening to a view of the sushi bar. Chefs look up with a smile, welcoming, always happy to see you.

JiroCho Tea
Ordering from handwritten paper menus, our chef gave us his honest assessment of what was best for the day. For the more adventurous, cover the eyes, spin the menu, and point. A bit more traditionalist, I went "simple"; an assortment of sliced fish atop vinegared rice (nigiri) with just a spot of fresh green wasabi. Of all the things that could have been uttered after the first bite, I turned and dumbly whispered to my wife, "it's like butter…" Luxuriously sweet, harmoniously sour, and a touch of nose-clearing kalai (spicy), each sushi delivered a perfect combination of flavor and texture. Accompanied with lightly crisped vegetable tempura, miso soup, and an ice-cold beer, it took some time before I could regain my composure.

JiroCho Sushi 1
Dinner continued with fish tempura paired with three flavored salts, a chilly seaweed salad, and a dip from JiroCho's housemade awamori. It's hypnotic, watching the chef working his magic from our front-row counter seats. Every hand movement calculated, fingers and palm shaping fish and rice into a perfect package. The craft of a sushi chef is fiercely disciplined, and the proof is here; JiroCho's chefs are true artisans.

JiroCho Sushi 2
Taking a moment to look around the restaurant after dinner, I find familiarity in all the smiling faces of fellow customers. The very same expressions lit our faces at the hands of my grandfather's sushi so many years ago. Ahh…shiawase (I'm so happy). Till next time.

JiroCho Drink
Eat, drink, see: Chef's choice assorted sushi, JiroCho Original Awamori, Taisho (Master Chef, unmistakably cool man behind the counter).
Hours: 1730-2400, Wed-Mon, Last order 2300, Tuesday Closed
Payment: Yen, Credit Card
Menu: Japanese, English Section
Directions: From Camp Foster commissary gate, take a right and head North on highway 58. Turn left at the second stoplight, T-intersection sandwiched between CowCow car dealership and Kathsmandap Curry House. Continue straight to next stoplight, take a right. Head straight, three blocks, and be alert for a parking lot to your left (iron horse statue), just before Brazilian BBQ.
Two other locations in Wakasa and Shuri.