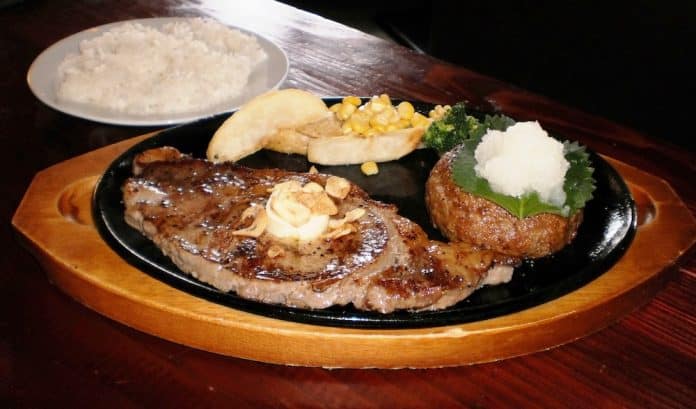 CONTRIBUTED BY SARAH FORTE
We were recently invited to enjoy a complimentary meal at Jumbo Steak Han's in partnership with Plat Okinawa. Sarah and her husband enjoyed the meal, but the opinions are all ours.

Hans Front
Steak! Savory red meat cooked to your specification, seasoned just enough to bring out the full flavor. In my book this one piece of food, when done right, is enough to make your mouth water and put your diet on hold.
Jumbo Steak Han's is open in Depot Island, as well as four other locations, to fulfill that craving. Unlike typical Okinawan teppanyaki-style steak restaurants, Han's chefs stay behind the scenes and let the food take the limelight. Their steaks are from the US, Australia, and Ishigaki island. They range in price, size and cuts with something for all kinds of steak lovers. Where else can you find a one pound jumbo steak, plus a regular pound steak, not to mention a mega pound steak? The smallest and least expensive steak is the half pound steak for ¥1,480, while the most elaborate is the Ishigaki sirloin for ¥8,980. Ishigaki, a Ryukyuan island to our south, produces wagyu (Japanese beef) that is compared by some steak connoisseurs to Kobe beef.

Hans Steak
While visiting, we tried something in the middle: the one pound jumbo steak (¥1,980). We were told that this is the most popular steak on the menu, and it was the highlight of our meal. It came cooked just as we ordered (medium-rare) with some vegetables and potato wedges. Included in the lunchtime price is a consommé soup, salad buffet and choice of rice or garlic bread. At dinnertime these items come as a set available with each entrée for ¥350 extra.

Hans Food
Han's specialty is beef steak but the choices don't stop there! Han's menu also includes hamburger steak, chicken steak, pork steak, jumbo shrimp, lobster and salmon. Most of these items are available in combinations with each other, with a beef steak or separately. We tried the half-lobster and salmon combination (¥3,000). I didn't think it was as mouth-watering as the steak, but it was a nice alternative if you are not craving red meat.
Alternatively or as a side, Han's offers three kinds of pizza, fried appetizers, Caesar or vegetable salads, a chicken basket, and sausage. For ¥1,000 there is a children's meal set with hamburger steak, chicken, sausage or fried fish with soup and rice.
There is also an all-you-can-drink soft drink machine for ¥200. Additionally, Han's offers an extensive drink menu with various red, white and sparkling wines, beer, juice and hard beverage selections.
No meal would be complete without trying some of Han's own special recipe sauce! Although the exact recipe is a secret, some of the ingredients include: miso, white wine, garlic, apple and soy sauce. More similar to Japanese salad dressing than A-1, it's a perfect addition to any of their entrees.
Han's interior has been designed to look more like an American roadhouse than a Japanese steak house. My favorite fixtures were the lights which were made by the restaurant staff out of recycled wine bottles. Han's has seating for about 45 and the location in Island Depot means parking shouldn't be a problem. The management suggests reservations for their busy times (weekend dinners) and anytime you are coming with a larger group. They are happy to accommodate and have hosted several military group events.
Hours: 1100-1500 lunch; 1500-2300 dinner; Open 365 days a year
Locations: Although they have locations in Ishigaki, Moon Terrace (Yonbaru), and two restaurants in the Naha area, the easiest for most of us is their Island Depot location.
Directions:  Island Depot is located just west of the Ferris wheel in American Village (towards the water). From Highway 58, turn towards the Ferris wheel at the intersection near Four Seasons restaurant. Drive through the large intersection near the movie theater. You will see Island Depot and Han's on your right.
Phone: 098-926-2888
Payment: Credit card, Yen, or Dollars
Click here for a link to Han's on