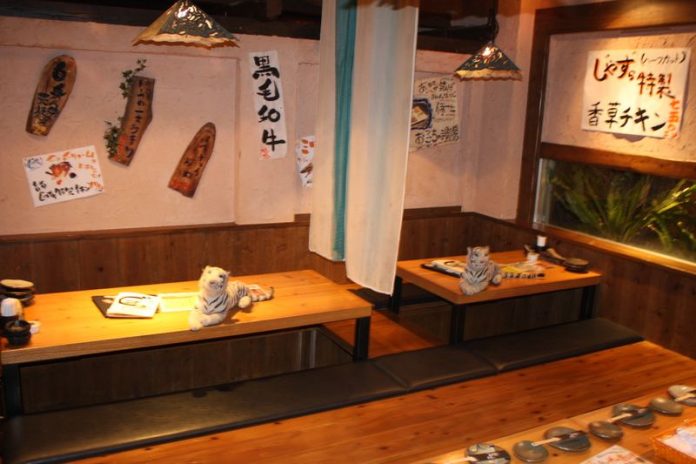 CONTRIBUTED BY MARY RICHARDSON
Izakaya Jazzra is one of our favorite eating spots in Okinawa. We happened to try it out one night while exploring and were so thrilled to find a solid neighborhood place to come back to time and again. Moreover, it's easy to find, practically right next door to the Awase Toys R Us in Okinawa City.
We love this place for several reasons.
First off, the restaurant has a fun jungle atmosphere décor. Ever seen a stuffed tiger as table centerpiece before? It's so fun to walk into a new place without any expectations and then find all this!
Second, the restaurant welcomes children and childless couples alike. We've seen little kids and babies in there many times. The seating areas include tatami mats for large parties and cozy private hidden booths and the bar for more intimate parties.
Next, the food is consistently tasty. We like to sample a few new concoctions every time, but we have some standards we always order.
Cheese and bacon yakitori– tell me out there, who can resist melty cheese?

Bacon Salad- can you tell there's a bacon lover among us?
Sizzling plate of noodles
Tuna and avocado tower- Would you believe I crave this one at times?
Also, we don't have a picture of it, but I recommend the roasted whole or half chicken. It comes with a savory Thai-inspired sauce.
Finally, for the service, quality and presentation of food, and overall atmosphere, I think the prices are reasonable. We usually order a couple Orions and four or five plates, but never seem to pay more than about 2500- 3000 yen.
They do have an English menu, though be aware there seems to be weekly and daily specials that are not on that. However, don't be afraid to point to other people's plates and say, "Onaji mono" (same thing). Go early as it tends to fill up. Sadly, we were turned away once!
---
Izakaya Jazzra
Hours: 5:00 ~ midnight
Phone: 098-933-4088
Address: 7 Chome-22-5 Takahara
GPS Coordinates: 26.3178898, 127.82397930000002
Directions: Take a left turn out of Sgt Major gate (where Westpac is) and keep going downhill and curvy roads. Turn left at the 329 intersection and go straight. You will pass Living Design Square on your right and keep going in the direction of Comprehensive Park, but not all the way to the park. You will come to a big intersection with a McDonalds on the right side and a Hotto Motto on the left. Turn right at that intersection and continue straight towards Awase Shopping Center. About a fourth of a mile down before you reach Awase shopping, you'll see Izakaya Jazzra on the left side. It's in a typical Izakaya style building with lanterns in front, drawings on the side, and a big sign on top. The post office is next to it.