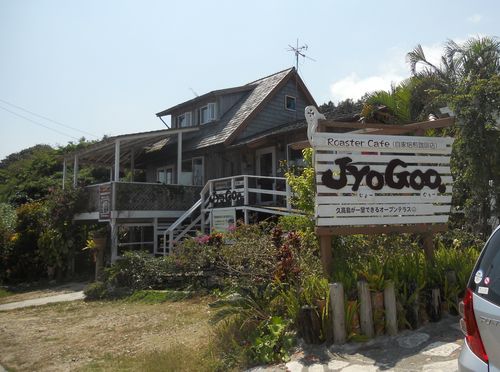 CONTRIBUTED BY MELISSA McDANIEL
On our way to Seifa Utaki World Heritage site on the Chinen Peninsula, we stumbled upon a terrific coffee shop/restaurant. JyoGoo Roaster Cafe is a little gem, offering spectacular ocean views out the front and a lovely garden in the back. We sat on the back porch and watched a hawk sailing overhead while we waited for our house-roasted coffee.
We could hear the grinder as we waited, and based on the evidence we saw walking through the shop, they use the manual-drip method to produce excellent, strong coffee. They also offer lattes and mochas, and your drinks can be served hot or cold. And the barista has a knack for swirling a design into the foam!
The small food menu includes a pasta of the day, some sandwiches, hot dogs (including one with keema curry), and various sweets including ice cream and a cake of the day. We shared a "cheese toast" that turned out to be a yummy thick slice of bread spread with grainy mustard, onion, and melty cheese.
Phone:  098-949-1080
Address: Kudeken-311 Chinen, Nanjo, Okinawa, Japan
Google Maps Coordinates: 26.170243, 127.82541620000006
Directions: JyoGoo is on the road to Seifa Utaki off of the 331, near Okinawa World. When you make the turn off 331 following the Seifa Utaki sign, JyoGoo will be almost immediately on your left. There is parking available.
Website:  In Japanese www.jyogoo.com.  The hours there say 11:00-18:00 but not sure if they have any closed days.