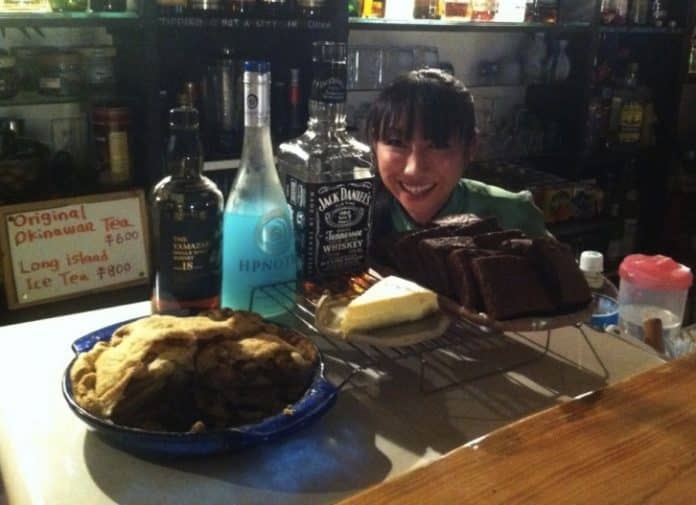 CONTRIBUTED BY DEANNA HAXTON

Kacafe Grilled Cheese
My very first day on island my sponsor drove me up Gate 2 street and on the way pointed out a small sign that read "World's Best Grilled Cheese." It took me nearly 6 months to get back to that place and try it, but now it's my Friday night dinner and drinks tradition.
Kaca-fé, A.K.A. World's Best Grilled Cheese, A.K.A. Kaori's Place is located about half way between Kadena's Gate 2 and four corners, which happens to be walking distance from my house. This small café is open for lunch and dinner and while the title of "world's best" is in dispute, the grilled cheese is delicious.

Kacafe Front Window
I've been working my way through the menu which has a little bit of everything. Yaki Soba, Curry, Tuna Melt, Geisha Chicken, Gyoza, Taco Rice, Fish and chips, etc. My favorites by far are the fried curry appetizer and the apple pie.

Kacafe Desserts
Homemade desserts rotate between brownies, pie, and cheese cake.

Kacafe Menu
For drinks they have many varieties of tea and all the drinks of a bar. But don't call it a bar or Kaori will fine you a dollar.

Kacafe Interior
After a recent renovation there are now three long tables all with stools, or you can sit at a patio style table outside on the side walk. Directly across from club Fujiyama you can often hear the bands playing if you sit outside in the evenings. Kaori is definitely part of the reason I keep coming back to Kaca-fé, and it's obvious I'm not the only one who feels this way.

Kacafe Kaori
With a calm relaxed atmosphere, great food, and good people this is definitely my favorite place to eat and hang out on island. There are quite a few regulars, including Ray who comes every day during lunch time and will recount tales of what it was like to be here as a Marine in the 1950's. Just be sure not to sit in his chair.
And of course I would be remiss not to mention Walter, the resident snake of the Habu Sake jar. I bought a tee shirt which came with a complimentary "shot of Walter." Also, try the Original Okinawa Tea, Kaori's invention and much easier to drink then a Long Island iced tea.
Directions: From Kadena's gate two just go straight, Kaca-fé is on the left hand side about 5 traffic lights down. Parking is limited to meter parking so I generally just walk.
Payment:  Accepts Yen and Dollars. Also takes credit card with minimum purchase of 3,000 Yen.