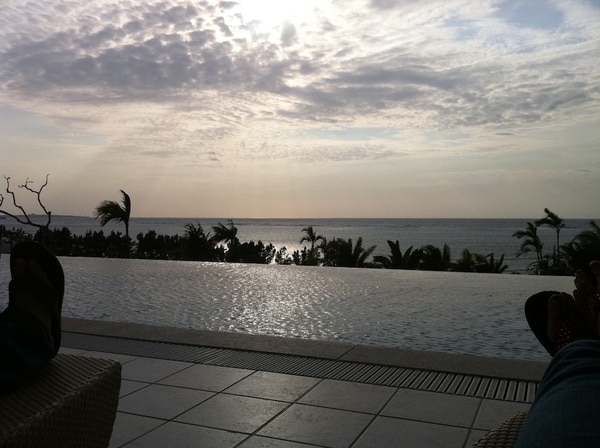 CONTRIBUTED BY LISA WILLIAMS
Are you looking for a resort to enjoy away from the well-beaten path? One that combines luxury, beauty and available activities for your various wants and needs? Last question: What are your feelings about gourmet food and sunsets over the aqua blue coastline of Okinawa?… I thought so! Ready for more?
I went to Kafuu with my husband on a marriage retreat through CREDO. Kafuu is celebrating its 2nd year anniversary and is promoting this celebration with adjusted rates and really great packages for its visitors until June!

Kafuu Infinity pool

Kafuu Drink
I have no issue admitting that we needed a break and this resort provided us with the mini-vacay we had been craving for years. Half the resort is condos and the other is resort hotel areas. I heard a rumor that the Dragons, our local baseball team, stay here during pre-season.  (I don't know about you but Japanese baseball impresses me often.) The resort is just north of Onna point and has it all! The pool is a two tiered infinity style with a hot tub which overlooks the palm trees on the entrance drive and the crystal blue and aqua tinted oceans here bordering the island.
Yummy non-alcoholic orange and mango drink poolside watching the sunset…ahhhhhh!
When we arrived, the hotel shuttle offloaded our luggage and we checked in. It was a fairly easy process with reservations in place. Our key cards were not swipe cards like in US hotels but more of a security door type that scans from a chipped pad on the door handle of your room.
When we walked into the lobby it was like entering a modern but distinctly Japanese influenced platform. To your left is the sweet and tantalizing restaurant called The Orange. To your right is a nice lobby with large shell displays and the first floor elevator. There is also a set of wooden stairs (on the left) leading to the second floor conference rooms, photography studio, gift shop, computer lounge, Shisa decorating area and The Deli, which is a light lunch or brunch area that is poolside.
For those of you not needing to use the very cool computer lab on the second floor adjacent to the concierge desk, there is a land line cable on your desk in your bedroom for internet access. But, please note, that the keyboards in the lab are complete with hiragana for those of you in Japanese language classes!
Moving on, the resort has a bilingual and, sometimes, trilingual staff. The English used in the hotel is very good and the staff is very personable and ready to help you with anything you should need. There is no need to feel out of place or like you have to bring someone who is fluent in Japanese.
Once we finished looking at the pool and shop at the resort, we headed to our room. We were given a third floor room that overlooked the pool area and had a great ocean view. This is our porch area (which is larger on the 3rd floor than others by the way):

Kafuu Balcony
At the front door to our room, my husband saw the 18-hole golf course which was open even with a slight rainy drizzle. Each unit has its own Shisa outside protecting the inhabitants so, no bad vibes or any other issues for your stay. When we walked in, we were shocked! Our "room" turned out to be more of an 800+ square foot apartment with one very large King size bed and two twins. The shower area was a new design for us but very cool. It boasts a shower and bath combo that works for keeping the tub clean and making a shower happen with ease and great water pressure. The sink area came with anything you could have forgotten at home: brush, toothbrush, razor, cotton swabs and a hair dryer. The shampoo and conditioner in the shower, by the way, is amazing and can be purchased down in the gift shop for about 1600 yen. I did go ahead and purchase both bottles because I have never felt my hair be so soft and manageable!

Kafuu Room
This room also comes with a kitchen area, with sink, coffee pot, tea, small fridge and two stove pilot circles for cooking. There is a 4-person dining table and room to live. The coolest part: the room comes with flip-flops you can take home that are totally cute! The floors are wooden so guests are asked to please respect local customs and remove your shoes at the door.
So, let's talk about the food. With two restaurants with phenomenal staffing and great food selections you really cannot go wrong. I have posted some examples of the food we enjoyed there:

Kafuu Salad

Kafuu Pasta

Kafuu Deserts
This food is only a small example of the tasty art you get to eat while you are at Kafuu. The breakfast in The Orange features omelets, fresh fruits, fresh made French toast and waffles, various chef designed dishes, fruit juices, tea, coffee, rice, miso soup and other local yummy selections. What is the price for this lovely morning feast? Approximately 2500 yen (but well worth it!).

Kafuu Night
After you enjoy the dining, start thinking about the activities – you have a selection that cannot be beat! Golfing, snorkeling, glass bottom boat tours, jet skiing, parasailing, dragon boat rental, wakeboarding course, windsurfing lessons, aqua bike rentals, beach canoes and the fun blow up obstacle course area at the sister resort at ANA. On site, there is Shisa painting, swimming in the pool, a gym and a massage spa available! There are hiking and tours also available but we didn't have time to try them out. Mountain trekking, river rafting and horseback riding are a few that are available upon request.
Won't you take some time out and experience the luxury that is Kafuu? I did and I will never forget it.
Information —
Rates:  $222 to $626 per night (check rates, floor plans and deals online), bring Yen for activities or enough dollars to convert at the front desk.
Payment: Credit Cards, Yen and dollars (convert at the front desk with a great rate)
Directions: Take highway 58 North from Camp Foster/ Kadena areas past Yomitan, Maeda Flats, The Renaissance Hotel and towards Onna You will pass Moon Beach and Fuchaku. Kafuu is hard to miss with a Peachy-pink color to the building and a step pattern as the Resort heads towards the sea. You will see a sign that says Kafuu Resort on the right-hand side of the road. Turn right and follow the driveway up to the resort.
Address:  The address, in case of possession of an iphone and google maps is: 246-1 Shirifukuchihara Aza Fuc, OKINAWA, 904 0413, JP.
Good luck, relax and enjoy your stay…