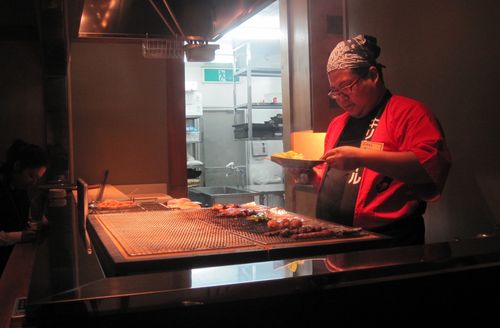 CONTRIBUTED BY MONETTE EAMES
While looking for a place to eat around the Camp McTureous Area after a long day, we saw two guys dressed in their waiter uniforms handing out flyers to people passing by near Lawson's.  We immediately went to see what the flyers were and learned that a new izakaya was celebrating their grand opening.
We're not drinkers, but figured that most izakayas were restaurant-like at least in Japan.  We walked in not knowing what to expect and walked up stairs that reminded me of a passageway in Hearst Castle in California. We got to the top and were greeted with a crowd of people chanting their "Irrashaimasai's" and some Japanese pop music.
The place was beautiful!  It is definitely not something you would expect around Camp McT.  It seemed as if we were in a little village, with little tatami rooms, then another village with American style seating, then yet another village with more tatami rooms, but with these, you had room to let your legs drop.  I'm sure there's a name for these type of seating arrangements, but I have not learned it yet. This must have been the kids area because in the room right across us, we saw another family with kids.
There was a sushi bar, a grilling area, and a bar as you walked along the restaurant.  The food was served tapas style.  There was sashimi, sushi, veggies, pasta, yakitori, kushiyaki, karaage, edamame, tofu dishes, salads, and egg entrees.
However, the whole menu—food and drinks, although very extensive, was all in Japanese.  When we asked for an English menu, our waitress told us, "Not yet," which hopefully means, they'll have one soon.  The menu did have a few pictures here and there.  We enjoyed our time there and will hopefully be back again soon.
Hours: 5:00 pm to 5:00 am
Payment:  Japanese Yen and American Dollars;  No Credit Cards
Phone:  098-972-5060
Address: 4 Chome-20-1 Midorimachi, Uruma
Google maps Coordinates: 26.376327099712917, 127.85502468145762
Directions:  From Camp McTureous, turn right and keep driving until you see Lawson's on the left. Kaisen Sumibiyaki Shinsenmaru is right next to it.