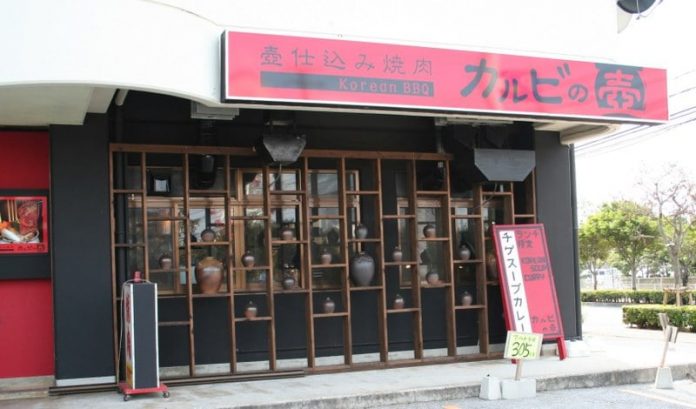 CONTRIBUTED BY KELLYERACE
This is the first week that I'm gonna write about a place that I feel just 'eeh' about.  Usually when I write about a restaurant, some aspect of it stands out to me – whether it's the food, the atmosphere, the service.  Something.  And this place was okay.  But, it was just okay.  You got me?
Anyway, I don't know how many of you guys eat Korean food, but when you get your hands on some good stuff it's mighty darn tasty.  (This is coming from a woman who at one time loved foods from all corners of the world, except Korean.  But, whaddaya know, I met a man who happened to be half Korean.  We fell in love.  Got married.  And he showed me the light.  Before long, I was eating spicy stuff:
I, still being a Korean food neophyte, use my man's nose as kind of a barometer for how good the food is when we go to a Korean restaurant.  The more sweat beads that form on it, the better the food.  When sweat is actually dripping off the nose, well, we've hit the jackpot.  This does not happen too much here in Japan, except maybe in my house where I add some red-colored powder, paste or pepper to almost all of his meals.  (I've learned that even the dried out, overcooked delicacies I turn out will find praise that way.)
Anyway, like I said, in most restaurants here, the sweat is not a-flowin' for my husband.   Which is not a problem if we're eating something like Japanese or Italian or food that isn't supposed to be spicy.  But if we're eating Indian, or Korean, or Mexican and heaven forbid he's not using about twenty napkins to dab his forehead, nose, and mouth with, then it's not hot enough and he won't eat there again.  So, for example, I have to find other people to go to Mike's Tex Mex with me, 'cause he won't step in the place.
Alright, this post is supposed to be about a restaurant, so I might as well go ahead and get started on it.  It's about a Korean joint in American Village called "Kalbi Pot".  Yesterday I was jonesin' for some Bibimbop and my man agreed to check it out with me, for research's sake.  My girlfriend, the one who told me about the pancake house, joined us too.  Here's a picture of the outside.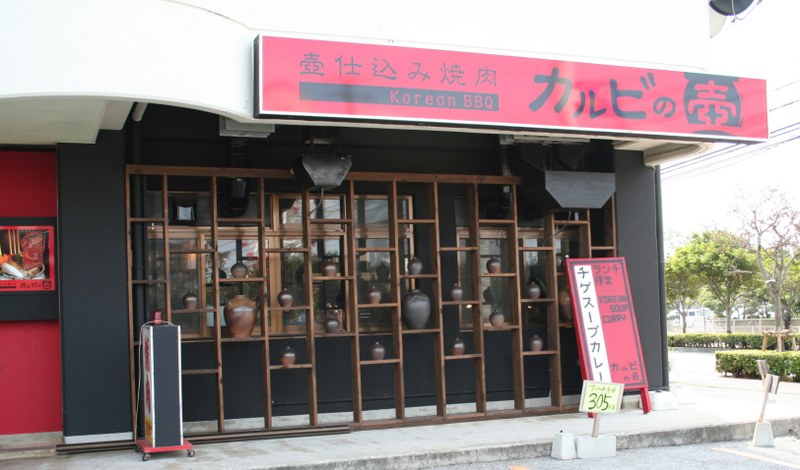 The inside was comfortable enough, but unremarkable.  We sat at the BBQ table but didn't order any.  Instead, I got the Bibimbop, a rice/vegetable/egg/red pepper paste dish served in a hot stone bowl which cooks the egg and makes the rice all nice and crunchy.  My husband got Spicy Rice Chigae (Soup or Stew in Korean), some kind of rice soup.  And my friend got Kimchi Chigae.  The first thing I noticed is that we didn't get any of the little Kimchee side dishes (Banchan in Korean) that you typically get for free at a Korean restaurant.  That's fine, because I usually don't eat half of them anyway (I'm still training my tastebuds in the Kimchee arena).  But, I was hungry, so I took exception.  (Turns out you can order the Kimchees on the menu for about 400 yen.  Kind of like having to order chips and salsa when you should get it for free.)
The food came quickly enough though and my Bibimbop was piping hot.  I mixed it all up and umm…crunchy and delicious.  Not really spicy hot, but good.  My friend's Kimchi soup came out next.  It looked small, runny, and unimpressive.  According to her, that's how it tasted too.  My husband got his soup, and fortunately, there was a little more substance to it.  I tasted it and could eat it – a sure sign that it wasn't spicy enough for him.  And not spicy enough, at a Korean restaurant, is a cardinal sin.  I knew we wouldn't be back there any time soon!
But I went ahead and asked anyway.  So guys, what's the consensus?  Would you come back here?  Hubby -No.  Friend – No.   Me – Yes. (True. My Bibimbop wasn't the best I've had.  But, hey, we're not in Korea and sometimes when you need to satisfy your cravings, you have to take what you can get.)

Here's the nose after.  Somewhat damp…but it could be much worse.  Believe me!
So there you have it.  The Kalbi Pot Place.  An inauthentic Korean food fix in a decent location for about a thousand yen.
HOURS:
Lunch:  11:30-2:00
Dinner:  5:00-12:00
Open every day.  Phone:  098-936-1129
Address: 2 Chome-2-8 Mihama, Chatan
Google Maps Coordinates: 26.3152695, 127.75971479999998
Directions: Turn off 58 onto the Starbucks across from Lester road. Make your first right. Make your first right again and the restaurant is on the corner.