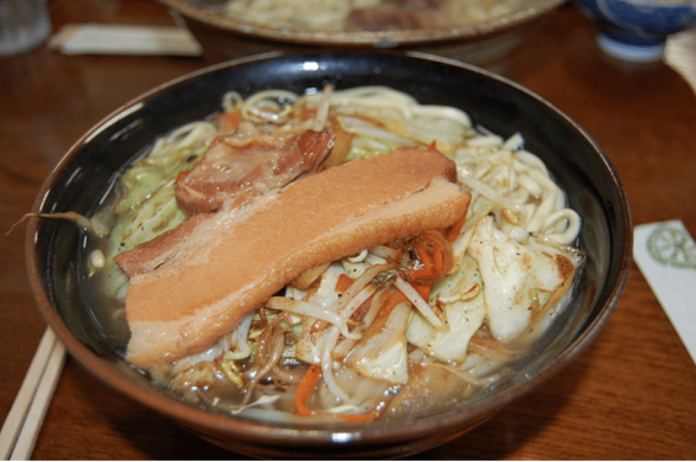 Kame Soba, originally uploaded by okinawa hai. (Click on the photo above for more pictures.)
Contributed by Julia
A few days ago we decided we were a little tired of the same old, same old so we drove around Foster looking for a new place to eat.  We are typically on the prowl with stomachs grumbling around 5 pm; that would be about half an hour before the odds of a tantrum goes up due to the kids having hunger pangs.
Pickings tend to be slim that early in the evening and we ended up at Kame Soba restaurant.  It wasn't exactly new as we've been here once before for lunch.  I liked it the first time and was even happier with my meal this time around.  The hubby was also really impressed.  Or perhaps we were just really hungry.
We ordered soba, soba, and more soba.  The kids had theirs with soft spareribs which they completely gobbled up.  The hubby had his as a set with a bowl of rice topped with tuna sashimi and it was only 700 yen.  I had mine with pork and a vegetable stir fry which I haven't seen anywhere else so it was a really nice change from your typical soba.
They had little squeaky chairs for the kids so I would tag this as kid-friendly.  I can't promise that they'll still have the squeaky chairs next time around though as I'm sure everyone was sick of hearing them by the time we left!
Hours:  11:00 AM-9:00 PM
Phone:  098-933-3338
Address: 565-1 Zukeran, Kitanakagusuku
Google Maps Coordinates: 26.30848964818547, 127.7818900739137
Directions (from Kadena): Head straight out Kadena Gate 2. Take a RIGHT onto 330 towards Foster.  You will pass Plaza House Shopping Center and A&W on your left side. Kame Soba will be on your right side across from McDonalds and the Camp Foster Kishaba Housing Gate.  Watch for a brown and white sign that says Okinawa Soba.  If you pass the intersection for 130 then you have gone too far.