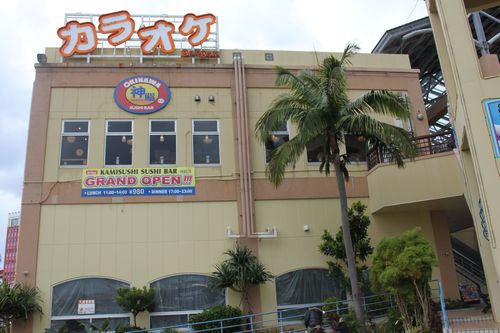 CONTRIBUTED BY ROBIN LESIEUR
I know we've all been to American village and done the normal shops & eateries. But have you ever noticed the two story building right past the Makeman parking lot and wondered what's up there? Well, today's your chance to go check it out. We love a little newly renovated Sushi place on the 2nd floor of the blue twirly stairs- Okinawa KAMI Sushi!
Along with great food, a wonderful view, amazing service, a beautiful clean restaurant, you can get sushi for LUNCH as well as DINNER! (A huge plus- I love sushi luncheons.) And  If you've lived on island long you know not many places offer sushi for lunch.
My family frequents this place- we have been here at least once each week since discovering it over the holidays.  My husband even joked about not posting to keep away the business- but I guess I'll share! The wait staff knows us all by name and greets my children every time we visit!! How friendly is that?
Here are a few menu items they offer: French fries, fried gyoza, edamame, sashimi, fried spicy tempura roll, Spicy tuna roll, California roll, dynamite roll, Chicken fried rice (Delicious by the way) and many more. The list goes on! So the next time you have a hunger for sushi give this place a try! Man now I'm hungry just loading these pictures- I may have to eat there again before this posts!
Hours:  It's open every day of the week. Lunch time: 11:30-1500, Dinner time 15:00-22:00 (Close 23:00)
Payment:  They take Yen, American dollars and Credit card. Don't forget to ask for their stamp card either, every visit and purchase earns you a stamp credit and each line on the card is good for a "treat." Our favorite treat is the 2nd line – a FREE Orion draft beer!
Phone: 090-926-3290
Address: 9-8 Mihama, Chatan, Nakagami District
Google Maps Coordinates: 26.316673399, 127.75578947100007
Directions: If you aren't familiar with American Village – From Kadena: make a left out of Gate 1, turn at Kuwae Road right before Lester's gate. Follow down to the four-way intersection and park in the lot next to Makeman's.  From Lester: Shoot straight out and follow that road down to the right towards Jusco American Village area! Parking is also more available in the NEW American Depot area near the water. From Foster: Head towards Kadena's Gate 1 and make a Left at Kuwae Road (the light with Lawson's/Four Season's restaurant). Follow down to four-way stop and turn right into AV area and park!
Added directions from comments below: "If you've arrived in American Village and the Multiplex is on your left (or in front of you) at that intersection, keep going down that street. When you see the Red Lobster turn right into a parking lot and you will be facing the building which also houses the Seaside Bowling. The building also has a huge SEGA sign on it. [T]here are clear signs NOT to park in the Makeman's lot."
We hope you enjoy this place as much as we do! Thanks for reading!