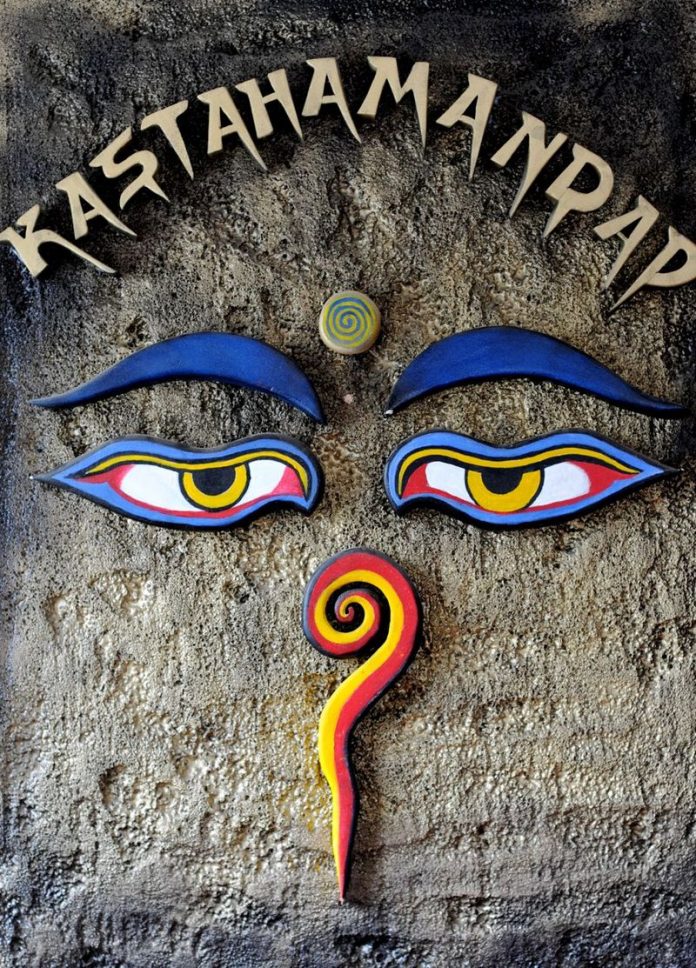 Editor's Note: Kastahamandap Nepal Spice Kitchen was originally reviewed on Okinawa Hai on April 29, 2009; you can read a PDF copy of that original review HERE. The post below is an updated take on this attraction, published September 21, 2016.
CONTRIBUTED BY LOUISE DUPUY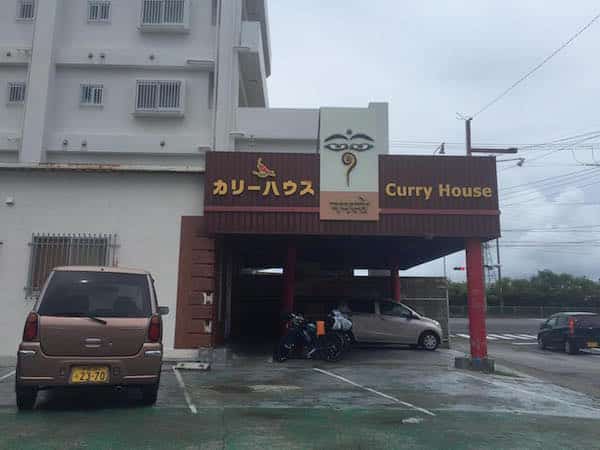 Have you ever wondered what the favorite dish of Japan is? Sushi? Udon? Surprisingly, it's curry! Whilst most Japanese would mean their own spin on this most Asian of cuisines, happily on Okinawa, you can sample curry from other parts of the continent. Let me introduce you to Kastahamandap Nepal Spice Kitchen and a world of flavor you'll never forget.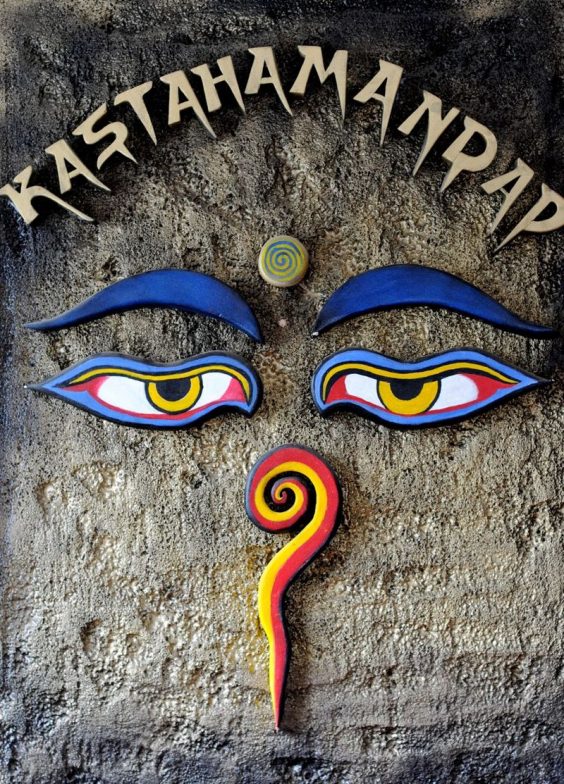 (photo by Pamela Oliveras)
Situated right off Highway 58 just a short drive from Camp Foster's Commissary Gate, is where you will find Kastahamandap Nepal Spice Kitchen. It has a red facade and a memorable logo; a pair of decadent eyes muse over you from above. Inside is a small, unmanned entrance, with a colorful Ganesha painting (Hindu God of new beginnings) on the left, and a secluded, Japanese-style table on the right (low, with a bench surrounding it, and a place to store your shoes before entry).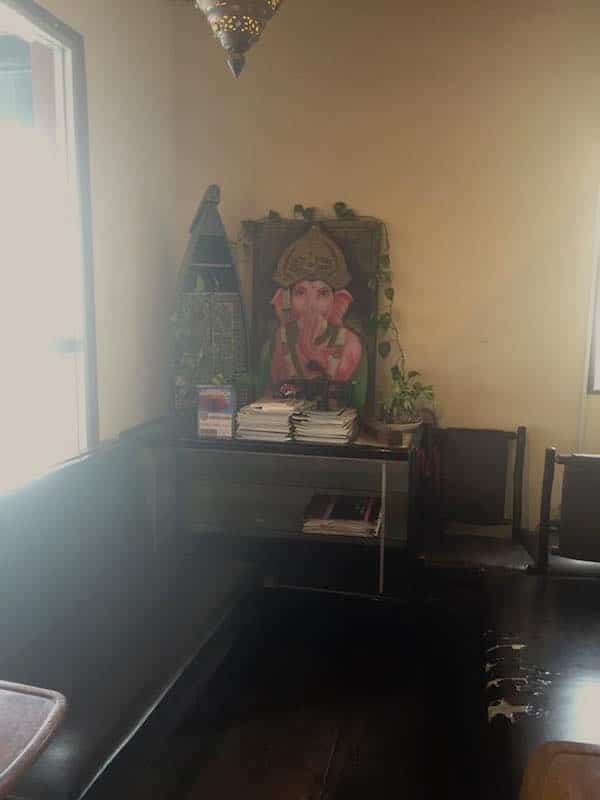 Pass through this into the main part of the restaurant, and be greeted by yet another Ganesha, this time a beautiful statue. There is a small counter in the far left corner, separating the modest kitchen from the dining area. A member of staff will come over to seat you and hand you a menu.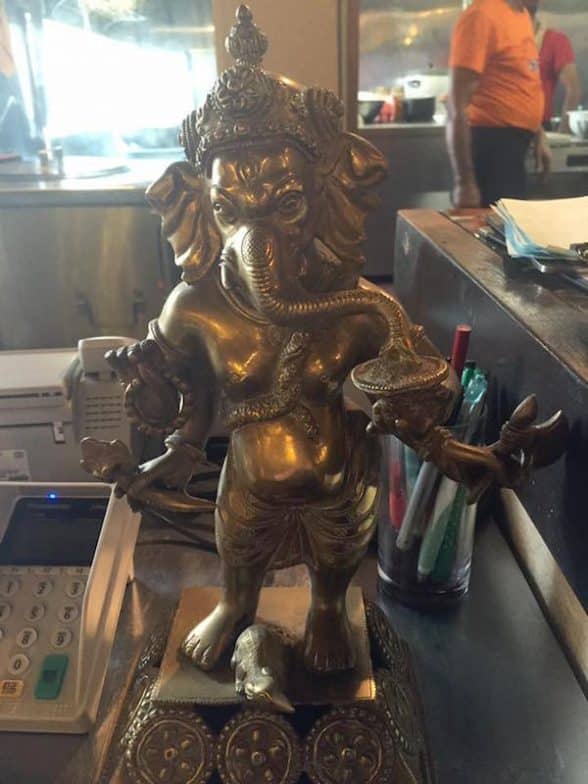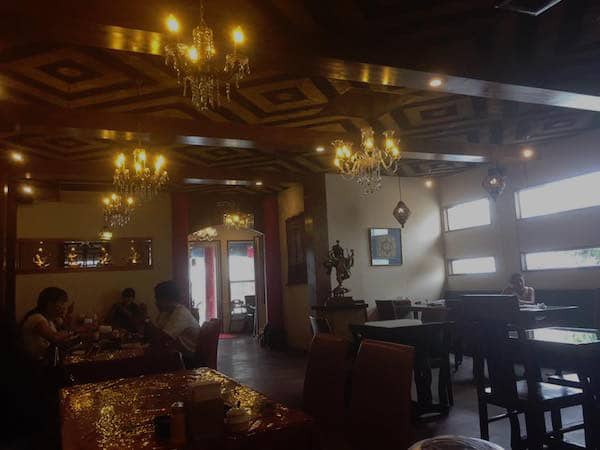 The tables on the right are large enough for 4 people (probably 4 adults and 2-3 small children actually) and are adorned with beautiful, traditional table cloths bearing Hindu symbols. The other tables are glass and wood, seating between 2-4 people. The decor is in keeping with the name; Nepalese and Hindu arts adorn the walls, my favorite being the huge panorama of the Himalayan mountain range.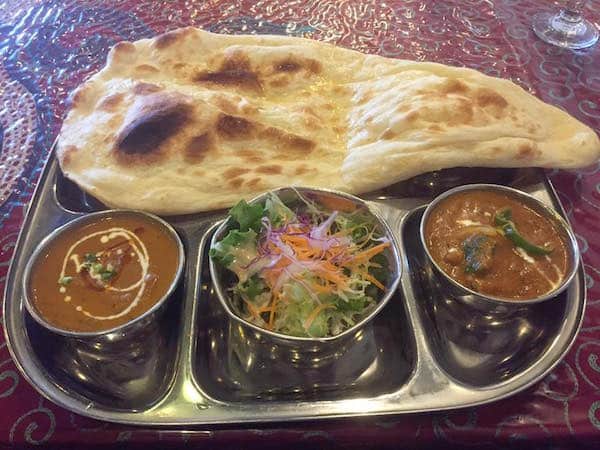 The food is incredible. They have a good selection of set menus to choose from, as well as individual curries to try. I decided to go with a set. I went with D, consisting of a naan, rice, salad, tandoori chicken, two curries of my choice, and a dessert. It was served in a traditional way, on a large stainless steel platter and with the food in little stainless steel bowls. The curries I opted for were the dhal (a chickpea dish I recommend to everyone), and a chicken dopiaza (my favorite curry). Sublime. I felt like I was back in India, very authentic in terms of flavor and ingredients. When it first comes out, it looks like a small portion, but it was very filling. Dessert was a very sweet vanilla ice cream, which was also good. This set comes with a drink; I chose Mango lassi, an Indian yogurt drink. Again, delicious and authentic. Prices are very reasonable, with the largest set still costing well under 2,000 Yen.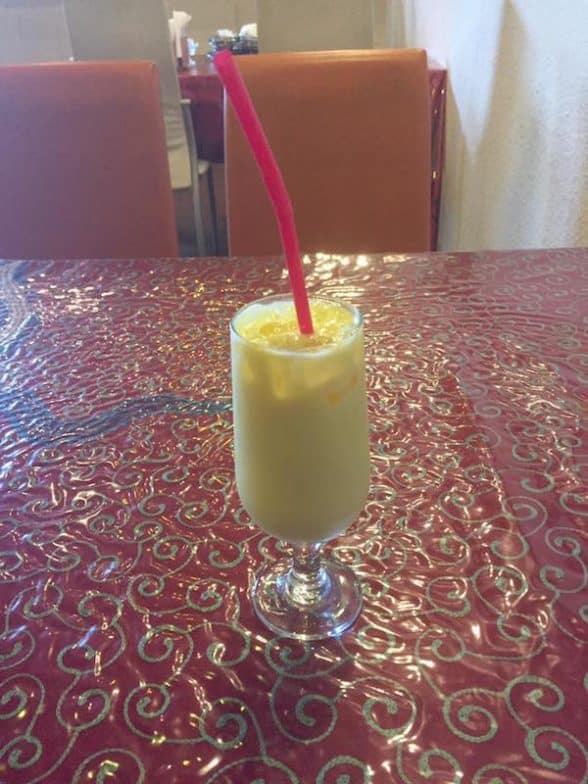 Drinks-wise, they have a decent selection. You can get soft, alcoholic, and they have a great range of Indian favorites. I Mentioned the mango lassi, but they also offer Chai, as well as other varieties of lassi. Aren't driving? Why not sample one of the beers on offer?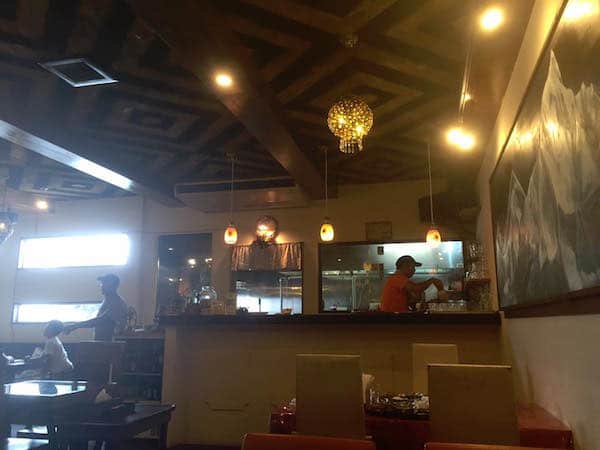 Service was fair. The staff is polite, though the language barrier can be an issue at times. They accept card as well as cash (yen), which is very handy.
All in all, this was a very enjoyable meal. I liked the atmosphere, the decor (there are more Ganesha statues to spot), and of course, the food. Definitely worth a try.
---
Addendum by Kari Frazier, 9/2016:
Eating Gluten Free at Spice Kitchen
Kastahamandap Spice Kitchen is a great choice if you have Celiac Disease or any level of gluten sensitivity, because of the way they prepare their naan! Many restaurants of this type make the naan in the same area as the curry, and the flour dust flying everywhere creates the risk of cross contamination. At Spice Kitchen, there is a little station near a window that remains open all the time, and all naan preparation is quarantined to this area. Additionally, the person making the naan does not touch the curry and does not serve customers.
There are several curries you can safely order from the menu, and if you let the server know you have an allergy to wheat (they do not know what gluten is, but they know what wheat flour is), they will let you know which items to avoid. All the curries have an option to come with plain rice, so you'll have something on your plate to soak in that delicious, spiced goodness!
---
Kastahamandap Nepalese Spice Kitchen
Payment: Kastahamandap accepts Yen & credit cards
Hours: Open daily 11.30am-2.00am
Lunch menu: 11:30am to 3:00pm
Dinner menu: 3.00pm until close
Phone: 098 936 6355
Address: 1 Chome-10-10 Kitamae, Chatan
Google Map
GPS Coordinates: 26.2982654, 127.76066820000005
Directions: Come out of Foster Commissary gate, take a right, and take the first left by cowcow. Kasthamandap is directly opposite. There is parking right in front and to the side of the restaurant. See you there!