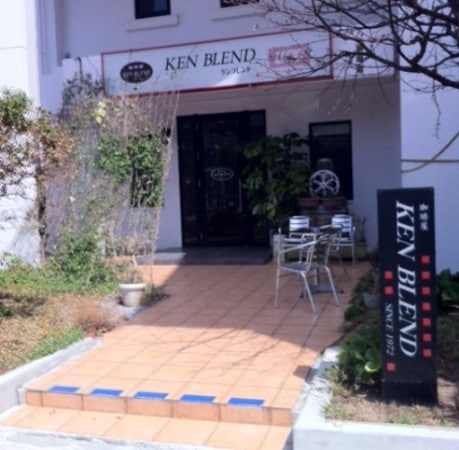 CONTRIBUTED BY SEAN MILLER
I first passed by Ken Blend while getting lost in Naha well over a year ago. It was about that time when traffic was going to get ridiculous, so I figured I would stop in and take a look.
If you're like me and you love coffee, it's a win-win for all! At the time I entered there was a young Japanese couple seated together while an older gentleman was preparing a beverage. The place is rather small (maybe 15 seats total) but the interior is pristine and it has a nice ambience. The smell of fresh coffee will fill your nostrils when you walk in and put you in the mood for a nice cup of those ground beans we all love!
This place has plenty of old coffee grinders and other such things to look at while you wait for your order. This is one of those places where it helps if you or a friend can speak and read a little bit of Japanese; but I found that the kind man who is the owner of Ken Blend, will assist you as best as he can.
The menu is pretty much all in Katakana. Truthfully, the only Americans other than myself I have ever seen in here have been my own friends, but the owner is happy to serve you just the same! I like visiting this place because every order is prepared as soon as it is received. From the boiling of the water, to the crushing of the ice, you know you're not being served a coffee that was brewed three hours ago.
The menu is very light; sandwiches and French toast sets, with coffee being the main focus. The coffee here is a nice blend, not weak but having enough flavor that should satisfy your craving without being overpowering.
As far as the prices go, it's not the best for the sizes that are served, but the quality is what keeps me coming back. So if you find yourself in the area of Naha Main Place, stop by and get your coffee fix! There are maybe five parking spots directly in front of Ken Blend, and if those aren't available there is pay parking within walking distance.
Hours: Daily 11:00 a.m. – 6:00 p.m.
Phone: 098-862-0330
Payment: Yen only
Directions: If you're coming from Kadena, head south on the 58 until you reach the intersection that if you turn left will lead you to Sports Depot and Naha Main Place. Turn left at that intersection and take another left at the light immediately after the Okinawa Prefectural Museum. Turn right on the second road after you pass Naha Main Place and Ken Blend is tucked back a little bit on the left hand side of the road some 30/40 meters down.