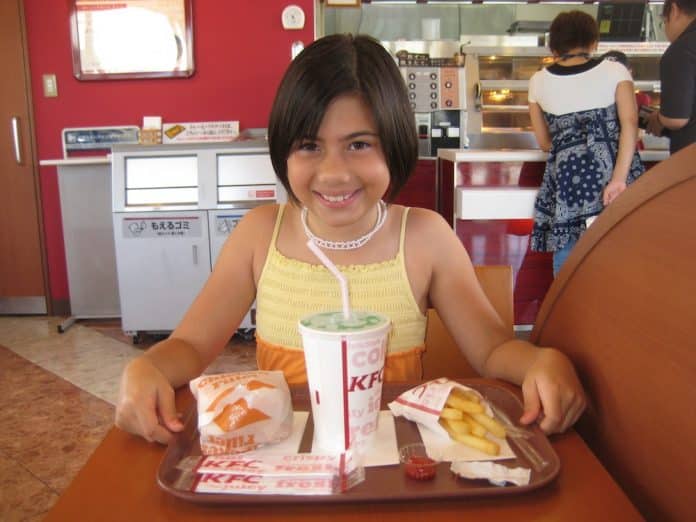 CONTRIBUTED BY CALYN PAQUIN

When you think of KFC, what comes to mind? For me, it's the phrase, "finger licking good!" from all their commercials I've seen since I was a little kid. Now you may wonder why with all the great eatery options we get in Okinawa, I ever chose to go to KFC. Well, I knew I wanted to eat there one day, but I didn't really plan this visit!
My daughter and I went to an off-base hair salon on 329 close to Kadena gate #3 and one of the landmarks we needed to look for to get there was KFC. While we were in the salon, they had a local TV shows on and we saw the KFC commercial at least five times while we were in there! The chicken strips looked so good that I was joking maybe we should just go there for lunch. My daughter agreed.

This branch does not have English menus but it was not difficult to figure out the prices and combo options. It seems the fast food restaurant prices in Japan are currently high due to the yen to dollar rate not being in our favor right now. But the food never disappoints. I may complain about the portion size, but I always feel happily satisfied after eating.
One of my favorite things about western fast food restaurants in Asian countries is that they usually have their very own Asian style burgers. Like McDonald's, KFC has the shrimp burger and the one that caught my eye was the teriyaki burger! It was a piece of heavenly juicy chicken thigh on a bed of lettuce and a slice of tomato plus mayo. My daughter opted for the Crispy chicken sandwich combo. Both sandwiches came in warm soft wheat buns. Since we didn't order their fried chicken, I guess we'll be back again someday to try that. The people around us who were eating the fried chicken were licking their fingers though!

KFC Chicken Sandwich
Ever heard of the KFC Christmas Chicken Box Tradition? Neither had we! The Wandering Waffle Heads explain this Japanese tradition in this video:
Branches that I know of: One on 329 near Kadena gate #3, one by Kadena Marina, one in Awase, one on 330 by Plaza house and one on 58 on the way to Kinser.
Menus: Click for larger view

KFC Menu 1

KFC Menu 2

KFC Menu 3