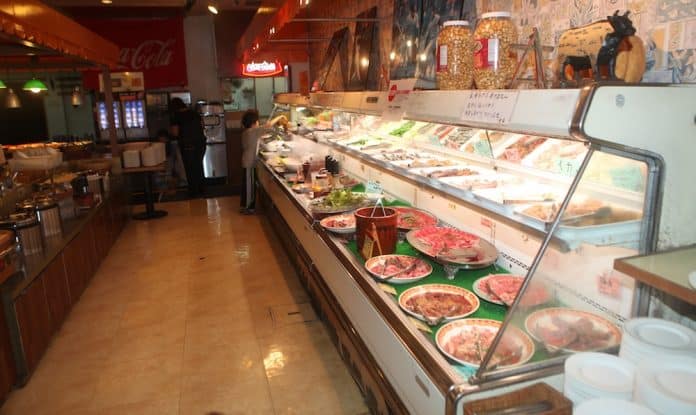 King Kong Himself
CONTRIBUTED BY MONETTE EAMES
We are HUGE fans of yakiniku. There's just something fabulous about grilling the tender bite-sized meat pieces that are already marinated and cut up for you. Once you grill the meat, you then dip it into soy sauce mixed with sugar, garlic, sesame, sake, mirin, chili, or miso sauces. Although we've tried many different yakiniku places, we stumbled across Paradise Yakiniku in Awase a few days ago and we are so happy we found it. We may never go back to the other places.

King Kong Inside
Paradise Yakiniku is a self-serve all-you-can-eat restaurant with a lot of extras. They have a variety of meats—steaks, pork, chicken, lamb, beef tongue, and liver. There are veggies and lots of lettuce for lettuce wraps. There were warm specialty drinks, soft drinks, dim sum, desserts, sushi, curry, salads, and soba.

King Kong Buffet
And after you've had your fill, you play a game—this game isn't just for the kiddies, it's for the adults, too! Out of our party of seven, two people won. The prizes range from stuffed animals to figurines and hats. The prizes they offer are not toys from the hundred yen store–they are pretty awesome! Our children won an Ipod case and a large pink panther.
This place is a wonderful choice for a reasonably priced family meal which is absolutely delicious! Yes, sometimes you may leave a yakiniku restaurant with a lingering barbecue scent, but the delicious meal makes up for that! The prices for are Y1150 for dinner for Y1800. On your birthday, you also get 20% off.

King Kong Exterior
Hours: 11:30 a.m. – 11:00 p.m.
Payment: Yen and credit card
Phone: 098-934-3445
Address: 1-20-30 Awase, Okinawa City
Directions: From Kadena Gate 2, drive straight towards Awase. Keep going straight until you see a huge King Kong on the left. It's about 20 minutes from Kadena.