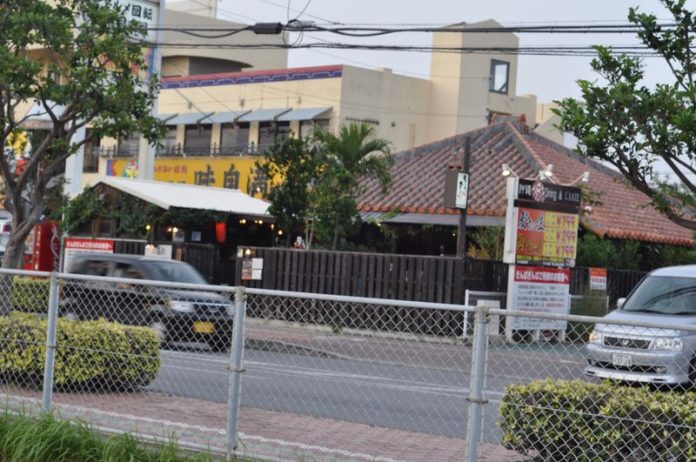 CONTRIBUTED BY HEATHER GELORMINE
Confession: I don't really like soba.  I've tried; really I have.  I've gone to the purple flags restaurant and the purple hat restaurant, and to other locations that have come highly recommended, but with the exception of the taco soba (like taco rice but with soba instead of rice) that I've only ever found at BIOS On The Hill, I just don't really like it.
I feel a little bit bad about this because in moving here I had two goals that I'd hoped to achieve:
1) Getting a basic grasp of the spoken and written language
2) Becoming more adventurous in what I'll eat.
I'm sad to say that although I'll hit two major milestones in the next two months (turning 30 and PCSing back the US) I haven't achieved either of those.  I'm willing to bet that those two obstacles have kept me from trying some truly delicious eats, and that's why I'm grateful to a friend for introducing me to Kinpa Ginpa, my now-favorite ramen restaurant.  Because while I don't much care for soba, I really love ramen.
I never would have known what this restaurant was or what they served, because their sign is not at all in English.  And though we usually see Americans eating here whenever we go, the tables are usually filled with local nationals.
Not being at all comfortable with the language, I assume that Kinpa Ginpa's specialty is ramen, though there are plenty of other options on the menu.

This was my husband's spicy miso ramen dish (as evident by the red bowl), which is one of the three options for the pork-based version, Otoko-aji.  The other flavors are the basic, which we order for our six-year-old daughter, and the fried garlic and onion flavor, which is my favorite.  There's also a chicken and Okinawan salt based dish, Onna-Aji, that I always tells myself I'm going to try but forget about when I get tempted back to my favorite.  All the versions are available in small (520 yen) or regular sizes (690 yen), but the very best part is if you happen to eat all your noodles and are still left with broth (and you're not quite full yet) you can order another set of noodles (just say "kaedama kudasai") for only 100 yen.  Not that I've done that…
Also available to satisfy your cravings are a limited sushi and sashimi menu, some beef, chicken, and pork dishes, tempura, salads, traditional Okinawan dishes (goya, anyone?), and Japanese appetizers to include seaweed and tofu.  Though it's not on the (English) menu we've also ordered gyoza, which was quite tasty.  They've got an extensive Awamori, beer and cocktail menu, as well as teas and soft drinks.
This is a relatively kid-friendly restaurant; most of the seating is tatami mat-style, though there is one traditional indoor table and a few tables outside on the patio.  I've never seen restraining high chairs, just the little plastic kid seats, so we always bring our two-year-old's booster seat with us in an attempt to keep him contained.  Though the teriyaki chicken we always order for him usually does a pretty good job of that on its own.
When we're finished with this meal, my family always heads over to Starbucks (me) and Yogurtland (husband and the kids), even though there are a couple dessert items on the menu.  Something about needing something sweet to balance all the salty, yin and yang and all that.
---
Kinpa Ginpa
Payment: Yen or Credit Cards; no $
Hours: Open 5:30pm to 2am daily.
Phone: 098 926 0076.  We've never made reservations, but there has always been at least one person who speaks English very well working at the restaurant when we've gone.
Address: 2 Chome-4-7 Mihama
GPS Coordinates: 26.316304127438944, 127.75918438009194
Directions: Kinpa Ginpa is located near American Village, across the street from Jusco and a little north of Pet Box.  There is no parking lot adjacent to the restaurant, and the servers have always made sure we understand that if we park in the lot next door we'll be subject to a 100,00 yen fine.  Coming from Rt. 58 at the Four Seasons/Family Mart intersection, cross through the traffic light to the first entrance to the big parking lot (the Ferris wheel will be on your right).  Take your first left and pull through all the way to the east end of the lot, and try to find a parking spot somewhere near the exit to the cross-street.  You'll have to cross the street by foot, so watch for cars.  The Crocodile restaurant will be to your right, and Kinpa Ginpa will be to the left of the "Dining & L'ASIE" sign.