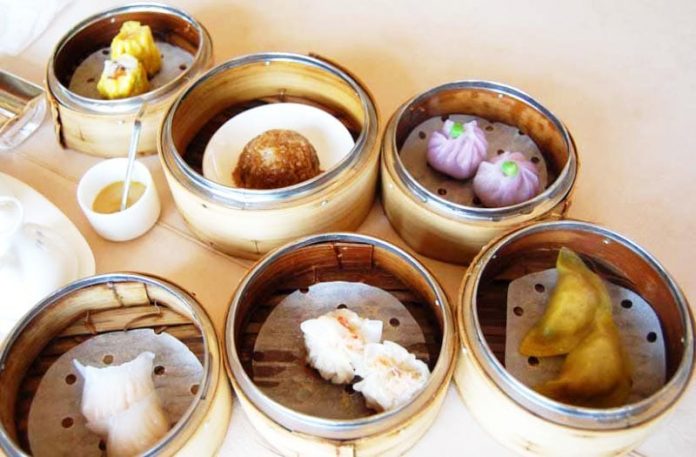 CONTRIBUTED BY JULIA
Hotel Nikko Alivila's Kinshasa restaurant serves a deliciously satisfying dim sum lunch buffet. They have dishes that you can choose from at the buffet table and then a cart that is filled with dim sum goodies. The last time I was there with hubby and the kids the buffet table included mapo tofu, congee, a scallop and eggplant dish, and beef and vegetables. Between the buffet table dishes and dessert we only lasted through one round of the dim sum cart. With that first round we received sticky rice and four different types of dumplings including the typical har gow shrimp dumplings and siu mai pork dumplings. Everything was reliably good.
Dessert included egg custards, almond cookies, fresh fruit, mango pudding, and apricot seed tofu. The almond cookies scored with the kids but my favorite was the apricot seed tofu which you can drizzle with either blueberry, mango, or brown sugar sauce.
The hotel grounds are beautiful with a courtyard by the pool that is fantastic for a relaxing stroll. Especially after stuffing yourself silly!
Cost: I've only been here twice mostly because it's hard to enjoy buffet lunches with one picky toddler and one squirmy toddler. The other reason is because at 2500 yen per adult it ends up being a quite expensive lunch. Great for special occasions or the occasional treat otherwise it'll break the bank!
Address: 600 Gima, Yomitan
Google Maps Coordinates: 26.4153835, 127.7151202
Directions:
From Kadena Gate 1 take a RIGHT onto Hwy 58.
Pass Kadena circle and take a LEFT at Route 6 heading towards Torii Station and Cape Zanpa.
Pass Torii Station on your left and a Lawson's on your left.
At the 1st traffic signal after Lawson the road will split (this is about 4 km after your turn off of 58). Take the LEFT fork and follow the signs for Hotel Nikko Alivila (they'll have a big orange circle that says Alivila on them).
Website: http://www.alivila.co.jp