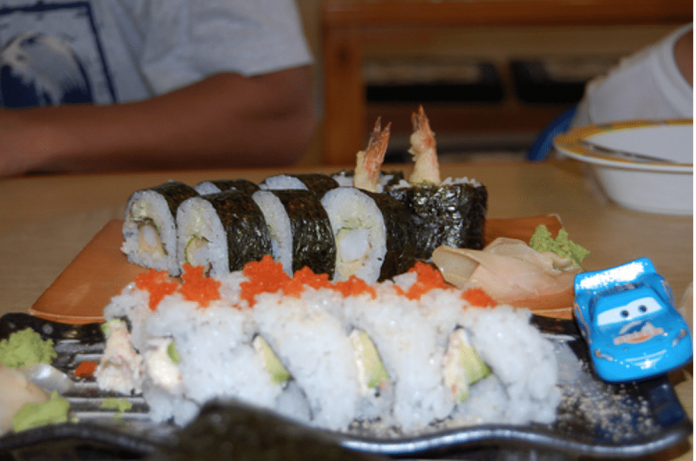 Kitakaisen, originally uploaded by okinawa hai.
(Click on the photo above for more pictures.)
CONTRIBUTED BY JULIA
Kitakaisen is one of my favorite places to eat on island.  First off, you have to love a place that has a huge menu with pictures!  Sushi, gyoza, california rolls, yakisoba, chicken fried rice, horsemeat sashimi; yeah, I'm quite sure I've seen that last one on the menu…I could go on and on.  The hubby's personal favorite is the chicken rice soup; mine is the soumen champuru which you can get spicy or not.  There's a good selection of food for both the adventurous and the not so adventurous.
When I want to eat out with buddies this is one of the first places that come to mind.  Besides the variety of food it's a great place for large groups as they have a tatami mat area with long tables that can be divided up accordingly.
It's also really reasonable.  Most of the time dinner for my family including the two little piglets comes out to about 3500 yen or so and we're all quite full and happy.  We don't usually head there on the weekdays but they do offer specials like half price sushi combinations on Monday and 20% off for ladies only groups on Wednesdays.
Hours:  5 PM – 1 AM Daily
Phone: 098-936-7373
Address: 416-6 Ihei, Chatan
Google Maps Coordinates: 26.3250421797, 127.764230383
Directions (from Kadena): Take a LEFT onto Hwy 58 from KAB Gate 1. Take the first LEFT onto 23. Turn RIGHT at the 1st light (at this intersection you'll see a sign on the far right corner that says Chatan Sports Center and has a bowling pin at the top). Look out on your right for a bright yellow sign that says Chatan Sports Center. Turn RIGHT just before the sign into a large parking lot .  Kitakaisen is located above the bowling alley on the 2nd floor of the building off to your right.
Website: https://chatan-spc.com