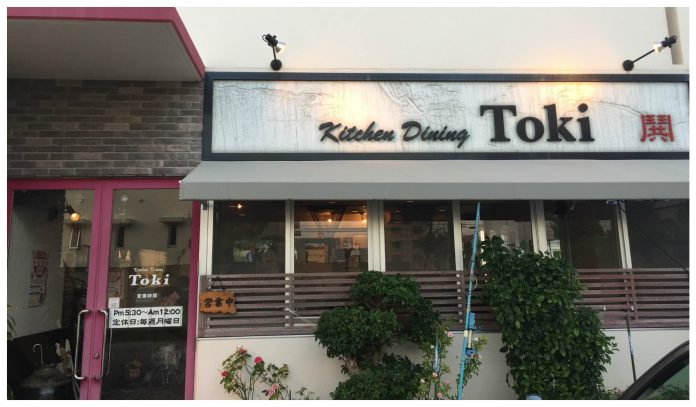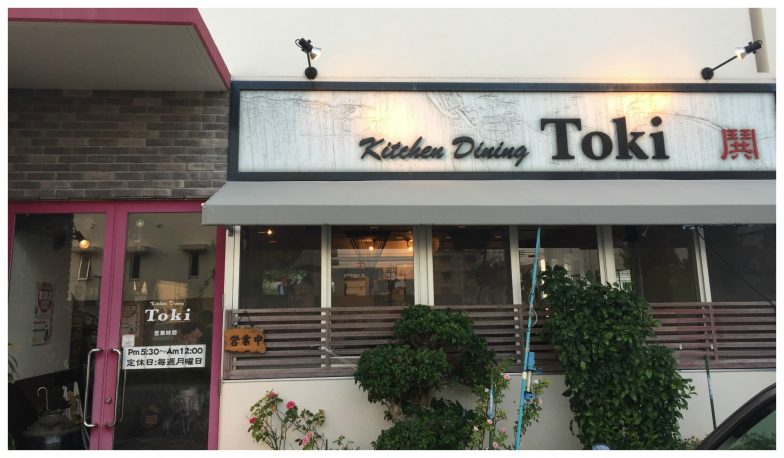 CONTRIBUTED BY JENNIFER GILES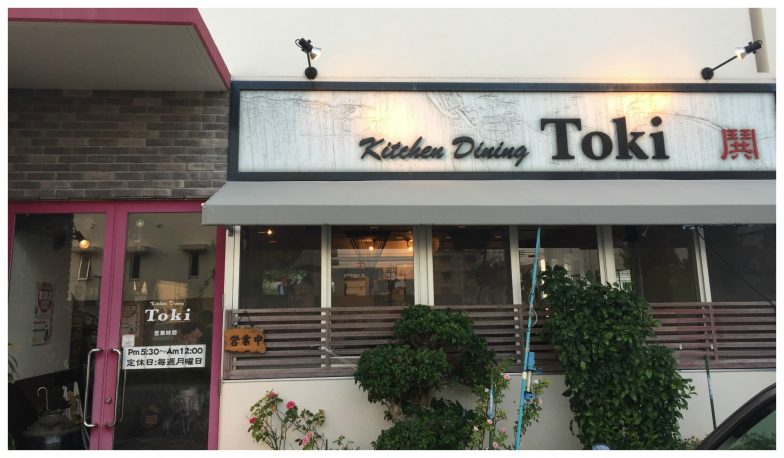 If you are looking for a place to become a "regular", Kitchen Dining Toki in Yomitan is your restaurant. It has a residential location, helpful staff, extensive menu and some extra touches that will keep you coming back.
Our friend wouldn't stop raving about this restaurant, so we joined him there one night. Their extensive menu has both Japanese and English and is easy to navigate by the photos. We ordered 10 small dishes between the three of us and loved every dish. We are all big eaters and walked out stuffed. The salad, chicken, gyoza and sushi are highlights, and their cheese potatoes are classic comfort food. The dishes were served on classic Okinawan pottery and the glassware was Ryukyu glass. The staff is warm and patient, and are quick to recognize their repeat customers. It is a great place to become a regular and appreciate the local fare, especially the awamori.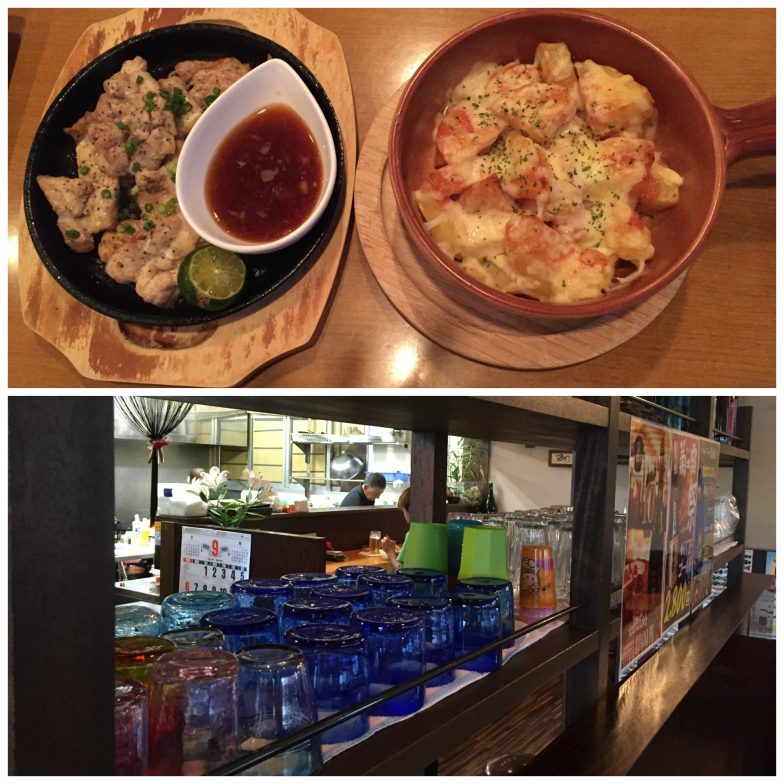 They have a broad selection of local brands of awamori and the menu breaks the options down by grade (quality). This mini tutorial is very helpful for a first time introduction to awamori. Connoisseurs can purchase a stoneware jug (several sizes available) of your selected awamori and if you do not finish, the staff will put your name on it and keep it for you until your next visit. When you walk in the restaurant, to your left you will see the shelves full of traditional stoneware jugs awaiting the return of their patrons.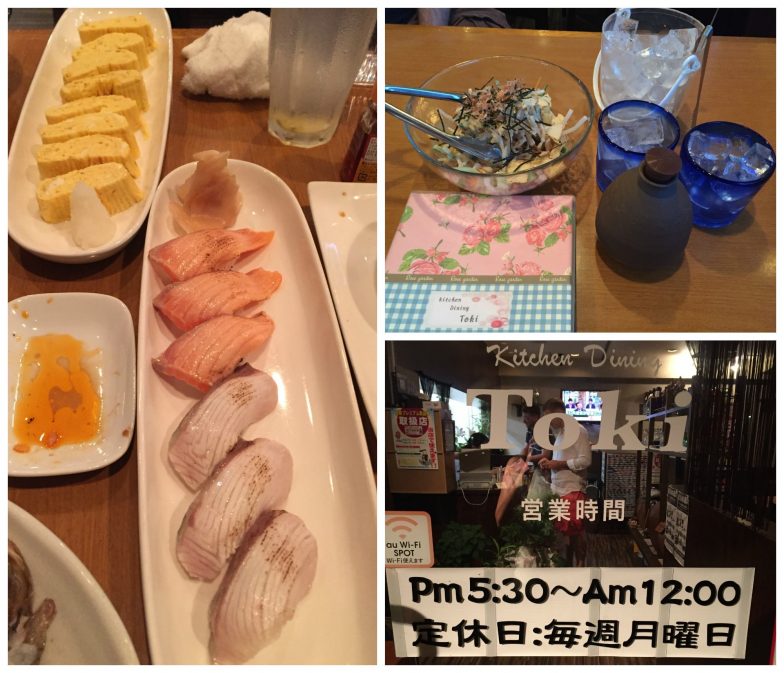 Kitchen Dining Toki has a laidback ambiance. Several evenings a week, an acoustic guitarist plays on the small stage in the front of the restaurant but the noise isn't loud or imposing. The whole place is family friendly. Don't be surprised if the owner's granddaughter shyly toddles up to the stage and makes an appearance with the guitarist to briefly entertain the guests and staff.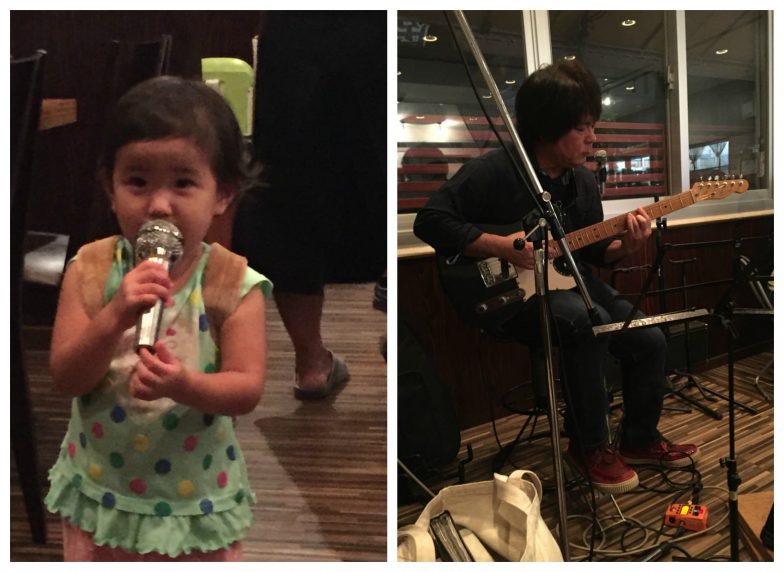 I highly recommend this restaurant if you are in the Yomitan area and want to duck into a local place to enjoy authentic local food. We will certainly return, if not for the warm staff, then for our bottle of Awamori sitting on the shelf waiting for us.
---
Hours: Closed Monday. Open Tuesday-Sunday 5:30 p.m. – 12:00 a.m.
Phone: 098-989-9586
Payment: Yen or credit card
Directions: North of Tori Station, South of Cape Zanpa. It is located in a residential part of Yomitan, located on a hilltop east of route 6. Keep your eye out for signs for the restaurant along route six.
Coordinates: 26.415405, 127.735760
Website: http://kitchendiningtoki.ti-da.net (Japanese)